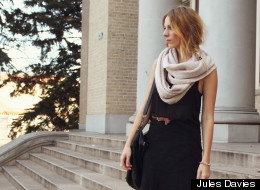 Robert Wainblat -- the man behind CampusSartorialist.com -- and his national network of photographers share their favorite looks from the around the country in a monthly round-up of college fashion and campus style.
College of Charleston Photo by David A. Verde for Angelspov.com

Colorado State University Photo by Jules Davies

Columbia University Photo by SwaggerNYC

Fashion Institute of Technology Photo by SwaggerNYC

Photo by Emily Xie

Manhattan College Photo by James Breen

Jillian, Rochester Institute of Technology Photo by Mia Katz and Kane Giblin of College Closet

Santa Clara University Photo by Samir Khanna

at Savannah College of Art and Design Photo by Mangue Banzima

St. Augustine's University Photo by Isaiah Johnston
Love what you see? Join them. Submissions are welcome.