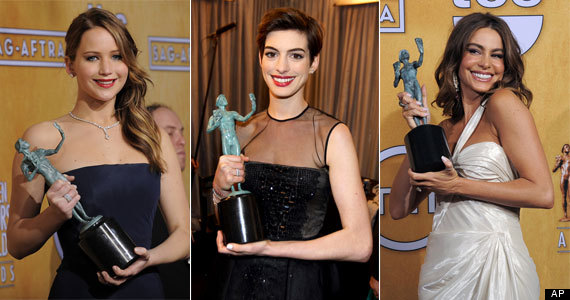 La entrega anual número 19 de los Screen Actors Guild Awards sirve como una antesala a la siguiente gran ceremonia del cine, el Oscar. Acá, se reconoce el trabajo de actores tanto en cine como en televisión por sus mismos compañeros, ya que pueden votar todos los integrantes del gremio de actuación.
Una vez más, tras su triunfo en los Golden Globes, Ben Affleck se robó el show ya que, a pesar de que no figura entre los nominados a la Academia, aquí todo el elenco de "Argo" triunfó como el mejor de 2012 en la categoría de cine. Affleck agradeció a nombre de sus compañeros de reparto, incluyendo Alan Arkin, John Goodman, Victor Garber, Bryan Cranston y Clea DuVall.
Esta victoria no dejó que "Lincoln", "Silver Linings Playbook" y "Les Miserables" barrieran con el show y continuó con la buena racha que ha tenido la tensa cinta, puesto que el sábado por la noche triunfó en los Producers Guild of America Awards. Con esto, podría perfilarse para robarse también la noche del Oscar, a pesar de que Affleck fue ignorado tanto por Mejor Director como Mejor Actor.
Jennifer Lawrence venció a la otra favorita Jessica Chastain por Mejor Actriz en Cine por "Silver Linings Playbook", mientras que Daniel Day-Lewis, otro listo para embolsarse su tercer Óscar, obtuvo el Premio SAG a Mejor Actor por "Lincoln".
En el rubro de Actores de Reparto, Tommy Lee Jones ganó el primer premio de la noche por "Lincoln", aunque no estuvo presente para recogerlo (¿y hacer puchero, como en los Globos de Oro?). Anne Hathaway repitió su triunfo de los Globes también aquí, al ser reconocida por Mejor Actriz de Reparto por "Les Miserables". Aceptando su premio, bromeó al inicio de que al menos estaba feliz de recibir seguro dental, y que "más le valía" a su mamá, también actriz, haber votado por ella.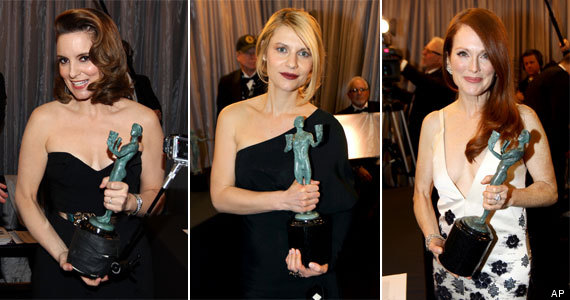 TELEVISIÓN
Rompiendo récords, Alec Baldwin y Tina Fey se llevaron una vez más los trofeos SAG por sus roles protagónicos en "30 Rock". Baldwin, curiosamente, lo ganó durante todos los años que estuvo nominado, siendo éste su séptimo galardón y, al inicio de su discurso, dijo: "¡Esto es ridículo!". Fey, agradeciendo su cuarto trofeo individual, bromeó con su amiga Amy Poehler, nominada por "Parks & Recreation": "Amy, te he conocido desde que estabas embarazada de Lena Dunham [la creadora y protagonista del show "Girls"]".
A pesar de barrer otra vez en los campos de actuación (y dejar fuera a Sofía Vergara como Mejor Actriz), el triunfo para Mejor Reparto en Serie de Comedia fue, por tercer año consecutivo, para "Modern Family", así que finalmente, la colombiana y sus compañeros sí festejaron una vez más. Jesse Tyler Ferguson, hablando en nombre de todos, agradeció al elenco de "30 Rock" y "The Office" por su inspiración y gran trabajo, ya que ambos shows terminan esta temporada.
En el rubro de drama, el elenco de "Downton Abbey" sorprendió tras su victoria en su primera nominación, venciendo a sus compañeros de "Mad Men", "Breaking Bad", "Homeland" y "Boardwalk Empire". Bryan Cranston obtuvo otro SAG Award, al ganar Mejor Actor en Drama por "Breaking Bad". Por su parte, Claire Danes se llevó Mejor Actriz en Drama por "Homeland".
Quienes también repitieron victoria como en los Golden Globes fueron Julianne Moore y Kevin Costner, dentro de la categoría de Actuación en Cinta para TV o Miniserie. Julianne lo hizo por interpretar a Sarah Palin en "Game Change" y Costner (quien fue el otro ganador ausente esta noche) por su protagónico en la miniserie "Hatfields & McCoys".
El reconocimiento a la carrera este año fue para el legendario Dick Van Dyke, quien lo recibió de manos de Alec Baldwin.
TODAS LAS FOTOS DEL SHOW Y BACKSTAGE:
Screen Actors Guild Awards 2013
SAG Awards 2013: Moda en la alfombra roja
GANADORES DE LOS PREMIOS SAG 2013:
Reparto: "Argo"
Actor: Daniel Day-Lewis, "Lincoln"
Actriz: Jennifer Lawrence, "Silver Linings Playbook"
Actor de reparto: Tommy Lee Jones, "Lincoln"
Actriz de reparto: Anne Hathaway, "Les Miserables"
Reparto en serie de drama: "Downton Abbey"
Actor - drama: Bryan Cranston, "Breaking Bad"
Actriz - drama: Claire Danes, "Homeland"
Reparto en serie de comedia: "Modern Family"
Actor - comedia: Alec Baldwin, "30 Rock"
Actriz - comedia: Tina Fey, "30 Rock"
Actor en cinta para TV o miniserie: Kevin Costner, "Hatfields & McCoys"
Actriz en cinta para TV o miniserie: Julianne Moore, "Game Change"
Equipo de stunts en película: "Skyfall"
Equipo de stunts en programa de TV: "Game of Thrones"
SUBSCRIBE TO & FOLLOW THE MORNING EMAIL
The Morning Email helps you start your workday with everything you need to know: breaking news, entertainment and a dash of fun. Learn more