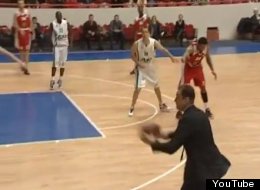 Basketball coaches are always trying to set up their players to succeed but rarely are they actually dishing out assists. Due to a player's mistake in a basketball game in Russia, a coach tried to do just that with some quick sleight of hand.
According to the description of the video above posted to YouTube, the coach of Spartak Primorie in the Russian basketball league came up with one of the highlights of the game.
In a game between Spartak and Unics Kazan, Spartak's Troy Gillenwater got the ball at the top of the key and tried to swing it around to a teammate on the left wing. Unfortunately, there wasn't a teammate on the left wing. Instead, he accidentally passed it to coach Gundars Vetra on the sideline (the look on Gillenwater's face is priceless).
Vetra made some spectators laugh by dishing a quick pass to Aleksei Golyakhov in the corner, who swished a 3-pointer that ultimately did not count.
While the description of the YouTube video says Vetra is the coach of Unics, he is actually the Spartak coach according to Eurobasket.com.
For those wondering if Vetra ever used those passing skills in the NBA, he played a total of 13 games for Minnesota during the 1992-93 season, averaging .5 assists per game.