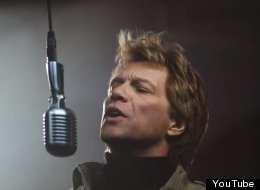 Veteran rock band Bon Jovi has released a new music video for the single "Because We Can" -- take a look in the video above.
"Because We Can" is the first single off of Bon Jovi's upcoming album "What About Now," due out March 26. Bon Jovi will debut a new music video for each song on the album until "What About Now" is released.
In other music news, Eric Clapton announced Tuesday that he will be releasing a new album in March. Titled "Old Sock," the album will drop on March 12. Clapton released his first album "Eric Clapton" in 1970 -- "Old Sock" will be his 21st. The album, which includes collaborations with Paul McCartney, Chaka Khan, and JJ Cale, will feature two new tracks from Clapton, titled "Every Little" and "Gotta Get Over." Check out the full track listing below:
Further On Down The Road
Angel
The Folks Who Live On The Hill
Gotta Get Over
Till Your Well Runs Dry
All Of Me
Born To Lose
Still Got The Blues
Goodnight Irene
Your One and Only Man
Every Little Thing
Our Love Is Here To Stay
Jon Bon Jovi, born John Francis Bongiovi on March 2, 1962, turns 50.

Bon Jovi and wife Dorothea Hurley at the "New Year's Eve" premiere with kids (left to right) Jesse, Stephanie, Romeo and Jacob.

Jon Bon Jovi and his wife Dorothea Hurley, married in 1989.

Jon Bon Jovi opened The Soul Kitchen in Red Bank, NJ in 2011, offering meals in exchange for donations or volunteer work.

Bon Jovi, formed in 1984, is made up of Jon Bon Jovi on vocals and guitar, Richie Sambora on guitar and vocals, David Bryan on keyboard and vocals, and Tico Torres on Drums.

Between 1987 and 2009, Bon Jovi has had three of their albums go to number one on the Billboard Charts.

In 2004, Bon Jovi released the box set "10,000,000 Bon Jovi Fans Can't Be Wrong" featuring 51 tracks and DVD footage.

Bon Jovi will be headlining this year's Bamboozle festival in Asbury Park, NJ on May 19.

"Always" was featured on the 1994 album "Cross Road" and went to number four.

"Just Older" was part of the band's 1999 album, "Crush."

Two years prior, in 1987, Bon Jovi won an MTV Video Music Award for "Livin' On A Prayer."

"You Give Love A Bad Name" was a number one single from the number one album "Slippery When Wet" in 1986.