Chief Saunooke Bear Park, a North Carolina bear pit accused by animal rights activists of abusing the bears in its care, was recently shut down by federal regulators and slapped with a hefty fine over "inhumane conditions."
According to the Associated Press, the U.S. Department of Agriculture (USDA) released an order this month to suspend the bear park's exhibitor license and fine the facility's owners $20,000. Federal inspectors said the bear pit, located in Cherokee, N.C., was "failing to provide the bears with appropriate food, proper veterinary care and a safe enclosure."
For years, the People for the Ethical Treatment of Animals (PETA) has vocally condemned what it said were cruel practices carried out by staff at the Chief Saunooke Bear Park. PETA members publicly protested the private zoo's treatment of its bears and called on federal agencies to shut the facility down.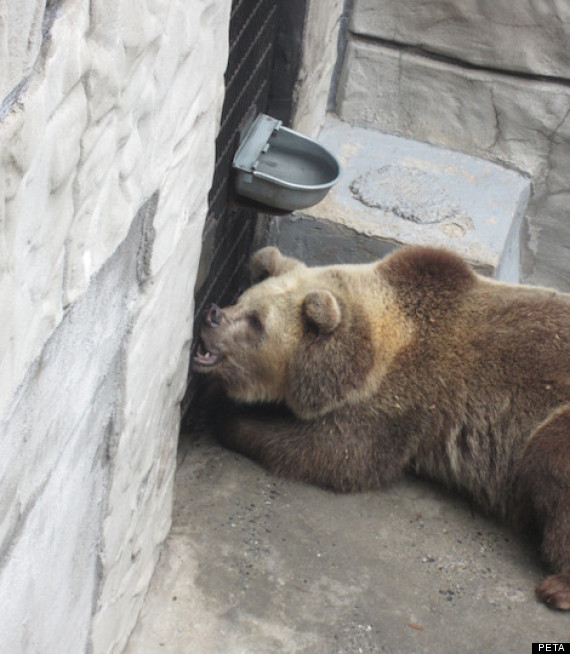 According to video footage captured by PETA inside the Chief Saunooke Bear Park, the animals bite at the metal fencing installed in the pits and sometimes break their teeth. (Photo Credit: PETA)
Just this month, PETA revealed that it had uncovered not only evidence of animal abuse, but also of drug use, racism and other illegal and inappropriate activities at the bear park. (See video above.)
In September last year, following a series of complaints lodged by PETA, the bear pit was charged by the USDA with 14 violations of the federal Animal Welfare Act (AWA) for "failing to provide the bears with adequate housing, food, and veterinary care, among other abuses." The park, however, was allowed to remain open, while PETA urged that it be "stripped of its license."
As of Jan. 29, however, the park will remain on lockdown until it is "able to demonstrate full compliance" with the AWA, according to a PETA press release.
The bears will likely remain with their owners for the time being.
"[The bear park owner] would still need to provide humane care and treatment for those bears," USDA spokesman Dave Sacks told the Citizen-Times of Asheville, N.C. "In order to get his license reinstated, he would have to prove that to the USDA. It's not like we're taking over the care of the bears. They are still his property, legally, so that's still up to the individual to care for them."
Delcianna Winders, a director at PETA, told the Citizen-Times that she hopes the bear park will remain closed for good and that the bears will be relocated "to a reputable sanctuary where they'll have the veterinary care, food and other essentials that they have been denied for years."
Kole Clapsaddle, the park's owner, has yet to comment on the recent shutdown.
Despite the efforts of animal rights and conservation groups, humans continue to threaten the well-being of bears in captivity and in the wild. As PETA notes, bears are sometimes used as performance animals -- for instance, in circuses, as actors and as dancing bears -- to the great detriment of the animals. In addition, according to Seethewild.org, "six of the eight species of bears are endangered or vulnerable and their numbers are in decline." Sun bears and giant pandas, for instance, are considered to be animals whose existence in the wild is seriously threatened.
Also on HuffPost:
Loading Slideshow
Kamchatka bear twins named Cuba and Toby, with their mother Kamcatka play in the outdoor enclosure at Brno Zoo for the first time on May 31, 2012. The Kamchatka bear is the largest subspecies of brown bear, weighing up to 1000 kg. RADEK MICA/AFP/GettyImages

Kamchatka bear Kamcatka, mother of twin bear cubs, plays in the outdoor enclosure at Brno Zoo for the first time on May 31, 2012. The Kamchatka bear is the largest subspecies of brown bear, weighing up to 1000 kg. RADEK MICA/AFP/GettyImages

Polar bear Anori lays in the sun on May 30, 2012 at the zoo in Wuppertal, western Germany. Anori was born January 4, 2012 at the zoo in Wuppertal and is a half-sister of world famous polar bear Knut, who died in 2011. FEDERICO GAMBARINI/AFP/GettyImages

A black bear is seen in the Shenandoah National Park in Virginia. KAREN BLEIER/AFP/GettyImages

Two Giant Pandas at an enclosure before they are taken back to the wild, at the Wolong National Nature Reserve in Wolong, southwest China's Sichaun province on May 3, 2012. The bears will be left to fend for themselves to learn crucial survival skills, and scientists plan to gradually reduce human interactions until they can live in the wild without any assistance, and while there have already been 10 attempts at setting pandas free over the past 30 years, and only two are thought to have been successful as the bears find it very hard to survive on their own. STR/AFP/GettyImages

A mother polar bear plays with one of her three cubs born in last November, at the Moscow Zoo, on March 22, 2012. ANDREY SMIRNOV/AFP/Getty Images

KINGUSSIE, SCOTLAND - APRIL 09: Walker (L) the polar bear meets with new male companion Arktos at the Highland Wildlife Park on April 9, 2012 in Kingussie, Scotland. Arktos arrived from Hannover Zoo in Germany on April 4 to be a companion to the Park's resident polar bear Walker. A year older than Walker and slightly larger, Arktos is four-years-old and it's hoped that the bears will establish a relationship of friendly competitiveness. (Photo by Jeff J Mitchell/Getty Images)

QUANZHOU, CHINA - FEBRUARY 24: (CHINA OUT) Bears stand by a wall at a bear farm of Guizhentang Pharmaceutical Co Ltd on February 24, 2012 in Quanzhou, Fujian Province of China. The Guizhentang Pharmaceutical Co Ltd, which makes medicine using bile extracted from live bears, opened one of its bear farms to the media on Wednesday, to quell growing criticism. (Photo by ChinaFotoPress/ChinaFotoPress via Getty Images)

A bear is seen at one of the traditional Chinese medicine company Guizhentang's controversial bear bile farms in Hui'an, southeast China's Fujian province on February 22, 2012. Bear bile has long been used in China to treat various health problems, despite skepticism over its effectiveness and outrage over the bile extraction process, which animal rights group say is excruciatingly painful for bears. STR/AFP/Getty Images

This photo taken on January 17, 2012 shows a zoo keeper attending to a new-born polar bear cub at the Ocean Aquarium of Penglai, in Yantai, in east China's Shandong province. This female cub was delivered by five-year-old polar bear 'Pengpeng' on January 1 weighing 640 grams, as the first polar bear born in the aquarium. STR/AFP/Getty Images

A spectacled bear (tremarctos ornatus), born in captivity four months ago, is seen at the zoo in Cali, Valle del Cauca department, Colombia, on January 11, 2012. LUIS ROBAYO/AFP/Getty Images

A pair of Brown bears play fight December 21, 2011 at the Bronx Zoo in New York. DON EMMERT/AFP/Getty Images

KINGUSSIE, SCOTLAND - DECEMBER 07: Walker the polar bear plays with a hard hat on his third birthday at the Highland Wildlife Park on December 7, 2011 in Kingussie, Scotland. Walker was born in Rhenen Zoo in Holland on 7th December 2008. He came to live at the Highland Wildlife Park after his aunt, Freedom, became pregnant and needed to retire to her cubbing den, his mother was also due to come on heat and be reintroduced back to the Zoo's adult male, Walker's dad. (Photo by Jeff J Mitchell/Getty Images)

EDINBURGH, SCOTLAND - DECEMBER 16: Tian Tian the female panda bear looks out from her enclosure as members of the public view her for the first time at Edinburgh Zoo on December 16, 2011 in Edinburgh, Scotland. The eight-year-old pair of giant pandas arrived on a specially chartered flight from China over a week ago and are the first to live in the UK for 17 years. Edinburgh zoo are hopeful that the pandas will give birth to cubs during their 10 year stay in Scotland. (Photo by Jeff J Mitchell/Getty Images)

Polar bears play in the water of Blijdorp Zoo in Rotterdam, Netherlands on September 30, 2011. The weather forecast for the weekend to come promises plenty of sunshine and temperatures around 25 degrees. ROBERT VOS/AFP/Getty Images

KEENESBURG, CO - OCTOBER 20: A grizzly bear waits to be fed at The Wild Animal Sanctuary on October 20, 2011 in Keenesburg, Colorado. The non-profit sanctuary is a 720-acre refuge for large carnivores that have been confiscated from illegal or abusive situations and is currently home to over 290 lions, tigers, bears, wolves and other large carnivores. It is the oldest and largest carnivore sanctuary in the United States, having been in operation since 1980. On Tuesday the owner of a Zanesville, Ohio private animal reserve set loose 56 animals, of which 49 were hunted down and killed by law enforcement and six others were tranquilized and are being treated at the Columbus Zoo. (Photo by John Moore/Getty Images)

A bear is seen in the Kuwait Zoo in the heart of the capital on September 4, 2011. YASSER AL-ZAYYAT/AFP/Getty Images

Polar bear shakes off water in his enclosure at the zoo on July 26, 2011 in Prague. MICHAL CIZEK/AFP/Getty Images)

A brown bear rests at the Safari park in Fasano, in the Apulia region, on August 4, 2011. GIUSEPPE CACACE/AFP/Getty Images

A three month old bear cub who was born at the zoo in Stavropol takes a walk on May 5, 2011. DANIL SEMYONOV/AFP/Getty Images

Newborn Polar Bear Cubs

Newborn Polar Bear Cubs. A set of newborn polar bear twins make their public debut.

Anuri The Baby Polar Bear

Meet Germany's latest animal superstar - Anuri the polar bear.