Memorial Day weekend is approaching fast, and that's a big deal for many music fans -- since it corresponds with Detroit's annual Movement Electronic Music Festival.
Although gathering itself won't hit Hart Plaza until May 25, 26 and 27, we do have some great news for right now: new performers announced.
Phase Three of the gathering's lineup has been announced -- and it's got some names that are certain to make some people happy. Techno legend Moby is on there, along with a list of local favorites that includes Deastro, Shigeto and Phantasmagoria.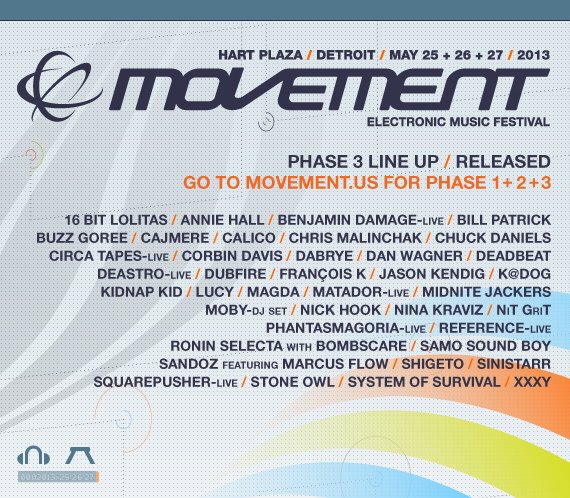 Tickets are already available on the Movement website, where they're counting down the days (52 left), hours, minutes and seconds until the sound of techno techno fills the air. Relive the madness from last year -- and get ready for Movement 2013 -- with help from the pulse-quickening trailer posted above. A text list of Phase Three performers follows, if you're into that sort of thing. Are you looking forward to the electronic music festival, or will you be avoiding Hart Plaza? Let us know in the poll below.
16 Bit Lolitas
Annie Hall
Benjamin Damage - live
Bill Patrick
Buzz Goree
Cajmere
Calico
Chris Malinchak
Chuck Daniels
Circa Tapes
Corbin Davis
Dabrye
Dan Wagner
Deadbeat
Deastro - live
Dubfire
François K
Jason Kendig
K@Dog
Kidnap Kid
Lucy
Magda
Matador - live
Midnite Jackers
MOBY - dj set
Nick Hook
Nina Kraviz
NiT GriT
Phantasmagoria - live
Reference - live
Ronin Selecta w/ Bombscare
Samo Sound Boy
Sandoz with Marcus Flow
Shigeto
Sinistarr
Squarepusher - live
Stone Owl
System of Survival
xxxy
Click here to see the first phase of performers announced for Movement 2013.
ALSO ON HUFFPOST:
NOTE: This collection contains some NSFW language, two giant stuffed penises, and one instance of a girl in a bikini trying to get it on with a tree. Proceed with caution.

PHOTO GALLERY
BEFORE YOU GO
Summer Festival Idiots
PHOTO GALLERY
Summer Festival Idiots