It's still January, but already Detroit is looking forward to a weekend in the middle of May, when sweaty music lovers will crowd Hart Plaza for the city's annual electronic music festival, Movement.
The thumping bass and substance-fueled (so we've heard) event, which will take place May 25, 26 and 27, has already released the Phase One lineup. And there's some very notable names, like Carl Craig and Derrick May.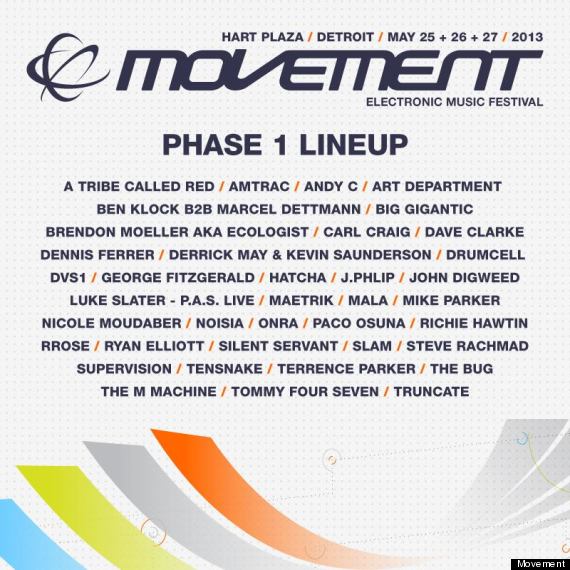 Tickets are already available on the Movement website, where they're counting down the days (114, in case you were wondering), hours, minutes and seconds until the sound of techno techno fills the air. Relive the madness from last year -- and get ready for Movement 2013 -- with help from the pulse-quickening trailer posted above. A text list of Phase One performers follows, if you're into that sort of thing. Are you looking forward to the electronic music festival, or will you be avoiding Hart Plaza? Let us know in the poll below.
A Tribe Called Red
Amtrac
Andy C
Art Department
Ben Klock B2B Marcel Dettmann
Big Gigantic
Brendon Moeller AKA Ecologist
Carl Craig
Dave Clarke
Dennis Ferrer
Derrick May & Kevin Saunderson
Drumcell
DVS1
George Fitzgerald
Hatcha
J.Phlip
John Digweed
Luke Slater - P.A.S. Live
Maetrik
Maka
Mike Parker
Nicole Moudaber
Noisia
Onra
Paco Osuna
Richie Hawtin
RRose
Ryan Elliott
Silent Servant
Slam
Steve Rachmad
Supervision
Tensnake
Terrence Parker
The Bug
The M Machine
Tommy Four Seven
Also on HuffPost:
NOTE: This collection contains some NSFW language, two giant stuffed penises, and one instance of a girl in a bikini trying to get it on with a tree. Proceed with caution.
Loading Slideshow
Flip-Flop Fail

Maybe he should have worn sneakers.

How NOT To Crowd Surf

Festival rule #27: Never assume the crowd will catch you if you jump off a roof.

The Umbrella Dance

We don't know what kind of prize she should get, but this girl definitely deserves something for the most inventive dance with an umbrella.

"This Isn't A Urinal, Is It?"

Sorry, man... but yes, that is a urinal.

Festival Gymnastics Gone Wrong

Coachella Dude 1: "I have a great idea. Let's get everyone together and recreate that move from Dirty Dancing." Coachella Dude 2: "Yeah, let's do it!"

Beware Of Heights

Festival rule #34: The scaffolding is not there for you to climb. Fortunately, the man in the video survived the fall with no injuries, but that didn't stop him from trying to <a href="http://wentworth-courier.whereilive.com.au/news/story/video-man-falling-from-scaffolding-at-creamfields/" target="_hplink">reenter the Sydney festival</a> after leaving the hospital.

Watermelon Head Smash

For festivalgoers running low on <a href="http://www.huffingtonpost.com/2012/07/05/watermelon-rubber-bands_n_1651092.html" target="_hplink">rubber bands</a>, there's more than one way to cut a watermelon.

Ridiculous Dancing

The jury is still out on whether or not these two people know each other.

Rampage!

This guy has just had enough.

Two Left Feet

He may not fall with grace, but you have to give this festivalgoer credit for hopping right back up and going on his merry way.

If At Once You Don't Succeed...

... fail, fail again.

That's Not A Person

This girl takes tree hugging to the extreme.

Dance Party Of One

Wait for it...

Craziest Outfit?

In that outfit, this is the kind of dancing we expect.

Accident Waiting To Happen

Giant mud hole + two drunken festivalgoers = SPLAT!

Pirate Balloon Sword Fight

The next best thing to a dance off is a pirate sword fight with balloons set to electronic music.

Kick The Can -- Coachella Style

Someone actually put some thought into this game -- at least enough thought to bring along two stuffed penises to Coachella.