One six-year-old girl has just done what millions of women can only dream of -- she "married" her favorite football player.
Breanna became an Internet sensation earlier this month when a video of her crying because she's too young to marry Houston Texans player J.J. Watt hit YouTube (watch the video above). Watt heard about the video and set out to find Breanna, tweeting Monday, "Does anyone happen to know this cute little girl? We have to find her and turn those tears into a smile."
Watt did find Breanna, and on Wednesday, tweeted photos of himself "proposing" to Breanna with a Ring Pop and flowers. He wrote that she had agreed to be his "pretend wife for the day." Check out the adorable photos below.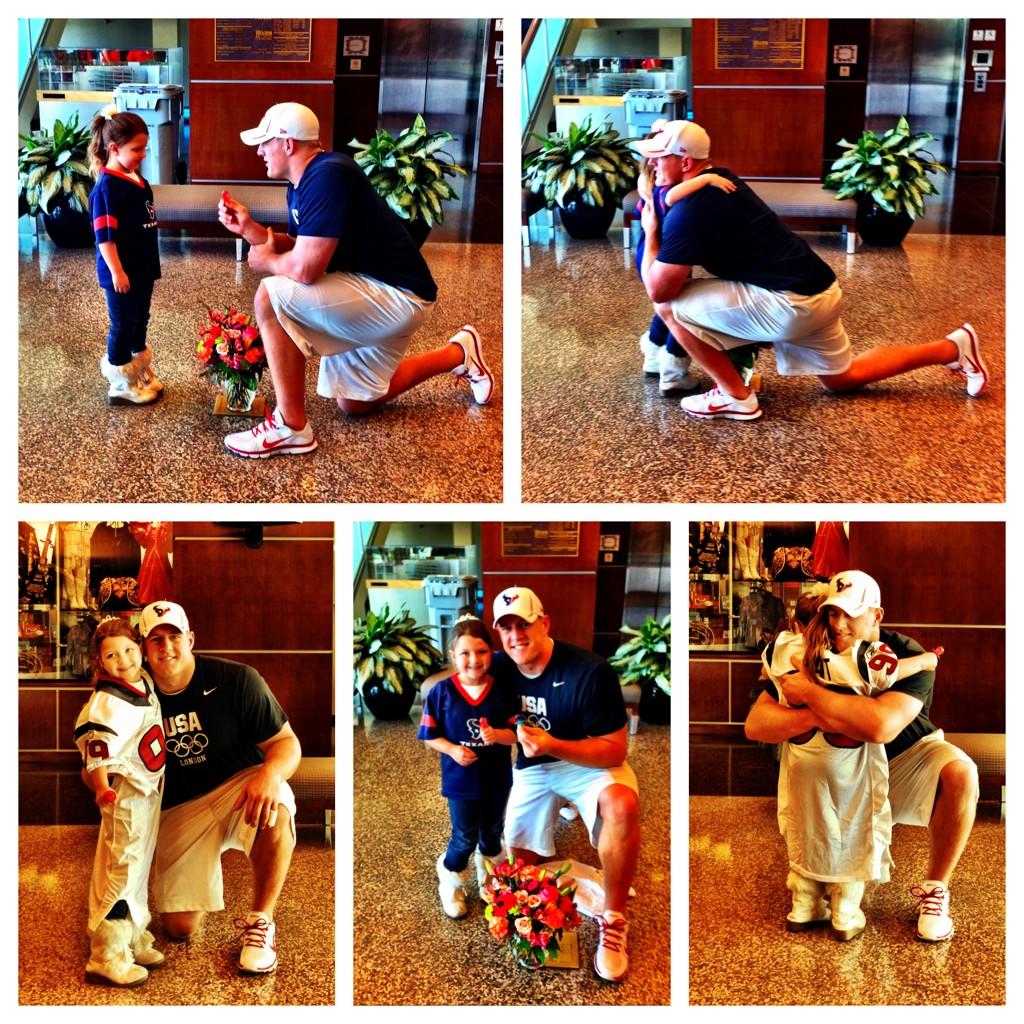 Watt told Yahoo Sports Radio Thursday that he also gave Breanna a white jersey to wear as a wedding dress, and joked that they were registered at Toys 'R Us.
"It was awesome and it was great and we had our first dance to her favorite artist, Justin Bieber. It was really, really cool," Watt said. "It was fun. It was priceless."
Check out some of the best feel-good sports stories of 2012 in the slideshow below.
Loading Slideshow
#Chuckstrong

Indianapolis Colts coach Chuck Pagano was <a href="http://espn.go.com/nfl/story/_/id/8447831/indianapolis-colts-coach-chuck-pagano-leukemia">diagnosed with leukemia </a>on Sept. 26 and left the team to undergo chemotherapy. With offensive coordinator Bruce Arians acting as interim coach, the team reeled off a string of thrilling victories. After one come-from-behind win, Pagano appeared in the locker room and gave an amazing speech to the team. To show solidarity with Pagano, several players (and a pair of cheerleaders) shaved their heads.

A's Winning AL West

The Rangers had made two straight World Series appearances on behalf of the American League entering the 2012 season. The Angels, meanwhile, had signed Albert Pujols after 2011 and got amazing production from rookies Mike Trout and Mark Trumbo. Yet it was the Oakland A's, with the <a href="http://content.usatoday.com/sportsdata/baseball/mlb/salaries/team">lowest payroll</a> in the AL, who rallied late in September to <a href="http://www.huffingtonpost.com/2012/10/03/athletics-sweep-rangers-al-west-champions_n_1937594.html">win the AL West </a>to reach the playoffs for the first time since 2006. Oh, and they did so while their fans did the <a href="http://www.huffingtonpost.com/2012/10/10/oakland-as-bernie-lean-dance-in-nyc_n_1955700.html">Bernie Lean. </a>

Adam Greenberg - One At Bat

Seven years after getting hit in the head with the very first pitch in his Major League debut, derailing his career, Adam Greenberg finally got a second chance. <a href="http://www.huffingtonpost.com/2012/09/05/adam-greenberg-petition-chicago-cubs-at-bat_n_1855906.html">Self-described baseball activist Matt Liston created a petition </a>on Change.org to get the Chicago Cubs, Greenberg's former team, to sign him to a one-day contract and give him his one at-bat. The Cubs didn't sign him. But the Miami Marlins did.<a href="http://www.huffingtonpost.com/2012/10/02/adam-greenberg-at-bat-marlins_n_1934287.html"> Greenberg got a first official at-bat and struck out against eventual Cy Young winner R.A. Dickey</a>. He recently signed a minor league contract <a href="http://www.baltimoresun.com/sports/orioles/blog/bal-orioles-sign-adam-greenberg-to-minorleague-deal-20121220,0,3626719.story">with the Orioles. </a>

Orioles Magic

For most of the season, the Baltimore Orioles' opponents had scored more runs than they did. But they kept winning, defying logic and their critics. Led by veteran manager Buck Showalter and young stars like Adam Jones and Matt Wieters, the O's magical season included a wild string of extra-innings/one-run wins. By October, Camden Yards was full again and the Orioles were once again battling the New York Yankees.

Mo Farah

Who will ever forget Mo Farah's facial expression as he crossed the finish line in the 5,000m final at the London Games? From this euphoric reaction to the Mobot, Farah's joyous double triumph became one of the indelible memories from the 2012 Olympics.

Sarah Robles Makes It To London

U.S. weightlifter Sarah Robles overcame financial problems and self-esteem issues en route to the London Olympics. Her road was tough, considering that he training schedule left her little time for a job. She told Buzzfeed that she was living on $400/month from USA Weightlifting and explained that one couldn't get a sponsorship <a href="http://www.buzzfeed.com/jtes/the-strongest-woman-in-america-lives-in-poverty">"if you're a girl who's built like a guy." </a> Then, in July, an internet advertising company called Solve Media announced it was <a href="http://www.huffingtonpost.com/2012/07/18/sarah-robles-london-olympic-weightlifting-2012_n_1683508.html">sponsoring Robles. </a>

Adrian Peterson's Comeback

Freak. Bionic. Mutant. All of these terms are applicable in describing Adrian Peterson and what he has done in 2012, less than a year removed from reconstructive knee surgery. He has carried the Vikings all season and might <a href="http://www.huffingtonpost.com/2012/12/17/adrian-peterson-eric-dickerson-rushing-record-stats_n_2317230.html">even break Eric Dickerson's single-season rushing record. </a>

Sarah Attar

Sarah Attar became the first woman from Saudi Arabia to compete in track and field during the Olympics. She raced in the women's 800-meter race at the London Games. The 19-year-old finished in last place, but she received a standing ovation <a href="http://www.huffingtonpost.com/2012/08/08/sarah-attar-first-saudi-woman-olympics_n_1755179.html">as she crossed the finish line. </a> "This is such a huge honor and an amazing experience, just to be representing the women. I know that this can make a huge difference," <a href="http://www.huffingtonpost.com/2012/08/08/sarah-attar-first-saudi-woman-olympics_n_1755179.html">she told the Associated Press. </a>

Andy Murray Wins 1st Career Grand Slam

Shortly after defeating Roger Federer in the Olympic gold medal match before a home crowd at the London Games, Andy Murray finally completed his quest for his first career Grand Slam victory. By defeating Novak Djokovic at the U.S. Open, he became the first <a href="http://www.huffingtonpost.com/2012/09/10/andy-murray-us-open-2012-novak-djokovic_n_1872504.html">British man to win a Grand Slam in singles since 1936. </a>

Peyton's Resurgence

Nobody knew just how well Peyton Manning would play after missing an entire season and undergoing multiple neck surgeries. It turns out he's just fine. After missing the previous season and cutting ties with Indianapolis, Manning is arguably this year's NFL MVP. He has led the Denver Broncos to the top of the AFC.

Buccaneers Sign Eric LeGrand

In a heartwarming gesture, first-year Tampa Bay Buccaneers coach <a href="http://www.huffingtonpost.com/2012/05/02/eric-legrand-buccaneers-rutgers-greg-schiano_n_1470738.html">Greg Schiano signed Eric LeGrand</a>, his former player when he was the coach at Rutgers. LeGrand suffered a spinal injury in 2010 that left him paralyzed. The Bucs shipped a jersey, helmet and a ceremonial contract. Later in the year, LeGrand received the Jimmy V award for perseverance and gave a <a href="http://espn.go.com/video/clip?id=8158677">moving speech at the ESPYs. </a>

Linsanity

For a few weeks, Jeremy Lin was the biggest thing in sports -- maybe in the world. The second-year point guard went from NBA obscurity to being the toast of New York. After breaking into the Knicks' starting lineup, Lin topped Shaquille O'Neal's NBA record for most points scored in his first five starts <a href="http://scores.espn.go.com/nba/recap?gameId=320214028">with 136</a>. He even brought <a href="http://www.ibtimes.com/articles/300699/20120217/time-warner-msg-network-dispute-jeremy-lin.htm">Time Warner and the MSG Network together</a>. From the couch he was sleeping on to the song parodies and the handshake, it was pretty easy to catch a case of <a href="http://www.huffingtonpost.com/news/jeremy-lin/1">Linsanity. </a>

Liu Xiang Limps To Finish Line

2004 Olympic champion Liu Xiang clipped the very first hurdle of his 110-meter heat in London and injured his right leg. After staying down for a few minutes, he tried heading for the exit. But he got pointed back to the track and ended up<a href="http://www.huffingtonpost.com/2012/08/07/liu-xiang-hurdles-fall-olympics-2012_n_1750798.html#slide=1341005"> hopping all the way to the finish line</a>. He even kissed the 10th and final hurdle. After he crossed the finish line, Hungary's Balazs Baji went over to him <a href="http://www.huffingtonpost.com/2012/08/07/liu-xiangs-finish-inspirational-moment-olympics_n_1752257.html">and raised his arm up. </a> In defeat, Xiang displayed so many of the characteristics that make the Olympics such an impactful event.

Sam Gordon

Sam Gordon became an internet (and football) sensation after her father posted an amazing highlight video of his daughter dominating an all-boys tackle football league. In a league of 9-year-olds, <a href="http://www.huffingtonpost.com/2012/11/07/sam-gordon-girl-football-player-running_n_2088209.html">Gordon rushed 232 times for 1,911 yards and 35 touchdowns</a>. Oh, and she tallied 65 tackles. Gordon's highlight-reel was so impressive, she received her very own Wheaties box <a href="http://www.huffingtonpost.com/2012/11/21/sam-gordon-wheaties-good-morning-america-gma_n_2171347.html">becoming the first female football player to do so. </a>

Blade Runner

Not only did double-amputee Oscar Pistorius become the first ever amputee to compete in an Olympics, he added the icing on the cake after he finished in <a href="http://www.huffingtonpost.com/2012/08/04/oscar-pistorius-olympics-qualifying-time-heat_n_1740701.html">second in his 400-meter heat to advance to the semifinals. </a> Running on carbon-fiber blades, the 25-year old runner then ran in the <a href="http://www.huffingtonpost.com/2012/09/08/oscar-pistorius-paralympics-400-gold-video_n_1867535.html">Paralympics and won the gold medal in the 400 meters. </a>
Keep in touch! Check out HuffPost Weddings on Facebook, Twitter and Pinterest.
Earlier on HuffPost: