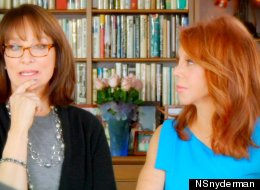 The wonderful Dr. Nancy Snyderman, the Chief Medical Editor of NBC News, joined me on Mondays With Marlo. We got to cover lots of topics, including how women can keep their hearts healthy.
The first step is preventing heart disease, Dr. Snyderman said. Not smoking is one of the best things you can do for heart health, so if you're currently lighting up, it's time to get help and quit. Be aware of your weight and waist size: a 35-inch or larger waist is a cause for concern. Knowing your family's health history is important too, said Dr. Snyderman. If heart disease runs in your family, you might be at greater risk.
Finally, Dr. Snyderman stressed the importance of women knowing the signs of heart disease, since they're often different than what men experience. If you're feeling exhausted, can't catch your breath, or have an upset stomach, call your doctor. Taking a baby aspirin daily might be beneficial as well. It will thin your blood and might reduce your risk of blood clots.

For more important health info, see Dr. Nancy Snyderman's tips for staying healthy:
Dr. Nancy Snyderman's Tips To Stay Healthy
This year's strain of influenza is particularly strong. If you haven't already gotten a flu shot, it's not too late -- flu season goes through April. Remember, the virus changes each year, so last year's shot won't protect you this season. And popular to contrary belief, the shot does not cause side effects.

Wash your hands regularly -- all it takes is touching someone (or something) that's been in contact with the cold or flu for you to get sick. Keep wipes or antibacterial sanitizing gel on hand, and wash your hands when you get home from being outdoors. If you're already sick, stay home so you don't infect those around you.

If your teenager is up all night and then can't get out of bed in the morning, part of the problem might be his or her electronics. Smartphones, laptops and televisions all make it more difficult for the brain to unwind. Have your teen turn off electronics an hour before bed -- and it's not a bad idea for adults, too!

If you're interested in combining juicing with eating clean, whole foods, then juicing is a great option. But there's a misconception that your body needs help eliminating toxins -- it doesn't. It will naturally do this. Focus instead on cutting out processed foods for better results.

If you're in a monogamous relationship and haven't had any abnormal Pap smears, an annual Pap smear is unnecessary. If you're under 30, having one every three years is safe; if you're over 40, get one every other year. If you have multiple sexual partners, continue getting tested annually, as you are at a higher risk for cervical cancer.

If you're under age 50 and have no risk factors for breast cancer, speak with your doctor about what other options you have to screen for breast cancer, like ultrasounds or sonograms, that reduce or eliminate radiation exposure.

Taking a baby aspirin daily thins your blood and helps prevent blood clots. Or, if you prefer, take an adult aspirin twice a week.

Nicotine is one of the hardest drugs to kick. Though the chemical addiction to smoke subsides after five days, the physical triggers -- things like drinking, stress, a waft of smoke through a room -- take longer to kick. Help a friend or family member quit smoking by being supportive of his or her attempt to quit smoking. Lending a sympathetic ear when a friend is trying not to light up will go a longer way than chastising.

You might have a higher risk for certain conditions, like heart disease, if a family member has been diagnosed. Discussing your family's medical history with your doctor can help him or her decide what preventative measures can be taken.

If your body actually has trouble processing gluten, a gluten-free diet might be the way to go. But if you have no gluten problems, eliminating it from your diet is unnecessary -- and no, it won't make you eat healthier. Forget the fad, and concentrate on eating healthy, unprocessed foods.

Visiting the dermatologist for an overall body scan is a smart decision if you're a redhead, have fair skin, have a family history of skin cancer, have any moles that have changed in appearance or have had significant skin damage in the past. If not, you can skip the visit -- but not the sunscreen.

We all know exercise is important -- but it's easier said than done. Finding something you enjoy -- whether it's hiking, Pilates or some other activity -- is the key to maintaining a routine. Keep experimenting until you find the right workout for you.

Visit a cardiologist for a screening test. If you're a healthy person who doesn't smoke, isn't overweight and has no predisposition to heart disease, getting a baseline and checking back in 5 years is a good idea.

Cellulite is made up of the fat cells you're born with that are stuck between fibers -- there's not much you can do to get rid of it. Focus instead on accepting it as part of your body -- every woman has cellulite, and that's OK!

There are specific things you can ask your doctor to look for to get the most out of your annual exam. If you're over 50 years old, a mammogram and an update on your heart health are important. If you're under 50 years old, know your family history and discuss it with your doctor -- you might have an increased risk for certain conditions. And no matter what your age, know your blood pressure, waist size and blood sugar levels to ensure you're keeping healthy.

If you're over 70 years old, a gerontologist might be better suited to your needs than your normal physician. They're intellectually invested in your well-being and trained in issues facing the elderly.
Add Marlo On Facebook:
Follow Marlo on Twitter:

Weekly Newsletter

Sign up to receive my email newsletter each week - It will keep you up-to-date on upcoming articles, Mondays with Marlo guests, videos, and more!

Sign up here