KRUGMAN: So two guys can write a report that calls for all kinds of good stuff and they can't even get their own commission to agree on the report. And you're saying this should be our policy? We need to focus on what is urgent right now, which is creating jobs and getting this economy back to full employment.

RENDELL: But the way you do that is to build a political coalition to do something about the long-term debt.

KRUGMAN: Have you been living in the same country as I have these past five years?

SCARBOROUGH: My message is, we've got a coming collapse if we don't take care of our entitlements.

KRUGMAN: It's a long way off, it's not necessarily even true.
KRUGMAN: People like me have been saying for five years, don't worry about these deficit things for the time being, they're a non-issue. Other people have been saying, 'Imminent crisis, imminent crisis!' How many times do they have to be wrong and do people like me have to be right before people start to believe this?

HAASS: You're right until the day you're wrong, and that's a bad day.
A persistent fear is that investors will at some point decide that the U.S. government's finances are a mess and/or inflation is at risk of getting out of control, and shun U.S. treasury bonds. This could cause a spike in interest rates and, for the Treasury, trouble rolling over the debt. The thing is, there is not even a shadow of a hint of this risk priced into financial markets. Treasury borrowing costs are extraordinarily low, as are market expectations of inflation. In traditional economic models, inflation can only really take hold if and when the economy is getting back close to its full economic capacity -- and if that happens, it would also mean a rapidly falling budget deficit.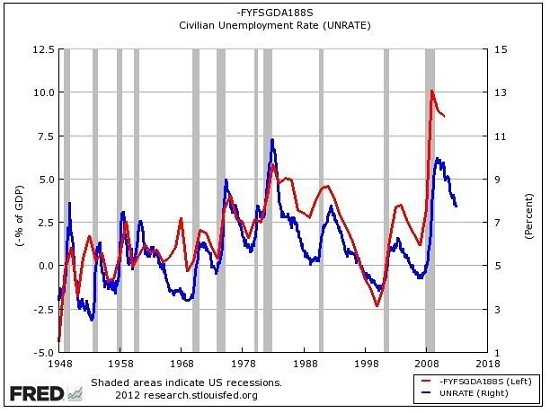 In the debate over fiscal policy, you frequently hear liberals argue: "It's not time to deal with the deficit, we need to fix the economy first and then fix the deficit when the economy is stronger." While this has merit as a political concept, it's actually giving into a false frame that dealing with the deficit and dealing with unemployment are two separate things that you do at different times. Steps you take to improve unemployment are deficit reduction measures ... While the government has done, technically, nothing to address the deficit in the last few years, the deficit is shrinking (relative to GDP) merely because the economy has improved, and more people are going back to work. If unemployment drops to 7 percent, or 6.5 percent, or 6 percent, we'll get quite a bit of deficit reduction then.
RIGHT NOW: With the economy still so weak, the case for near-term fiscal contraction is weak as well. We shouldn't kick away the fiscal crutch until the patient is ready to walk. If I am allowed to indulge in wishful thinking, a two-pronged policy that combines modest fiscal stimulus up front with serious deficit reduction thereafter would be even better.

THE NEXT DECADE: Strange as it may seem with trillion-dollar-plus deficits for four years running, the U.S. government still has no short-run borrowing problem. On the contrary, investors all over the world are still clambering to lend us money at negative real interest rates. In purchasing power terms, they are willing -- nay, eager -- to pay our government to borrow from them!

According to Congressional Budget Office January 2012 projections, the federal deficit as a share of GDP will shrink from 9 percent of GDP in fiscal 2011 to roughly 5 percent of GDP in fiscal years 2015-2018, without any further policy actions. To be sure, 5 percent of GDP is still too high. But coming from the stunning 10 percent of GDP in 2009, it's a long way down. A reasonable target for deficit reduction over the next decade might be 2 percent to 3 percent of GDP, starting perhaps in fiscal 2014.

THE VERY LONG RUN: The truly horrendous budget problems come in the 2020s, 2030s, and beyond. But while the long-run budget problem is vastly larger, it is also far simpler, for two reasons. The first is that the projected deficits are so huge that filling most of the hole with higher revenue is simply out of the question. Spending cuts must bear most of the burden. The second is that there is only one overwhelmingly important factor pushing federal spending up and up and up: rising health care costs.
What The GOP Doesn't Want You To Know About The Deficit
SUBSCRIBE TO & FOLLOW TRUMP'S FIRST 100 DAYS
How will Donald Trump's first 100 days impact YOU? Subscribe, choose the community that you most identify with or want to learn more about and we'll send you the news that matters most once a week throughout Trump's first 100 days in office. Learn more