Dick Morris DROPPED By Fox News, To Appear On CNN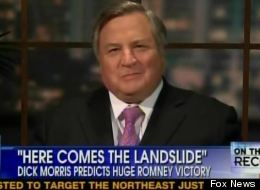 Fox News contributor Dick Morris' contract is up and will not be renewed, Politico's Mike Allen reported Tuesday evening via Twitter. The network confirmed to Allen that it would not be renewing the pundit's contract.
Morris will appear on CNN's "Piers Morgan Tonight" Wednesday, as noticed by Media Matters, which also points out that he has been absent from Fox News' airwaves since a November 12 appearance on "Hannity."
Morris infamously predicted a landslide victory for Mitt Romney in the 2012 election, which he would eventually be forced to retract and issue a semi-mea culpa for, as Jason Linkins wrote for HuffPost.
Morris and Karl Rove — who infamously refused to accept Obama's victory on-air on Election Night — were put on the sidelines at Fox News shortly about a month after the election, though Rove has since returned to the airwaves.