By: Tanya Lewis
Published: 02/05/2013 11:55 AM EST on LiveScience

Imagine if you could take living cells, load them into a printer, and squirt out a 3D tissue that could develop into a kidney or a heart. Scientists are one step closer to that reality, now that they have developed the first printer for embryonic human stem cells.
In a new study, researchers from Heriot-Watt University in Edinburgh, Scotland, have created a cell printer that spits out living embryonic stem cells. The printer was capable of printing uniform-size droplets of cells gently enough to keep the cells alive and maintain their ability to develop into different cell types. The new printing method could be used to make 3D human tissues for testing new drugs, grow organs, or ultimately print cells directly inside the body.
Human embryonic stem cells (hESCs) are obtained from human embryos and can develop into any cell type in an adult person, from brain tissue to muscle to bone. This attribute makes them ideal for use in regenerative medicine — repairing, replacing and regenerating damaged cells, tissues or organs. [Stem Cells: 5 Fascinating Findings]
In a lab dish, hESCs can be placed in a solution that contains the biological cues that tell the cells to develop into specific tissue types, a process called differentiation. The process starts with the cells forming what are called "embryoid bodies." Cell printers offer a means of producing embryoid bodies of a defined size and shape.
In the new study, the cell printer was made from a modified CNC machine (a computer-controlled machining tool) outfitted with two "bio-ink" dispensers: one containing stem cells in a nutrient-rich soup called cell medium and another containing just the medium. These embryonic stem cells were dispensed through computer-operated valves, while a microscope mounted to the printer provided a close-up view of what was being printed.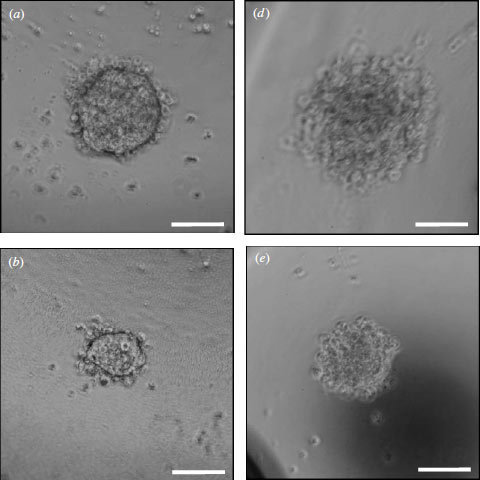 Scientists used 3D printing to form these aggregates of embryonic stem cells, shown here at 24 hours (left) and 48 hours (right) after printing.

The two inks were dispensed in layers, one on top of the other to create cell droplets of varying concentration. The smallest droplets were only two nanoliters, containing roughly five cells.
The cells were printed onto a dish containing many small wells. The dish was then flipped over so the droplets now hung from them, allowing the stem cells to form clumps inside each well. (The printer lays down the cells in precisely sized droplets and in a certain pattern that is optimal for differentiation.)
Tests revealed that more than 95 percent of the cells were still alive 24 hours after being printed, suggesting they had not been killed by the printing process. More than 89 percent of the cells were still alive three days later, and also tested positive for a marker of their pluripotency — their potential to develop into different cell types.
Biomedical engineer Utkan Demirci, of Harvard University Medical School and Brigham and Women's Hospital, has done pioneering work in printing cells, and thinks the new study is taking it in an exciting direction. "This technology could be really good for high-throughput drug testing," Demirci told LiveScience. One can build mini-tissues from the bottom up, using a repeatable, reliable method, he said. Building whole organs is the long-term goal, Demirci said, though he cautioned that it "may be quite far from where we are today."
Others have created printers for other types of cells. Demirci and colleagues made one that printed embryonic stem cells from mice. Others have printed a kind of human stem cells from connective tissues, which aren't able to develop into as many cell types as embryonic stem cells. The current study is the first to print embryonic stem cells from humans, researchers report in the Feb. 5 issue of the journal Biofabrication.
Correction
:
A previous version of this story stated that researchers from the University of Edinburgh developed the printer. In fact, they were from Heriot-Watt University in Edinburgh
.
Follow LiveScience on Twitter @livescience. We're also on Facebook & Google+.
Copyright 2013 LiveScience, a TechMediaNetwork company. All rights reserved. This material may not be published, broadcast, rewritten or redistributed.
Related on HuffPost:
Loading Slideshow
Glow-in-the-dark cats

In 2007, South Korean scientists altered a cat's DNA to make it glow in the dark and then took that DNA and cloned other cats from it — creating a set of fluffy, <a href="http://www.theguardian.com/science/2011/sep/11/genetically-modified-glowing-cats" target="_blank">fluorescent felines</a>. Here's how they did it: The researchers took skin cells from Turkish Angora female cats and used a virus to insert genetic instructions for making red fluorescent protein. Then they put the gene-altered nuclei into the eggs for cloning, and the cloned embryos were implanted back into the donor cats — making the cats the surrogate mothers for their own clones. What's the point of creating a pet that doubles as a nightlight? Scientists say the ability to engineer animals with fluorescent proteins will enable them to artificially create animals with human genetic diseases.

Enviropig

The <a href="http://news.nationalgeographic.com/news/2010/03/100330-bacon-pigs-enviropig-dead-http://news.nationalgeographic.com/news/2010/03/100330-bacon-pigs-enviropig-dead-zones/" target="_hplink">Enviropig</a>, or "Frankenswine," as critics call it, is a pig that's been genetically altered to better digest and process phosphorus. Pig manure is high in phytate, a form of phosphorus, so when farmers use the manure as fertilizer, the chemical enters the watershed and causes algae blooms that deplete oxygen in the water and kill marine life. So scientists added an E. Coli bacteria and mouse DNA to a pig embryo. This modification decreases a pig's phosphorous output by as much as 70 percent — making the pig more environmentally friendly.

Pollution-fighting plants

Scientists at the University of <a href="http://www.mnn.com/local-reports/washington" target="_hplink">Washington</a> are <a href="http://wa.water.usgs.gov/pubs/fs/fs082-98/" target="_hplink">engineering poplar trees that can clean up contamination sites</a> by absorbing groundwater pollutants through their roots. The plants then break the pollutants down into harmless byproducts that are incorporated into their roots, stems and leaves or released into the air. In laboratory tests, the transgenic plants are able to remove as much as 91 percent of trichloroethylene — the most common groundwater contaminant at U.S. Superfund sites — out of a liquid solution. Regular poplar plants removed just 3 percent of the contaminant.

Venomous cabbage

Scientists have recently taken the gene that programs poison in scorpion tails and combined it with cabbage. Why would they want to create <a href="http://www.nature.com/cr/journal/v12/n2/full/7290120a.html" target="_hplink">venomous cabbage</a>? To limit pesticide use while still preventing caterpillars from damaging cabbage crops. These genetically modified cabbages produce scorpion poison that kills caterpillars when they bite leaves — but the toxin is modified so it isn't harmful to humans.

Web-spinning goats

Strong, flexible spider silk is one of the most valuable materials in nature, and it could be used to make an array of products — from artificial ligaments to parachute cords — if we could just produce it on a commercial scale. In 2000, Nexia Biotechnologies announced it had the answer: <a href="http://www.physorg.com/news194539934.html" target="_hplink">a goat that produced spiders' web protein</a> in its milk. Researchers inserted a spiders' dragline silk gene into the goats' DNA in such a way that the goats would make the silk protein only in their milk. This "silk milk" could then be used to manufacture a web-like material called Biosteel.

Fast-growing salmon

AquaBounty's genetically modified salmon grows twice as fast as the conventional variety — the photo shows two same-age salmon with the genetically altered one in the rear. The company says the fish has the same flavor, texture, color and odor as a regular salmon; however, the debate continues over whether the fish is safe to eat. <a href="http://www.aquabounty.com/products/products-295.aspx" target="_hplink">Genetically engineered Atlantic salmon</a> has an added growth hormone from a Chinook salmon that allows the fish to produce growth hormone year-round. Scientists were able to keep the hormone active by using a gene from an eel-like fish called an ocean pout, which acts as an "on switch" for the hormone. If the FDA approves the sale of the salmon, it will be the first time the government has allowed modified animals to be marketed for human consumption. According to federal guidelines, the fish would not have to be labeled as genetically modified.

Flavr Savr tomato

The <a href="http://californiaagriculture.ucanr.org/landingpage.cfm?article=ca.v054n04p6&fulltext=yes" target="_hplink">Flavr Savr tomato</a> was the first commercially grown genetically engineered food to be granted a license for human consumption. By adding an antisense gene, the <a href="http://www.mnn.com/local-reports/california" target="_hplink">California</a>-based company Calgene hoped to slow the ripening process of the tomato to prevent softening and rotting, while allowing the tomato to retain its natural flavor and color. The FDA approved the Flavr Savr in 1994; however, the tomatoes were so delicate that they were difficult to transport, and they were off the market by 1997. On top of production and shipping problems, the tomatoes were also reported to have a very bland taste: "The Flavr Savr tomatoes didn't taste that good because of the variety from which they were developed. There was very little flavor to save," said Christ Watkins, a horticulture professor at Cornell University.

<a href="http://www.mnn.com/green-tech/research-innovations/photos/12-bizarre-examples-of-genetic-engineering/banana-vaccines" target="_hplink"><strong>CLICK HERE</strong></a> to continue on to <a href="http://www.mnn.com" target="_hplink">Mother Nature Network</a> to see the rest of these bizarre genetically engineered creations, including <a href="http://www.mnn.com/green-tech/research-innovations/photos/12-bizarre-examples-of-genetic-engineering/banana-vaccines" target="_hplink">banana vaccines</a>, <a href="http://www.mnn.com/green-tech/research-innovations/photos/12-bizarre-examples-of-genetic-engineering/less-flatulent-cow" target="_hplink">less-flatulent cows</a>, <a href="http://www.mnn.com/green-tech/research-innovations/photos/12-bizarre-examples-of-genetic-engineering/medicinal-eggs" target="_hplink">medicinal eggs</a> and more!