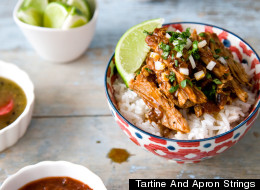 One could say that it's deep in the month of February -- when winter feels like it has no end -- that we really count on our food bloggers for culinary inspiration.
After the countless bowls of soups we've eaten, and one too many chocolate chip cookies we've baked, checking in on our favorite food bloggers gives us a breath of fresh air. They make us want to spend time in our kitchens again experimenting with new flavors and recipes.
Every month, we seem to gravitate toward a new group of bloggers (if you haven't already, you should check out January's and December's list) and we have a pretty great group that we're in love with this February.
Want to read more from HuffPost Taste? Follow us on Twitter, Facebook, Pinterest and Tumblr.
adventures-in-cooking.com/ Any food blogger who's making their own key lime pie bitters is a keeper in our books.

loveandlemons.com For delicious and mostly vegan recipes, Love and Lemons it it. Their recipes look so good, you won't even know you're eating something healthy. Now that takes skill.

dessertsforbreakfast.com Even if sweets aren't your thing, this blog is worth reading on a weekly basis. If not for the recipes, at least for the beautiful photography and well-written prose.

aspicyperspective.com Sommer of A Spicy Perspective has a history in teaching others how to cook, and that comes across beautifully in her blog.

chasingdelicious.com Chasing Delicious creates scenes and dishes we want to crawl right into.

fromaway.com If you like lobster rolls, you'll love this Maine-based food blogging duo. They review the best spots to eat in their great state and make some wonderful recipes themselves. (Like this American cheese pictured at left.)

bunsinmyoven.com With Buns In My Oven, every recipe is one you want to spend your Sunday afternoon with -- as is the case with these Nutella brownies.

tartineandapronstrings.com When you have to cook for five everyday, you get really good at making dishes everyone wants in on. Well, at least Tartine and Apron Strings has.

bakingdom.com When it comes to baking, Darla of Bakingdom is the expert. From cakes to cookies to creams, she's got you covered.

eatliverun.com Eat Live Run will give you your dose of something sweet alongside a perfect cocktail recipe (like this spicy grapefruit margarita) and dinner recipes.