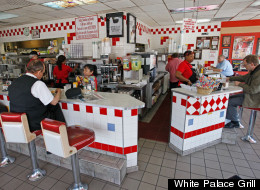 Sometimes there's no better way to end -- or begin! no judgment here! -- a long day than to chow down on something greasy, covered in cheese and cooked up by someone else.
Recognizing this fact, Chicago apartment-finding service Domu.com has dutifully curated a list of 34 local restaurants that offer 24-hour table service -- and, no, drive-thru service doesn't quite cut it.
(Scroll down to check out some of Domu's selections. Visit their site for a full list, in addition to 41 "honorable mentions" who almost meet the site's 24/7/365 requirement but close for up to two holidays annually.)
Save less than a handful of appearances from national chains, most of the selections are small, locally-owned businesses and many -- such as the Jim's Original Hot Dog in the South Loop -- have been doing slinging grub for decades. And though Domu notes that they cannot vouch for the quality of the eats, can't we all just agree that 4 a.m. is not the time to employ a hyper-discerning palate?
Did Domu miss one of your favorite diners or taquerias? Make your case below -- and happy night-eats, Chicago!
24-Hour Chicago Restaurants
The Golden Nugget takes the cake when it comes to round-the-clock grub slinging in Chicago. The mini-chain has six Chicago locations, all of which are open 24 hours, according to Domu: 2406 W. Diversey Parkway, 3001 N. Central Ave., 3234 W. Irving Park Rd., 3959 W. Diversey Parkway, 4229 W. Irving Park Road and 1765 W. Lawrence Ave.

2032 W. Devon Ave.

411 W. 31st St.

Two 24-hour Chicago locations: 5509 N. Harlem Ave., 114 W. Chicago Ave.

3233 N. Broadway St.

1250 S. Union Ave.

2971 N. Lincoln Ave.

2001 N. Western Ave.

1159 S. Canal St.

Three 24-hour locations in Chicago, according to Domu: 753 W. 31st St., 511 N. McClurg Court and 1958 W. Chicago Ave.

2720 N. Clark St.

8550 S. Cottage Grove Ave.

2558 N. Ashland Ave.

6 E. Chestnut St.

1174 W. Cermak Rd.

2009 N. Western Ave.

1601 W. North Ave.

1260 S. Union Ave.

One 24-hour Chicago location: 251 E. Huron St.

One 24-hour Chicago location, according to Domu: 4210 N. Cicero Ave.