Oscar, Tony and Emmy-winning comeback queen Liza Minnelli is following up her "Cabaret" anniversary promo blitz by adding a second performance to her forthcoming run at New York City's Town Hall alongside Alan Cumming.
The ever-tenacious stage and screen legend will now join fellow Tony winner Cumming for two concerts on March 13 and 14, just one day after her 67th birthday. It's a particularly fitting duo, given that the pair share a "Cabaret" legacy -- with Minnelli nabbing her Academy Award for the 1972 film version and Cumming starring in the 1998 revival of the iconic musical.
Though the first show is already sold out, tickets for the March 14 show go on sale Feb. 11 at 9 a.m. Details here.
Check out the promo poster for the show, then scroll down to keep reading: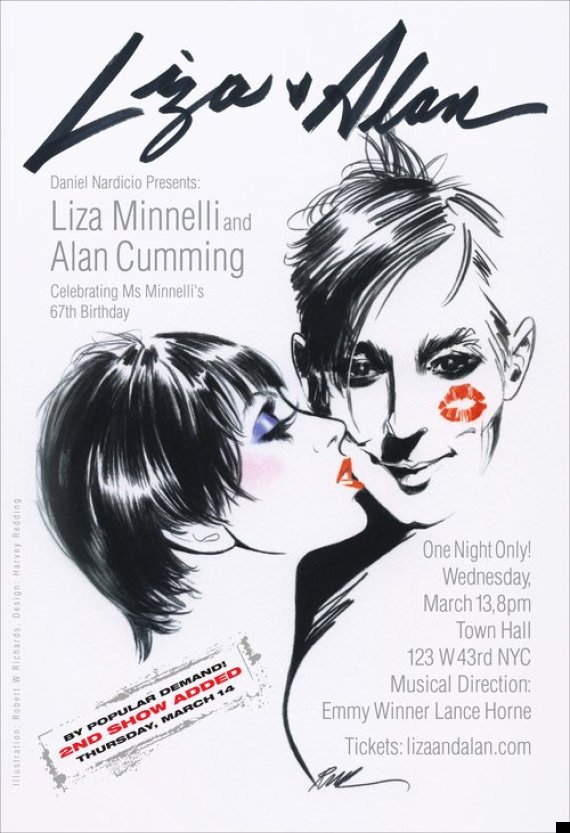 "It had always surprised me that no producer had thought to put these two long time friends on stage together -- considering their consummate performing skills, their history with 'Cabaret' and their friendship," he said in a statement. "I dare say that this show is a celebration of friendship in general."
Minnelli touched briefly on the forthcoming performance in an interview with HuffPost Entertainment, saying the show with Cumming (whom she described as "my darling") was just one of several high-profile projects she had in the works. There's no telling what the set list will include, but their Fire Island show reportedly saw the pair performing several "Cabaret" numbers in addition to a tribute to singer-songwriter Charles Aznavour.
Check out some of Liza's greatest moments over the years below:
Liza Minnelli's Best Moments
SUBSCRIBE AND FOLLOW
Get top stories and blog posts emailed to me each day. Newsletters may offer personalized content or advertisements.
Learn more