Prior to today our mental image of ultimate Renaissance man Leonardo Da Vinci involved a big belly, even bigger beard and an intellectual Santa Claus vibe. But after seeing the poster art and trailer for Starz' upcoming series "Da Vinci's Demons," we're seeing the artist in an entirely new light.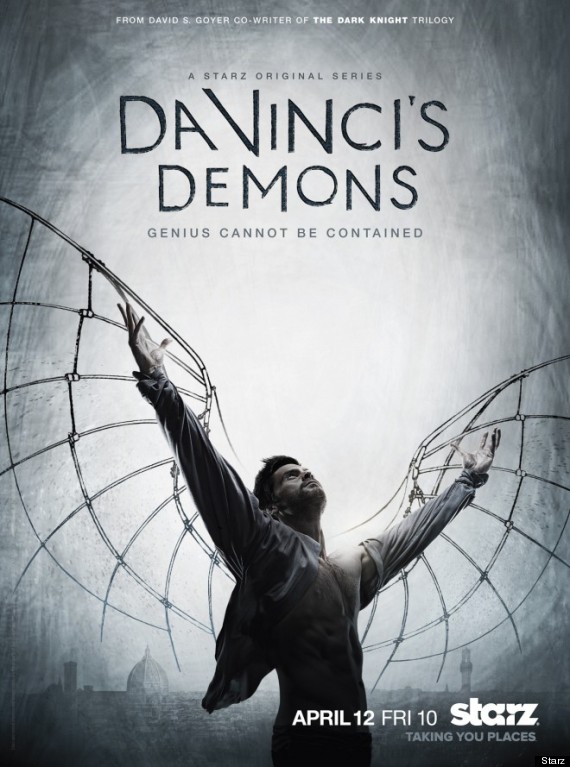 David S. Goyer, a screenwriter of "The Dark Knight Rises," is responsible for writing this new series, and we're guessing you can tell from the following premise. The show features a young and muscular Da Vinci taking some time off from his pensive art-making to manufacture weapons, jump from high precipices and woo Renaissance babes while Mission Impossible-esque tunes play in the background. (When he has the time to master chiaroscuro we cannot say.)
The action-packed series features Tom Riley, who Blouin Artinfo reports previously starred as a young Da Vinci alongside Carmen Electra in a porn satire.
The series description gives a tantalizing taste of the shape of things to come:
"The secret history of Leonardo Da Vinci's tantalizing life reveals a portrait of a young man tortured by a gift of superhuman genius. He is a heretic intent on exposing the lies of religion. An insurgent seeking to subvert an elitist society. A bastard son who yearns for legitimacy with his father."
See the trailer below to hear our favorite line: "Perhaps you've heard of me... I am AN ARTIST."
Is your DVR already set to record the premiere in April? Let us know your thoughts on Da Vinci's sexy secret history, and see some popular myths regarding the artist and inventor below.

Loading Slideshow
Leonardo wrote backwards as a code to conceal his secrets.

Leonardo has the world's most recognizeable handwriting. But his distinctive mirror-writing was not intended to conceal secrets. What code could possibly be easier to crack? As one of Leonardo's friends pointed out, all you needed to do was to hold it up to a mirror. Far from keeping his ideas secret, Leonardo wanted to publish his works. His treatise on painting, which he hoped to disseminate to the wider world, was written in his reversed handwriting. It appears that, as a lefthander, he simply found a right-to-left linear motion easier. I'm a fellow southpaw so I can appreciate another advantage – you don't smudge the ink with the heel of your hand. Leonardo did occasionally write in code, usually when preserving trade secrets such as those of casting in bronze. However, his codes are surprisingly unsophisticated, involving little more than reversing the order of a word's letters or substituting signs of the Zodiac for ingredients such as iron and copper. They would have yielded to even the most amateur cryptanalysis.

Leonardo used the Golden Section in his paintings.

Leonardo was good friends with Luca Pacioli, a mathematician who wrote a book on the Golden Ratio (or what Pacioli christened "divine proportion"). It therefore seems logical that Leonardo might haved used the Golden Ratio in some way in his work. Many discussions of the Golden Ratio mention his Vitruvian Man as a classic example: if you divide the figure's height by the distance from his navel to his feet, you supposedly get the irrational mathematical constant 1.61803 (which continues ad infinitum). But get out your ruler and try measuring Vitruvian Man's belly button for yourself. The sum you actually get is 1.512. This is the kind of figure-fudging necessary to find the Golden Ratio in Leonardo's works, none of which easily substantiates claims about divine proportion. Leonardo has much to say about proportion – but absolutely whatsoever nothing to say about divine proportion. If Leonardo thought divine proportion the key to good design, why did he not mention it in his copious comments on proportion in his treatise on painting? The fact remains that the brilliance of Leonardo's work has little to do with mathematical constants, and everything to do with his study of atmosphere, motion, anatomy and expression.

Mary Magdalene appears in Leonardo's Last Supper.

Six or seven years ago, at the height of Dan Brown mania, I used to get asked to give lectures on the "real story" behind the Leonardo paintings mentioned in The Da Vinci Code. Of particular interest to everyone was the supposed appearance in The Last Supper of Mary Magdalene, with all of its implications for various conspiracies. I marshalled what I believed was an impressive and irrefutable array of evidence. I pointed out that Mary Magdalene was a composite character about whom numerous legends were invented in the Middle Ages. I described the loving relationship between Christ and John, the "beloved disciple," as given in both the Gospel of St. John and subsequent legends that chronicle the "higher wedding" between the pair. I demonstrated how painters of Last Suppers always depicted John as youthful and effeminate. I discussed how androgynous young men – such as Donatello's lissom and sensual bronze David – were all the rage in Florentine art. I would show how Leonardo loved creating these ambiguous she-males, how a feminine-looking figure in one of his paintings is by no means necessarily a woman, and how in fact the mysterious creature in The Last Supper is, without doubt, St. John. At the end of the lecture, I would triumphantly ask who still insisted on believing that Mary Magdalene appeared in Leonardo's painting. Up in the air would go every hand.

The Mona Lisa is a portrait of someone other than Lisa del Giocondo.

The identity of the most famous woman in painting is frequently disputed. Someone who saw the portrait in Leonardo's studio in France believed her to have been the mistress of a son of Lorenzo de' Medici. Various other candidates have been put forward, from Isabella d'Este (whose portrait Leonardo promised to paint) to Leonardo's young (male) lover and assistant, Salai, in drag. It has even been argued that the Mona Lisa is Leonardo's own self-portrait, likewise in drag. Leonardo kept the painting with him for many years, no doubt working on it intermittently and – after he moved to France in 1516 – at a far remove from the original sitter. So the portrait may gradually have taken on a different appearance and purpose, possibly morphing into, as some have argued, an idealized portrait of womanhood. But a recently discovered document penned in about 1504 by a member of the Vespucci family leaves little doubt that the original subject was Lisa del Giocondo (née Gherardini), the young wife of a rich Florentine silk merchant. The question is whether Lisa would have recognized her younger self in the finished painting.

Leonardo faked the Shroud of Turin.

The history of the Shroud of Turin is complex and controversial enough without having Leonardo thrown into the mix, but he has been pushed forward as its creator. In 1993 Nicholas Allen proposed that the image on the linen shroud could have been produced in the Middle Ages via a photographic process that involved suspending a cadaver in the air for three or four days while its image slowly blossomed on the chemical-soaked cloth. Others were quick to give Leonardo the credit, even though he was born a century after the first documented reference to the Shroud. But who else could have pipped Daguerre – by some three and a half centuries – to the world's first photo? Like others before him, Leonardo did experiment with a camera obscura. But there is zero evidence that he had any knowledge of – let alone used – photo-sensitive chemicals. Even if he did invent something as earth-shattering as photography – and it's a truly massive if – why should he have kept quiet about it? Why not take more pictures? The fact is that not a single shred of evidence links Leonardo to either photographic technology or the Shroud of Turin. As one critic has written: "The premise is more demanding of faith than is the authenticity of the Shroud."

Leonardo offered proof of Pythagoras's theorem.

Books on mathematics and geometry often give Leonardo credit for giving proof of Pythagoras's famous theorem regarding right triangles (expressed as the equation a2 + b2 = c2). A 1940 book on Pythagoras by Elisha Loomis documents 371 demonstrations of proof by figures as diverse as a 12th-century Hindu astronomer and a 19th-century American president. It seems sensible that Leonardo, too, should have tackled this famous theorem. And so – Loomis and many others claim – he did. Leonardo was without a doubt a brilliant geometer, but the problem is that not one of the books that credits his feat ever cites the manuscript in which Leonardo offered his proof. No one, that is, offers proof of Leonardo's proof. A page in the Codex Atlanticus reveals that Leonardo tried to illustrate the theorem in 3-D, using cubes. But this attempt was unsuccessful – and he went on to use his piece of paper to draw plans for candlesticks. Leonardo's proof is, as far as I can find, nothing but geometrical hearsay. But then I should confess that I'm no expert in such matters: the myriad geometric proofs all look to me like assembly instructions for flat pack furniture.

Leonardo used the same model for Christ and Judas in The Last Supper.

Along with Mary Magdalene and the Shroud of Turin, this is the myth with the loosest grasp on reality. It involves Leonardo's relationship with someone named Pietro Bandinelli. The beatifically handsome young Pietro was supposedly chosen by Leonardo to model the head of Christ. Job done, Leonardo went hunting his model for Judas, having no luck until, years later, he discovered a beggar slouched in a doorway. Leonardo judged the tramp's debauched and vicious features a perfect match for Judas. The tramp turned out to be – you guessed it – Pietro Bandinelli, whose Christ-like features had been destroyed by years of sinful living. There are many things drastically amiss with this story. The name Pietro Bandinelli appears nowhere in any contemporary documents. Leonardo used someone named Giovanni Conte, a soldier, as his model for Christ. In fact, the Bandinelli story was invented during the 19th century and first printed in an anthology of toasts and "ivy orations," later becoming a popular with revivalist preachers in the American Midwest. It has since become a mainstay of religious self-help books.

Leonardo did not read books.

Leonardo himself is responsible for this myth. Describing himself as a "man without letters," he was contemptuous of those who quoted from books. He applied himself, he claimed, to a close study of Nature, not musty volumes. "He who has access to the fountain," he once wrote, "does not go to the water-pot." That's how he wanted to be seen – as someone who, like Doubting Thomas, took nothing on the authority of others but rather wanted to see and touch and feel for himself. In fact, Leonardo was something of a bookworm. He may not have bowed to the authority of books, but he certainly read them. In about 1495 he listed the contents of his bookshelves in Milan, naming forty works in all. Ten years later he owned 116 volumes, and his notebooks reveal how he eagerly borrowed books from libraries and friends. In his 40s he spent many hours brushing up his Latin so he could tackle scientific treatises. And Leonardo did not merely read serious scientific tomes. His library shows that he also read escapist fiction such as chivalric romances and Aesop's Fables.

Leonardo invented the bicycle.

Exhibitions that reconstruct Leonardo's machines often include a wooden bicycle. The justification for its presence was the discovery in the 1970s of a startling sketch in one of Leonardo's notebooks. Previously hidden from view because it had been glued face-down on another page, the drawing clearly shows a bicycle, complete with pedals, a chain-drive and sprocket wheels. The clumsy, child-like drawing was obviously not done by Leonardo. According to an esteemed Leonardo expert, Augusto Marinoni, it was the doodle of one of his apprentices, copied from Leonardo's original (but lost) design. But the evidence was clear: an Italian – not a German or a Frenchman – had invented the bicycle. Unfortunately for those of us who love both Leonardo and bicycles, the discovery proved too good to be true. Though Professor Marinoni maintained its authenticity until his dying day, virtually all other Leonardo experts have denounced the drawing as a forgery, with Carlo Pedretti – the doyen of Leonardo scholars – claiming the drawing was not visible when he examined the sheet in 1961. Leonardo's bike has, alas, been stolen.

Leonardo wore a long beard.

This might be a myth – or then again it might not be. The truth is that we don't actually know what Leonardo looked like throughout most of his life. Amazingly for a man so famous in his lifetime, there exists only a single reliable portrait of him. This is a sketch done by one of his pupils, probably Francesco Melzi, in about 1515, when Leonardo was in his mid-60s. It does show him with a long beard. However, Leonardo's luxuriant beard was doubtless a recent growth. Beards were not in fashion in the 1480s and 1490s, when the odds are that he was clean-shaven. By cultivating a beard he was probably following the fashion of his last patron, François I of France, who popularized the beard after he came to the French throne in 1515. There is, of course, a famous drawing – a supposed self-portrait – that features an aged Leonardo with a long beard and bushy eyebrows. It graces the cover of numerous books on Leonardo and, more than any other image, fixes our perception of him as a venerable seer, capable of any thought or deed. Recently, however, scholars have dated the drawing to the 1490s, which means it cannot possibly be of Leonardo, who was only in his 40s when he drew it. And it gets worse. The Leonardo expert Hans Ost has denounced the sketch – which surfaced only in about 1840 – as a forgery. And so Leonardo, elusive and enigmatic as ever, slips precipitately from our view.
Also on HuffPost: