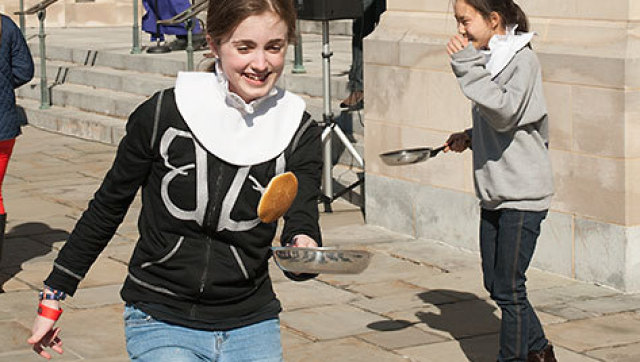 The British tradition makes the last day before the start of Lent. School children, National Cathedral staff and others ran while flipping flap jacks in order to win a golden box of pancake mix, gold syrup bottles, a gold-painted gargoyle and the golden griddle.
Click through the slideshow for photos from the 2013 Pancake Races.
The cathedral's pancake races honor a 15th-century tale from Olney, England, about a woman who, while cooking pancakes to use up her family's butter and sugar supplies before the beginning of Lent, heard the church bells summoning everyone to church, and—so that she would not be late—ran to the church, flipping the pancakes at the same time, cathedral staff explained before the races began.
SUBSCRIBE AND FOLLOW
Get top stories and blog posts emailed to me each day. Newsletters may offer personalized content or advertisements.
Learn more