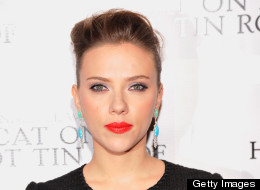 Scarlett Johansson dreamed a dream, and it apparently had to do with her playing Fantine in "Les Miserables."
In an interview with Broadway.com about Johansson's work in the new revival of the Tennessee Williams play "Cat on a Hot Tin Roof," the actress reveals she auditioned for "Les Miserables" ("I sang my little heart out"), but was undone by a terrible case of laryngitis. Not that she thinks director Tom Hooper's Best Picture nominee is any worse for wear without her presence.
"Looking at the film now, there's no possible way I ever could have topped that performance [by Anne Hathaway]," Johansson said. "It was perfect and I think fateful and meant to be." For her work in "Les Miserables," Hathaway is expected to win her first Oscar.
That Johansson was up for the role of Fantine comes as something of a surprise. Back in 2011 when "Les Miserables" was in casting mode, Johansson was on the short list of names circulated as possibilities to play Eponine. Johansson, Lea Michele, Taylor Swift and Evan Rachel Wood were all reportedly up for that role, but it wound up going to newcomer Samantha Barks, who played Eponine in the 25th anniversary production of "Les Mis."
"Tom said this was the hardest film he ever had to cast," Barks told HuffPost Entertainment. "He had to find the perfect cross-section between screen actors who could really play these roles and also sing every take live; to do these songs every day, have that stamina and perform these songs to a degree that honors the way they are written."
This isn't the first time Johansson has missed out on a big role. She was among the actresses tested to play Lisbeth Salander in David Fincher's adaptation of "The Girl With the Dragon Tattoo," but was deemed too sexy by the director.
"Scarlett Johansson was great. It was a great audition, I'm telling you. But the thing with Scarlett is, you can't wait for her to take her clothes off," Fincher told Vogue in 2011. "I keep trying to explain this. Salander should be like E.T. If you put E.T. dolls out before anyone had seen the movie, they would say, 'What is this little squishy thing?' Well, you know what? When he hides under the table and he grabs the Reese's Pieces, you love him! It has to be like that."
The part of Lisbeth eventually went to Rooney Mara, who was nominated for Best Actress at the 84th annual Academy Awards.
Johansson, meanwhile, has never received an Oscar nomination.
For more on Johansson's work in "Cat on a Hot Tin Roof," head over to Broadway.com.
[Broadway.com via E!]
12 Major Roles That Almost Went To Other Actors
One of Sharon Stone's most iconic roles was in the super sexy thriller "Basic Instinct." But she wasn't the first choice to play the mysterious Catherine Tramell.

"Top Gun" beauty Kelly McGillis was initially considered for the role but it ultimately went to Stone, launching her film career.

In the classic film about a sultry romance between dance instructor Johnny Castle and Baby Houseman, Patrick Swayze and Jennifer Grey were the perfect pair. But another leading man almost snagged the lead male role.

"Top Gun" heartthrob Val Kilmer was also considered for the role of Johnny in the 1987 hit movie.

Jack Nicholson struck fear into his own family as Jack Torrance, the psychotic father who tries to kill his wife and son. But this part almost went to another Hollywood star.

Robin Williams was considered for the part, which would have definitely been an interesting role for the funny man.

Julia Roberts captured hearts across the nation with her role as Richard Gere's escort turned romantic interest Vivian Ward. But this love story may have had a different look had the film's first choice accepted the role.

Molly Ringwald was first offered the part but turned it down, making way for Roberts to perform one of her most memorable roles.

Jodie Foster won a Golden Globe and Oscar for her portrayal as Clarice Starling, an FBI agent responsible for getting assistance from Hannibal Lecter, a demented psychopath played by Anthony Hopkins. But Foster wasn't the first pick for the role.

Michelle Pfeiffer was first offered the role, but she turned it down due to its violent storyline.

Harrison Ford is best known for his role as the fearless archaeologist Indiana Jones. But that runaway boulder was almost chasing another leading man.

The film's writer and producer George Lucas was set on Tom Selleck as Jones, but Steven Spielberg pushed for Ford.

Keanu Reeves scored a huge win after being cast as Neo in the science fiction hit film "The Matrix." But Reeves initially had a little competition for the part.

Ewan McGregor was first cast at Neo but decided to turn down the film to play Obi-Wan Kenobe in "Star Wars Episode 1: The Phantom Menance."

Russell Crowe won an Oscar for his performance as Maximus in the hit film "Gladiator." But there was another Aussie actor who was initially considered for the part.

Mel Gibson was offered the role but turned it down.

Alicia Silverstone seemed to perfectly embody the Beverly Hills High student, matchmaker and popular girl Cher Horowitz in the 90s classic "Clueless." A 90s television favorite was first considered for the part, though.

Sarah Michelle Geller was initially offered the role but passed on the film. The movie went on to launch Silverstone's career.

Leonardo DiCaprio struck gold when he was cast as the love interest of Kate Winslet in the mega hit "Titanic." But had the studio had its choice, another Hollywood hottie would have played the role of Jack Dawson.

Matthew McConaughey was the first choice for the role of Jack. But in the end, Leo was cast and Jack and Rose were etched into the memories of hopeless romantics around the world.

Tom Hanks may have been down one Oscar and Golden Globe win if the studio's first choice for Forrest Gump had accepted the role.

John Travolta turned down the part, making way for a memorable performance and even more memorable quotes from Hanks.

Robert Downey Jr. played billionaire Tony Stark in both "Iron Man" and "Iron Man 2." But he wasn't the first choice for the role.

Tom Cruise was offered the role first but ultimately turned it down due to issues with the script.