State of the Union addresses sometimes -- sometimes! -- bring out those rare bipartisan moments in Washington. A photo captured at Tuesday appears to show just that. It shows Sen. Chuck Schumer (D-N.Y.), a staunch defender of President Barack Obama, sitting between Sen. John McCain (R-Ariz.) and Sen. Lindsey Graham (R-S.C.), who are among the president's loudest critics in the Senate: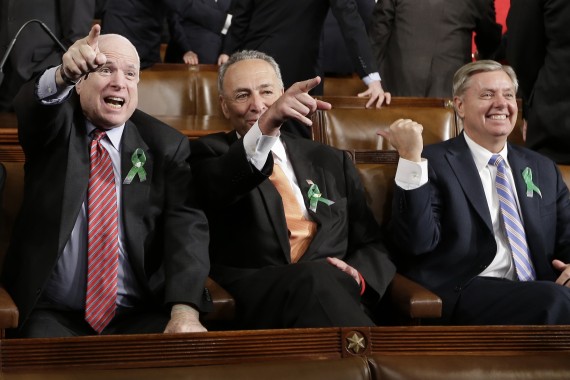 (Photo credit: Charles Dharapak/AP, Pool via Getty Images)
Send us your best caption for this photo, either by tweeting one using the #SOTUPhotoCaptions hashtag or by leaving an idea in the comments section. Here are some of our favorites:
It's Auction Night! McCain says BUY! MT @HuffPostPol: What is this unlikely bipartisan trio doing?! #SOTUPhotoCaptions http://t.co/txmE6hpq

#SOTUPhotoCaptions Hey look, we're on Kiss-Cam!!!

@HuffPostPol Next seasons American Idol judges practices for the auditions #SOTUPhotoCaptions

@HuffPostPol "Ted! TED!! Play 'Cat Scratch Fever!'" #SOTUPhotoCaptions

This "unlikely [?] bipartisan trio" is 'yelling "throw me something Mr" to the NRA's MardiGras float' #SOTUPhotoCaptions, @HuffPostPol

http://t.co/F2M0TV9n #SOTUPhotoCaptions He just mooned Boehner.