State of the Union addresses sometimes -- sometimes! -- bring out those rare bipartisan moments in Washington. A photo captured at Tuesday appears to show just that. It shows Sen. Chuck Schumer (D-N.Y.), a staunch defender of President Barack Obama, sitting between Sen. John McCain (R-Ariz.) and Sen. Lindsey Graham (R-S.C.), who are among the president's loudest critics in the Senate: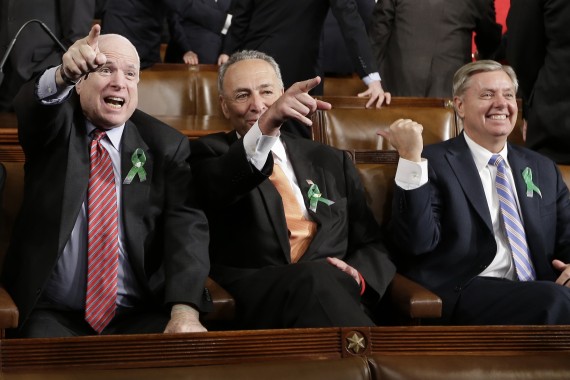 (Photo credit: Charles Dharapak/AP, Pool via Getty Images)
Send us your best caption for this photo, either by tweeting one using the #SOTUPhotoCaptions hashtag or by leaving an idea in the comments section. Here are some of our favorites:
SUBSCRIBE AND FOLLOW
Get top stories and blog posts emailed to me each day. Newsletters may offer personalized content or advertisements.
Learn more