This Valentine's Day, trade in the box of chocolates for chocolate paint. Pastry chef Yannis Janssens at Lee & Marie's Cakery Company highly recommends it with strawberries.
Named for owner Andy Travaglia's daughter's grandmothers, Lee & Marie's Cakery is a bakery-café hybrid that's serving up a sweeter side in South Beach. Chat Chow TV shared an éclair with chef Janssens and talked sugar and spice, and everything nice.
"Lee and Marie, both of them were famous for baking, of course," explains Janssens. "Lee is famous for cheesecake and Marie is famous for the German chocolate cake. We still sell those. They're actually our top-seller cakes. You can buy the whole cake or you can buy by the slice."
Pair your pastry (try the Heath-Bar fudge éclair) with Panther Coffee served in antique cups and saucers, a nod to the quaint shop's comfy-chic charm. While Lee & Marie's main masterpiece is the sweet, they offer a savory menu as well.
"We do have lunch and a breakfast menu," Janssens admits. "It's not super large, it's whatever's available at the farm. These are the ingredients that we use and then we make salad, sandwiches with [them] and in the mornings we make croissants with [them] and croissant sandwiches."
If you're feeling guilty about the caloric intake, know that your purchase is going towards a good cause. Lee & Marie's actively supports those affected by autism by employing and providing housing for autistic adults.
Check out the video above to see why Janssens' Belgian roots make for one extra-decadent cupcake, why pop-cones are heavenly, and what other Valentine's Day gifts are available.
Originally posted on ChatChow.tv.
Share +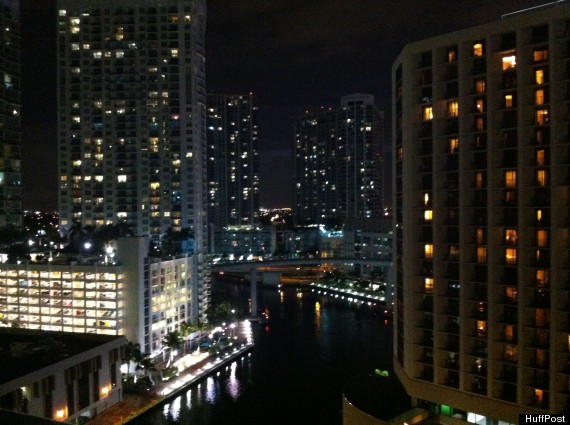 Perched on the 16th floor of the Epic Hotel with a view of the Miami River, Area 31 is the kind of aerie we love -- the kind that offers stunning views and delectable, locally-inspired fare in equal measure.
Fortunately for downtown diners, after grabbing a few months' beauty rest, the restaurant reopened last month with an updated interior and a new executive chef at the helm. Wolfgang Birk, who previously served as the opening executive chef at Casa Casuarina and Cooper Avenue, now heads up a team that includes charming lead bartender Dean Feddaoui and master sommelier Emily Wines.
On Birk's new menu: chilled melon and cucumber soup (), greens from Homestead's famed Paradise Farms (), fluke topped with caviar (), crab cakes (), and bone-on ribeye with crisp yucca potato and bone marrow bordelaise (). The lobster wonton ravioli () is a winner, as is roasted lamb (), but nowhere was Area 31's new direction toward local, farm fresh raw materials more evident than in a perfectly dressed baby beet and fried goat cheese salad with blood orange and marcona almond shavings (). It's a stunning combination.
Inside, Area 31 is chic yet comfortable, dressed in neutrals to show off floor-to-ceiling windows and a massive wine installation. On the terrace, the dramatic view's the thing. Just beyond the table is a twinkling expanse that makes Area 31 feel like the sort of place in which secret lovers in films (and we mean that in a good way). Surrounding towers sprouting across the river in Brickell give the open air terrace a cozy feel, but views up the Miami River and out to Biscayne Bay don't let diners forget there's no other place like this in the city.
When to go: in addition to dinner (6 p.m. - 10 p.m., until 11 p.m. on Fridays and Saturdays), Area 31 is open for lunch from 11:30 a.m. - 3 p.m. with time-friendly fare including a brisket blend burger () and crispy mahi fish taco (). The Terrace Lounge features a DJ on Thursday and Friday nights.
Loading Slideshow
Baby Beet and Goat Cheese

Chilled Sweet Pea Soup

Cobia Burger

Crudo Tasting

Fluke Crudo

Lobster Wonton Ravioli

Lobster Wonton Ravioli

Octopus

Panna Cotta

Seared Diver Scallop

Seared Diver Scallop

Seared Local Grass Fed Beef

Seasonal Tomato Flatbread

Executive Chef Birk

Chef Birk

Area 31