The case of the Isleworth Mona Lisa continues to get more interesting, as an art foundation in Switzerland announced this week that they have reason to believe the painting -- purported to be an earlier version of Leonardo da Vinci's iconic portrait -- is authentic.
According to the Guardian, the Swiss Federal Institute of Technology carried out tests on the mysterious artwork after it was revealed last September, determining that the canvas behind the much younger looking Mona Lisa dates somewhere between 1410 and 1455. This finding refutes claims that the piece was a late 16th century copy, as Italian geometrist Alfonso Rubino recently determined that the work conformed to Leonardo's basic line structures.
"When we add these new findings to the wealth of scientific and physical studies we already have, I believe anyone will find the evidence of a Leonardo attribution overwhelming," said David Feldman, vice-president of the foundation, in a statement to The Independent.
The Louvre's iconic Mona Lisa has long been thought to be the only portrait of Lisa Gherardini (aka Lisa del Giocondo) ever created by the artist, but brush-stroke analysis conducted by US physicist John Asmus last year stirred up rumors that the Isleworth, named after the county in which former owner Hugh Blaker discovered it, is the "original." This groundbreaking news could potentially change the way students study art history in the years to come.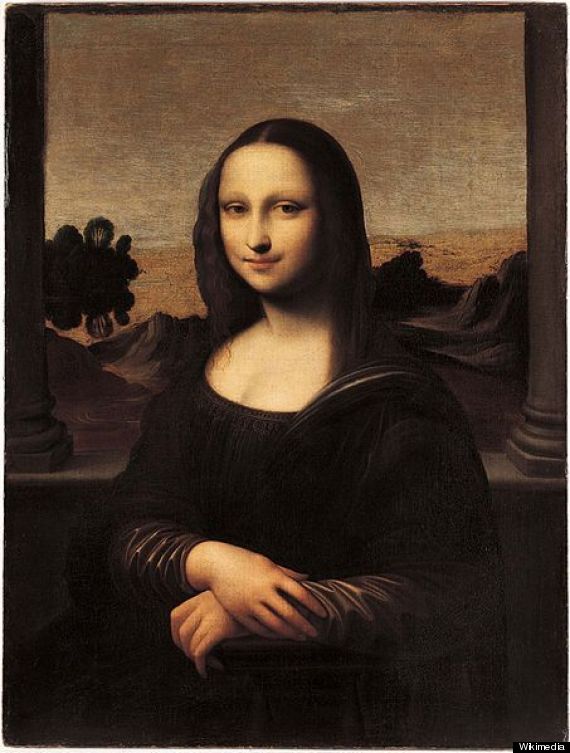 The "Isleworth Mona Lisa" (c. 1410-1455 [approximate canvas date])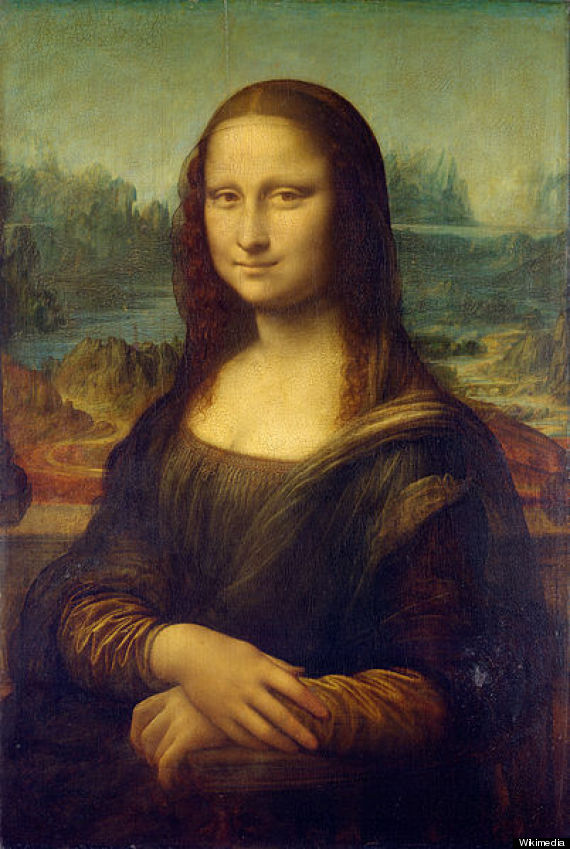 "Mona Lisa" (c. 1503-1505)
MORE ARTS NEWS
Protest Artist Sheds Light On Immigration Issues With Cardboard Cutouts: Artist Ramiro Gomez Jr. decorated Capitol Hill with life-size, two-dimensional cardboard cutouts of immigrants just in time for the senate's discussion on reform issues this week. "It's a very expressive way to demonstrate to people that the invisible can become visible," said activist Tomas Martinez to The Washington Post. (The Washington Post)
Banana Joe, Westminister's 'Best In Show' Dog, Heads To Broadway: The world's most adorable affenpinscher is making his Broadway debut this week, joining the cast of "The Mystery of Edwin Drood" as Macaco the dog. But alas, there's a caveat: "Audience members at the Wednesday evening performance of "Drood" cannot vote for Banana Joe to be the murderer or one of the secret lovers, because that would just be weird." (The New York Times) Art Made To Order?: One artist has a unique business method to his art-making madness. Says a client: "He said that he would paint three paintings in our size that would fit our tastes, as he understood them. We had no obligation to buy. Whatever we did not buy he would hang at the next art show." (Forbes)
The Cleveland Museum Of Art Designs New Interactive Galleries: Working with Local Projects, the Cleveland art museum is incorporating some amazing new tech projects into their art collection. One example: kiosks that can scan your face and display works with similar-looking subjects. (Fast Company)
Gallerists Look Out! The Traditional Art-Gallery Relationship Is Changing: Galleries might have to watch their backs, because agents are moving in to sign artists. (The Art Newspaper)
Archaeologists Make A Big Discovery In Mexico: Archaeologists found a rare sculpture of Huehueteotl ("Old God" or "God of Fire") atop Mexico's Pyramid of the Sun, along with an impressive array of treasures that would not seem out of place on the set of Indiana Jones. (Art Daily)
The Most Dramatic Art Finds Of 2012
Jane Cordery, an art teacher in Hampshire, England, discovered this detailed bird portrait in her attic after attempting to clean the space for a plumber. She e-mailed a photograph of the find to Christie's, where "The White Owl," was identified as the work of pre-Raphaelite artist William James Webbe, and valued at £70,000, or $113,449.

A lost painting by Leonardo da Vinci may have turned up in a Scottish farmhouse owned by a family of non-collectors, named the McLarens. The discovered portrait, which should be officially dated by next year, bears telltale hairlines, shoulders, toes, and a hidden fleur-de-lys that point to Da Vinci, as well as a likeness to a traced figure in the "Last Supper." If the farmhouse find is indeed a 500-year-old original, it is may be worth over $150 million.

A mysterious donor dropped off a signed etching by Surrealist master Salvador Dali at a Goodwill in Tacoma, Washington this year, where an art-savvy employee quickly identified it. It was since added to the organization's online auction system, where it sold for a bargain price of $21, 005.

Here's one of those art find stories that's dramatic for the wrong reasons. Reinhold Hoffmann, a 70-year-old retiree, captured the attention of European media when his partner bought a $25 book of old stamps at a Dresden, Germany, flea market, and one of them of them looked like a one-cent stamp from 1867 potentially worth $3 million, featuring Benjamin Franklin and a rare "Z Grill" pattern. The Philatelic Foundation quickly gave Hoffman the bad news: just one of those lame F Grills, bro.

A luckier German bargain shopper stumbled across the rare book treasure of a lifetime. A consultation with the auction house Ketterer Kunst revealed that a brochure he paid €5 for, a catalog for a 1912 traveling exhibition of German expressionist Die Brücke artists, is valued at €18,000, or $23,400.

Like most unsuspecting thrifters, Beth Feeback wasn't aware of her painting's famous origins when she bought it at a North Carolina Goodwill for $9.99. In fact the artist, who specializes in portraits of cats, was just looking to upcycle an unwanted canvas for her own work. But a quick Google search of a name printed on the back of the canvas prevented her from turning the original Ilya Bolotowsky into scrap. ABC News reports that Feeback sold her abstract find for $27,000 at auction.

A woman who bought a $7 box lot at a flea market unwittingly scored a painting by Pierre-August Renoir. But don't get too jealous: "Renoir Girl," as the finder was known to the media, wasn't able to cash in her original "Paysage Bords De Seine." In a dramatic twist, the painting that launched a thousand flea market visits turned out to be stolen six decades ago from the Baltimore Museum of Art.

Pam Dwyer's purchase of a horse painting at a yard sale in Arizona turned out to be more than it seemed. On a hunch, Dwyer and her husband removed the work from the frame only to uncover a portrait of President John F. Kennedy from 1961, by the infamous forger and artist Carmelo Soraci. While the painting is proving tough to appraise, experts note that its historical significance makes it a good fit for a place like the Smithsonian.

Sometimes you just don't like a painting, no matter how "great" it is. That's how one Scottish woman felt in the early 1960s, when her husband came home with a painting of roses that she disliked enough to banish to a spare room. Let this be a lesson to those who are easily dismissive of gifts. The BBC reports that the painting in question was recently identified as "Pink Roses," an original oil work by one of Scotland's most influential artists, Samuel Peploe, valued by McTear's Auctioneers in Glasgow at £300,000. The price the obedient husband originally paid? "Not significant enough to remember," according to the unnamed seller, who is the couple's son.