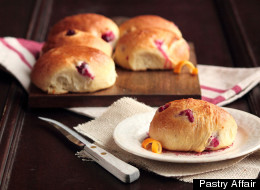 Think of brioche as the 2.0 version of bread. It's loaded with butter and eggs, which instantly makes it so much better than ordinary bread.
While you can't really replace bread with brioche for sandwiches and other savory dishes (no matter how much you may want to), there are so many great things you can do with brioche. Aside from loading it up with jam and butter (yes, more butter), brioche recipes let you get decadent.
Brioche recipes can be easy, like adding a bit of chocolate to the batter, but they can also be wonderfully over the top, like using this light and fluffy bread for French toast stuffed with pastry cream. Whatever you decide to make with your brioche, just promise us you won't hold back.
Want to read more from HuffPost Taste? Follow us on Twitter, Facebook, Pinterest and Tumblr.
Get the Brioche Au Chocolat recipe by Buns In My Oven

Get the Brioche French Toast with Bananas recipe by Citrus And Candy

Get the Sugar-Crusted Raisin Brioche recipe by Salad In A Jar

Get the Cranberry Orange Brioche Rolls recipe by The Pastry Affair

Get the Chocolate Brioche recipe by Cook Your Dreams

Get the Sugar & Spice Brioche Buns recipe by Buns In My Oven

Get the Brioche Nutella Buns with a Maple Glaze recipe by Souvlaki For The Soul

Get the Decadent Custard Orange-Vanilla Brioche French Toast recipe by Turntable Kitchen

Get the Cinnamon Sugar Brioche Doughnuts recipe by My Daily Morsel

Get the Cheddar-Garlic-Chive Brioches recipe by Dana Treat