UPDATE: Cyrus appears to address and deny the marijuana photo on her Twitter, writing "I don't have an Instagram," though whoever manages the Instagram account "MileyxxCyrus" surely has access to many personal photos of the star.
PREVIOUSLY: The next Rihanna? A photo of Miley Cyrus smoking what appears to be a blunt was shared on Instagram Tuesday, accompanied by the no-frills caption, "High as fvck." Cyrus' unique tattoo on her right ring finger can be seen prominently in the photo.
This isn't the first time we've seen the 20-year-old engaged pop star's love for marijuana, of course. Cyrus publicly called herself a "stoner" and a "pothead" when she was given a Bob Marley birthday cake her 19th birthday, while a video of the star inhaling out of a bong when she was just 18 quickly went viral, though her rep would later claim it was just the herb salvia.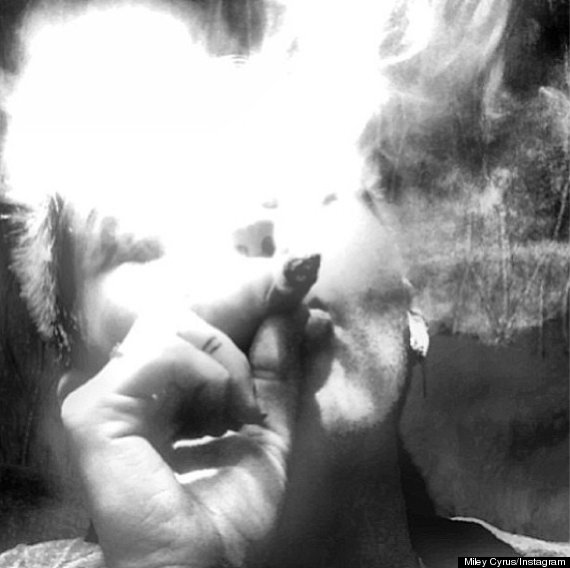 CORRECTION: This post has been updated to reflect that Miley Cyrus is not the owner of the Instagram account that released a photo of what looks like the pop star smoking a blunt.
Also on HuffPost:
Loading Slideshow
Snoop Dogg

The rapper's 18-year-old son, Corde Calvin Broadus, caused a stir when he <a href="http://www.digitalspy.com/celebrity/i435058-16/twitterinstagram-pics-of-2012-snoop-dogg-and-son-corde-calvin-broadus.html">shared this photo of him</a> smoking with his famous weed-loving dad.

Soulja Boy, Wiz Khalifa

Is that smoke, or a new Instagram filter? Soulja Boy<a href="http://www.huffingtonpost.com/2013/01/03/soulja-boy-wiz-khalifa-smoke-up-photo_n_2402221.html"> tweeted a photo </a>of what appears to be him and pal Wiz Khalifa smoking out a giant bong on Jan. 3.

Chris Brown

"Oh don't worry," Brown wrote on this <a href="http://instagram.com/p/SzQdSKPpVR/">Instagram photo </a>he shared in December, from Amsterdam. "It's medicinal!! Lol."

Kristen Stewart

<a href="http://www.vanityfair.com/online/daily/2012/06/kristen-stewart-responds-critics-shit-eaters-vanity-fair">In a 2012 Vanity Fair article</a>, Stewart addressed the photos taken of her smoking out of a pipe in 2008. "You can Google my name and one of the first things that comes up is images of me sitting on my front porch smoking a pipe with my ex-boyfriend and my dog," she said. "I was a kid. I had just turned 18. In [the tabloids] the next day it was like I was a delinquent slimy idiot, whereas I'm kind of a weirdo, creative Valley Girl who smokes pot. Big deal."

Rihanna

Dressing up as <a href="http://www.huffingtonpost.com/2012/11/02/rihanna-topless-singer-post-halloween-lok_n_2066153.html">"The Bride of Mary Jane"</a> (get it?) for Halloween wasn't enough. Rihanna shared this controversial picture at the start of the New Year, with the caption: "This nug look like a skull or am I just....?"

Miley Cyrus

A video of <a href="http://www.tmz.com/2010/12/10/miley-cyrus-video-bong-hit-smoking-salvia-herb-pyschedelic-birthday-party-hannah-montana/">Miley Cyrus partying with a bong </a>just after her 18th birthday became instant tabloid fodder when it hit the internet in 2010. Her reps say that she was actually smoking the herb salvia.

Michael Phelps

Yup. That's Olympic Gold medalist <a href="http://sports.espn.go.com/oly/swimming/news/story?id=3876804">Michael Phelps smoking out of a bong</a>, published in the now-defunct British rag News of the World in 2009.

Lady Gaga

Lady Gaga smoked a spliff onstage at a concert in -- duh -- Amsterdam. About marijuana, <a href="http://www.huffingtonpost.com/2012/09/19/lady-gaga-weed-singer-wondrous-marijuana_n_1897486.html">she told the audience</a>: "I want you to know it has totally changed my life and I've really cut down on drinking. It has been a totally spiritual experience for me with my music."

Justin Bieber

Last week, <a href="http://www.huffingtonpost.com/2013/01/05/justin-bieber-smoking-pot-photos-emerge-teen-star-partying_n_2415401.html">photos emerged </a>of what appears to be Bieber smoking marijuana inside a Newport Beach hotel room on Jan. 2. "Everyday growing and learning. trying to be better. u get knocked down, u get up," Bieber tweeted not long after the reports trickled through. "Back on tour tomorrow. ready to see u all smile. time to do what im supposed to be doing. performing. #BELIEVEtour."