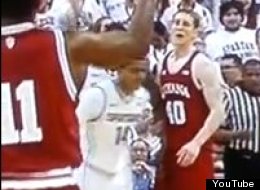 Down the stretch of Indiana's narrow victory in East Lansing on Tuesday night, things started to get a little too physical between Hoosiers star Cody Zeller and Michigan State's Derrick Nix.
With around two minutes left in the game, Nix appeared to make contact with Zeller below the belt as they battled for position. The Indiana center reacted and the officials reviewed the play. The referees concluded that the contact was unclear and no foul would be called on Nix.
WATCH VIDEO ABOVE
Some on Twitter disagreed with the no-call. But nobody in the Twitterverse seemed nearly as upset as ESPN's Dick Vitale, who was calling the game. Vitale seemed to think Nix delivered a cheap shot.
"There's no doubt about it. He catches him with the elbow. See that, Magic? There's no place for that," Vitale said, via USA Today Sports. "No place for that in basketball. Play the game, play with good sportsmanship, play the game. Don't ruin it because of some stupidity, and some immature action."
@AndyGlockner

Andy Glockner
OK, that last replay was very clear that Nix lefthanded Zeller in the jewels. How do you review and not call it? Did they see that angle?
@kevinmccauley

Kevin McCauley
Pretty ridiculous if Derrick Nix doesn't get ejected for smacking Cody Zeller in the nuts
@TheBigLead

Jason McIntyre
Morons: At the VERY start of the GIF, there's a hand bent in front of Zeller's nuts. THAT'S NIX'S HAND. 100%
http://t.co/wM0VnFVr
After watching the replay, some thought Zeller intentionally pulled Nix's arm towards him to draw a foul.
@SeanWoodruff

Sean Woodruff
Just watched the replay in of Zeller pulling Nix's arm into him in slow motion. That's 100% on Zeller.
@RockChalkBlog

Rock Chalk Blog
Zeller grabbed Nix' arm and punched himself in the nuts. Wow.
When asked about the incident after the game, Zeller told Josh Slagter of Mlive.com that it was "just two competitors going at it. It's the Big Ten. Nothing."
Earlier in the game with Indiana on offense, Zeller tried posting up Nix and made a move into the lane. Just before Zeller put up a shot, he made contact with Nix who then fell down in pain grabbing his groin. No foul was called, but it didn't go unnoticed.
@WorldofIsaac

World of Isaac
For those wondering, yes, Zeller caught Nix in the nuts with an elbow at the 4:10 mark. Much, much harder than Nix's retaliation.
Did Zeller take a shot at Nix first? Did Nix intentionally deliver a low blow to Zeller in retaliation? Or were both accidental?
WATCH NIX GO DOWN