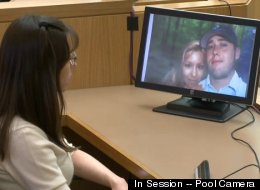 When Jodi Arias takes the stand Wednesday, she is expected to tell the jury about the brutal slaying of her ex-boyfriend, Travis Alexander.
Arias has spent seven days on the witness stand testifying about all aspects of her relationship with Alexander and the events that led up to today's critical testimony in the case.
Arias is accused of murdering Alexander at his Mesa, Ariz., apartment on June 4, 2008. When authorities found him, he had been shot, stabbed 27 times, and slashed in the throat from ear to ear.
The 32-year-old photographer has claimed she killed Alexander in self-defense. Prosecutors contend Arias was an obsessed and jealous ex-girlfriend.
Read below for minute-by-minute updates from court Wednesday:
"It looks like Arias' response to prosecution's cross-examination of her self defense claim will be 'I don't remember,'" Dr. Scott Bonn, a crime expert and assistant professor of sociology at Drew University told The Huffington Post of today's testimony in the case.
"This is laughable, considering the detail with which she recalls their sex games," Bonn added. "It is also laughable that she conveniently found a loaded .25 caliber gun in Travis' closet to shoot shoot him [with], which just happens to be the same type of weapon stolen from her grandparents' house days earlier. Oh, and Travis didn't own a gun, by the way, but never mind that. I really believe that Arias' defense is just about keeping her off death row at this point, not demonstrating her innocence, which is just a lie. Her defense has more holes in it than well aged Swiss cheese."
The Huffington Post is live blogging Wednesday's testimony keep checking back here for updates.