He's only 9 weeks old, but Chesty has some big paws to fill.
The English bulldog has been selected to serve as the official mascot for the U.S. Marines Corps, ABC reports. But before he earns the title Pfc. Chesty XIV on March 29 –- and takes on a host of public service duties, including marching in parades -- he'll have to undergo obedience training.
The adorable Chesty. Story continues below.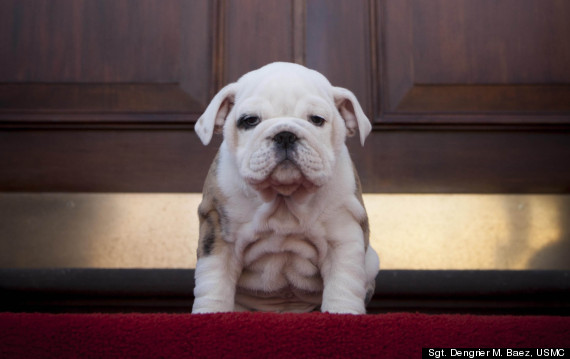 When he passed away in 1971, Puller said his final wish was to "see the face of every Marine I served with one last time."
As to why the Marines have such a strong connection to canines, and bulldogs specifically, well, that stretches back to World War I. According to Marion F. Sturkey, author of the "Warrior Culture of the U.S. Marines," the Germans called the fighting Marines "Devil-Dogs." Soon after, the Marines started featuring bulldogs on their recruiting posters because of their tenacious personalities and in 1922, the military's first bulldog was officially enlisted.
Also on HuffPost:
Marine Mascot Has Long List Of Service Duties
SUBSCRIBE AND FOLLOW
Get top stories and blog posts emailed to me each day. Newsletters may offer personalized content or advertisements.
Learn more