En una medida criticada por muchos, Facebook eliminó una foto de un tatuaje en el pecho de una sobreviviente de cáncer, citando una violación a su estricta política de desnudez, reportó UPI.
Sin embargo, la red social dio marcha atrás a su decisión, permitiendo que la foto permanezca en la página Custom Tattoo Design en Facebook.
El anuncio se produce después de que Lee Roller de Custom Tattoo Design con sede en Ontario –quien posteó originalmente la fotografía— volviera a publicar la llamativa imagen y pidiera a otros usuarios compartir la foto.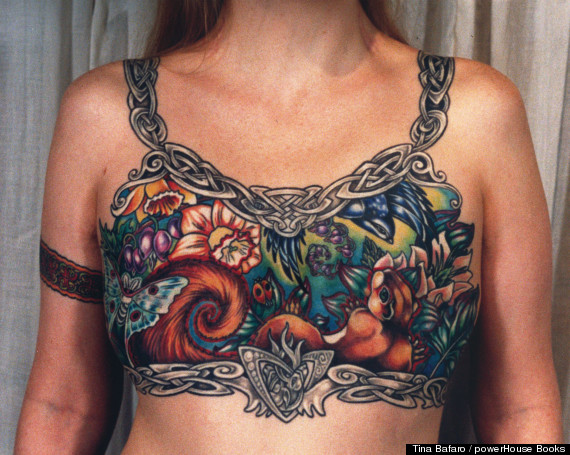 Tatuajes post-mastectomía, de Tina Bafaro.
En la última publicacón de la foto del tatuaje de la sobreviviente de cáncer, Roller explicó:
Facebook sigue quitando el post en 24 horas diciendo que es una foto ofensiva [sic] debido a la desnudez. Sin embargo nosotros sentimos que esta mujer es tanto valiente como fuerte así que seguirnos publicándola y pidiéndote apoyo; Por favor dale "like" y comparte esta foto pronto para mostrar tu apoyo a esta y otras muchas mujeres que han perdido tanto.
En la tarde del miércoles, la imagen ya había sido compartida más de 138,000 veces. [Pasado el mediodía del jueves, la foto tenía 203,000 "likes" y había sido compartida más de 164,000 veces].
Esta no es la primera vez que esta foto ha circulado en esta red social. El diseño del tatuaje también fue publicado por Middle Aged Woman Talking en octubre y por Tennesse Breast Cancer Coalition en enero. Ninguno de esos dos posts fueron removidos de Facebook.
La foto de Inga Duncan Thornell, una sobreviviente de cáncer que se sometió a una mastectomía, fue tomada del libro "Bodies of Subversion: A Secret History of Women and Tattoo".
En el pasado, Facebook ha eliminado rápidamente fotos que según la red social violan las normas de esta comunidad. En febrero, cuatro fotos de lactancia fueran eliminadas de la página comunitaria de "Respect the Breast". Recientemente, en noviembre, Facebook también censuró una foto de un codo que parecía ser el seno de una mujer, dentro de las 24 horas siguientes a su publicación.
Las normas comunitarias de Facebook sobre la desnudez y pornografía señalan lo siguiente:
Facebook tiene una política estricta en contra de compartir contenido pornográfico y cualquier contenido sexual explícito que involucre a un menor. También imponemos límites sobre la publicación de desnudez. Aspiramos a respetar el derecho de la gente de compartir contenido de importancia personal, ya sea que se trate de fotos de una escultura como el David de Miguel Ángel o fotos familiares de un bebé en lactancia.
La siguiente es una foto de "Bodies of Subversion: A Secret History of Women and Tattoo":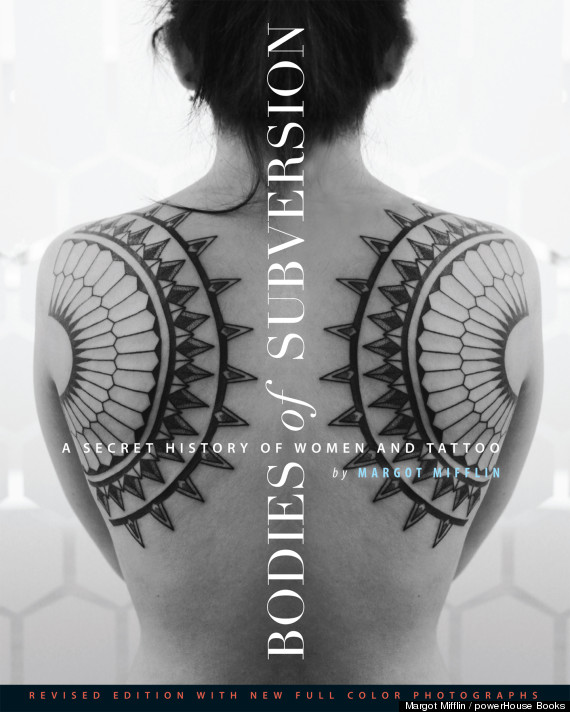 Nota de Sara Gates, traducida por Sonia Ramírez.
RELACIONADO EN HUFFPOST VOCES:
SUBSCRIBE TO & FOLLOW THE MORNING EMAIL
Start your workday the right way with the news that matters most. Learn more