Jodi Arias, accused of stabbing, shooting and slashing the throat of her ex-boyfriend Travis Alexander, is expected to go toe-to-toe with the prosecution Thursday during her long awaited cross-examination in Arizona's Maricopa County Superior Court.
The grim duel will begin at 12:30 p.m. ET. Thursday and will be live blogged by The Huffington Post at the bottom of this article.
The defense wrapped up their direct examination of Arias on Wednesday, after the 32-year-old photographer tiptoed gingerly through details of Alexander's homicide, claiming she was unable to remember many of the details. Court was recessed shortly thereafter.
The path is now clear for Arias' cross-examination by steely-voiced prosecutor Juan Martinez. The veteran prosecutor is often referred to as a "pit bull" by talking heads in the media.
Arias is in the 21st day of her trial for the June 4, 2008 slaying of Alexander inside his Mesa, Ariz., apartment. Arias claimed Wednesday she killed Alexander in self-defense when he attacked her for dropping his camera.
If convicted, Arias faces the death penalty.
Read below for minute-by-minute updates from court Thursday:
02/21/2013 6:37 PM EST
Recess
Judge Sherry Stephens has recessed court until 12:30 p.m. ET., Monday. At that time Martinez will continue his cross-examination of Arias.
02/21/2013 6:32 PM EST
Sleepover
Arias testified she spent the night at McCartney's house on June 2, 2008 -- two days before Alexander's murder.
02/21/2013 6:29 PM EST
Finding Out The Point
Alright Martinez.. Where ya goin with this???.. Get there please! #JodiArias

— Payton Everett (@PaytonNickole) February 21, 2013
02/21/2013 6:23 PM EST
Cheating
Martinez is asking Arias about the time she confronted a girl Matt McCartney supposedly cheated on her with. Arias said she "absolutely" wanted to find out what was going on. Arias said she was 21 years old at the time.
02/21/2013 6:21 PM EST
Magazines
The notes were in PENCIL! Why didn't she just erase the notes! #JodiArias is a psychopath who thinks she is smarter than everyone else!

— Da QueenBee (@TheQueenB31866) February 21, 2013
02/21/2013 6:20 PM EST
The Magazines
Martinez said Arias tried to pass thee magazines to the friend who visited her behind bars prior to a hearing about allegations that Alexander was a pedophile.
02/21/2013 6:17 PM EST
Magazine Content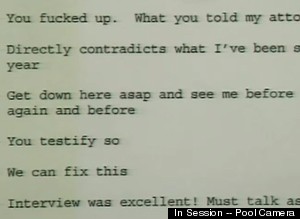 02/21/2013 6:15 PM EST
Magazine Content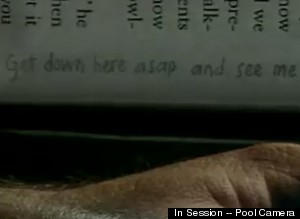 02/21/2013 6:13 PM EST
Magazine Content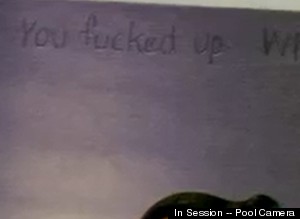 02/21/2013 6:11 PM EST
Magazine Content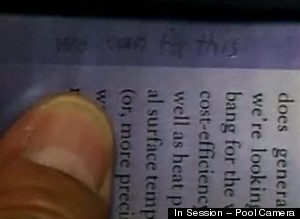 The Huffington Post is live blogging Wednesday's testimony keep checking back here for updates.
RELATED ON HUFFPOST:
PHOTO GALLERIES
Jodi Arias Timeline