Between the ceremony, reception, guest list and honeymoon, it's easy to forget to plan one very important aspect of your wedding: your emergency kit.
Simply Bridal created a helpful infographic that lists exactly what brides should pack in an day-of bridal emergency bag -- in case the Big Day doesn't go perfectly. Throw these items into a cute bag and give it to one of your bridesmaids to hold onto. Then, if you've got a broken heel, static cling, or just need a mint, you're prepared.
Check out the infographic below for your emergency kit must-haves.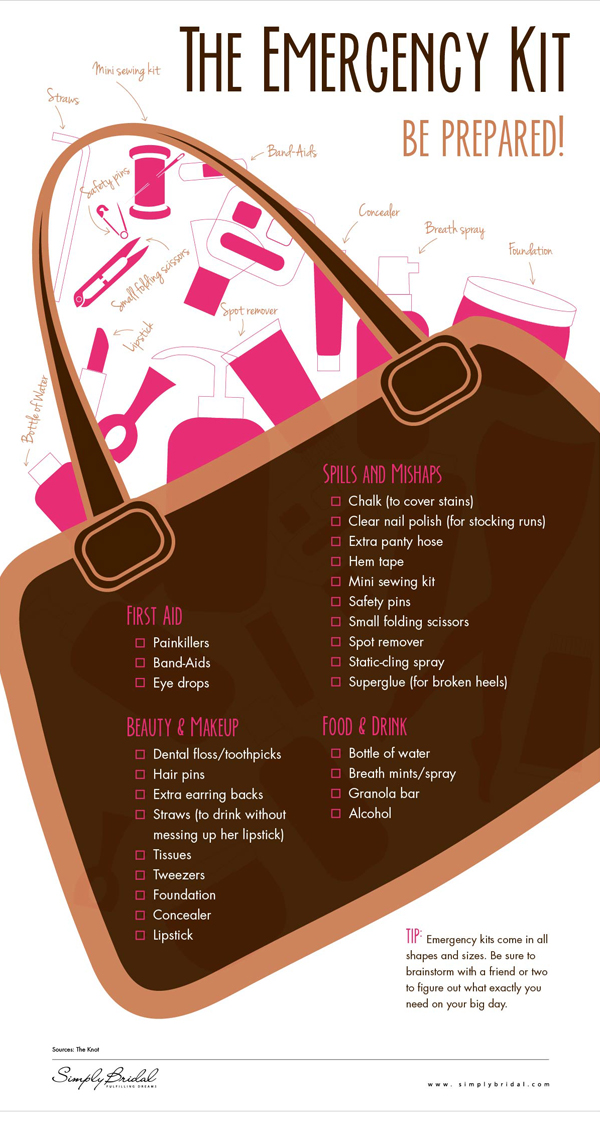 Click through the slideshow below to find out wedding experts' Big Day must-haves.

Loading Slideshow
Yifat Oren

BUDGET: "Include your guests in the ceremony. Most ceremonies are a passive, almost theatrical experience, where most guests are the audience. I think involving them in different ways can have a profound effect on the rest of the celebration." BLOWOUT: "The only areas you cannot overspend on are these: good food, good service and great music and sound." -- Yifat Oren, owner of LA-based event design company <a href="http://yifatoren.com/" target="_hplink">Yifat Oren & Associates</a>. Oren's clients include Kevin Costner, Jason Bateman and Mariska Hargitay.

Matthew Robbins

BUDGET: "Create a truly personal and unique dining experience. A personalized menu, for instance, that represents your favorite dishes, culinary traditions, or flavors from your favorite country or travel locations. Create a printed menu for each guest and lists edited details for each course explaining the ingredients, the history or reason for the dish. The menu doesn't need to be fancy or expensive but the key is to make it personal. Guests spend most of their time at the table, so why not make this special and unique?" BLOWOUT: "Follow my advice for personalizing the menu, but take it a step further: create a truly inspired, custom tasting menu inspired by the season and the location. Give your guests that <a href="http://perseny.com/" target="_hplink">Per Se</a>, <a href="http://frenchlaundry.com/" target="_hplink">French Laundry</a> or <a href="http://bluehillfarm.com/" target="_hplink">Blue Hill</a> experience with many unique courses, and go for exotic combinations. Look for interesting wines to pair with each course and provide a custom menu to give each guest a "tour guide" to use as reference throughout the meal. Also push the envelope with the plating and the tableware. And save dancing for after dinner!" -- Matthew Robbins, owner of NYC-based event design company <a href="http://matthewrobbinsdesign.com/" target="_hplink">Matthew Robbins Design</a>. His clientele includes Mary J Blige, Sade, Vera Wang and O Magazine, among others.

Debbie Geller

BUDGET: "If your budget doesn't allow for band changes or a band at all, work with your DJ to determine a flow for the evening and music style and tempo shifts throughout. It can even be as simple as programming your own iPod with different play lists for the various points in the evening." BLOWOUT: "The one thing people remember in the days, weeks and months after any wedding is whether or not they had fun, so the area that I encourage my brides to splurge on is entertainment. A great band will facilitate an unforgettable evening. Beyond that, if you have the ability to change the energy of the music and entertainment throughout the evening, each time you do you will be injecting new life into the party. Dinner music should be subdued--guests should be able to have conversations. Following dinner, a change in the singers and or energy of your band will wake everyone up and infuse new energy into the evening. A DJ or further band change for after- hours or late night dancing will change the energy once again, keeping your guests wanting more." -- Debbie Geller, owner of LA-based event design company <a href="http://www.gellerevents.com/" target="_hplink">Geller Events</a>

Marcy Blum

BUDGET: "In general, I really think that place cards and thoughtful seating can truly make a world of difference-- it's something anyone can afford." BLOWOUT: "If people want to splurge, there are few things as exciting and energy lifting as fireworks in the right setting." -- Marcy Blum, owner of NYC-based event design company <a href="http://marcyblum.com/" target="_hplink">Marcy Blum Associates</a>. Blum has planned events and weddings for Kevin Bacon and Kyra Sedgwick, and Billy Joel and Katie Lee.

Sharon Sacks

BUDGET: "Incorporate food from your ethnic backgrounds into the buffet or hors d'oeuvres; instead of doing table numbers, use names of places you've been as a couple; instead of place cards with names for the head table, use frames featuring your favorite photo of you and that person; use the proposal as a theme in the invitation or favor (one of our clients proposed to his wife in central park on a hockey rink, and they gave their guests crystal hockey puck paper weights featuring the proposal story)." BLOWOUT: "To bring your wedding to another level, add a personal touch that incorporates you and your groom. This will set you apart from other weddings. What is personal to you won't be the same as personal for another bride. For example, if you are taking your guests away for a destination wedding, send them all custom leather passport holders with the invitation printed inside so they can use the passport holder on their trip; Hire your favorite performer to sing your first dance song; For a beach wedding: provide beach towels embroidered with each guest's name so they always know which towel is theirs, or bottles of sunscreen customized with the wedding logo; For a winter wedding: provide an embroidered cashmere blanket, Uggs, and flannel PJs to keep warm." -- Sharon Sacks, owner of LA-based event design company <a href="http://sacksproductions.com/" target="_hplink">Sacks Productions</a>. Sacks has planned various celebrity weddings, including Nick Lachey's nuptials and Kim Kardashian's wedding to Kris Humphries.

Preston Bailey

BUDGET: "One of the best and most inexpensive ways to ensure your wedding is special is to ignore all the wedding trends. Express your individuality and focus on things and people you love. The wedding procession in particular is a great place to create your own unique tradition. I did a wedding once where the couple had the bridal party dance down the aisle. For another, the couple treated the procession like a fashion show. All the guests loved it." BLOWOUT: "Hire a talented performer. I recently did a wedding where Alicia Keys performed, and she was incredible. But it doesn't always have to be someone that famous. If there's a local or regional singer or band you and your groom love, find out it they're available to perform a song or two at your wedding. A surprise concert is always a big hit with guests." -- <a href="http://www.prestonbailey.com/" target="_hplink">Preston Bailey</a>, event designer and celebrity wedding planner. His <a href="http://portfolio.prestonbailey.com/about-preston/" target="_hplink">client base</a> includes Donald Trump, Oprah Winfrey, Joan Rivers, Donna Karan, Liza Minnelli, Michael Douglas and Catherine Zeta-Jones, Uma Thurman, Jennifer Hudson and Ivanka Trump, among others.

Peter Callahan

BUDGET: "The one thing that really sets a wedding reception apart is having fun passed dessert hors d'oeuvres... Start them maybe 40 mins--or one long dance set--after guests have had dinner. Pick one iconic dessert: [maybe it's] your favorite ice cream in a mini cone, and pass it around the dance floor to guests seated and standing. It's an unexpected [treat] and brings back memories of childhood. Plus, everyone of all ages loves ice cream!" BLOWOUT: "Break out more treats-- caramel-dipped lady apples, mini pies, mini popsicles with limoncella, cotton candy lollipops, and more. <a href="http://www.petercallahan.com/book/" target="_hplink">These</a> add a great unexpected energy to the reception and [raise] the tempo of the party." -- Peter Callahan, owner of NYC-based catering company <a href="http://www.petercallahan.com/" target="_hplink">Peter Callahan Catering</a>. His clientele includes President Barack Obama, Vera Wang, Marc Jacobs and Carolina Herrera.

Buddy Valastro

BUDGET: "Accessorize your cake with some handcrafted sugar flowers. Nothing can beat the realistic look of a well-made flower, and it helps to tie in the table arrangements and bouquets used to decorate your reception. You don't always need to fill the cake with bouquets of sugar flowers, either choosing a fuller species will fill out the cake and make it look elegant." BLOWOUT: "One of my favorite parts of any wedding is the dessert platter, because that is where quality of ingredients truly makes a difference. For the cake, I recommend splurging on a moist sponge cake with a decadent filling like ganache with fresh raspberries. I also love when people splurge on a Viennese table with a variety of pastries; it give everyone a sample of something different. I always recommend splurging on the dessert- it is the last thing your guests will taste!" -- Buddy Valastro, owner of <a href="http://www.carlosbakery.com/" target="_hplink">Carlos Bakery</a>, featured on TLC show <a href="http://tlc.howstuffworks.com/tv/cake-boss/about-cake-boss.htm" target="_hplink">Cake Boss</a>.

Diann Valentine

BUDGET: "Consider setting up a table for guests to write personal Rainy Day Cards. When I released my signature wedding stationery <a href="www.weddingpaperdivas.com/diannvalentine" target="_hplink">collection</a>, I created a new concept called the Rainy Day Card. Guests are instructed to write a personal note to either the bride or the groom or to both of them with anecdotes of how to make marriage work during the tough times or encouraging words that they can look back on during the not so perfect times. After writing these notes, guests are instructed to seal them and address the envelope accordingly. The couple will leave the reception with a bag full of rainy day note cards and when they experience one of those rainy days -- as they are certain to come -- they should go to the bag of cards and pull out one to read and look for their family and friends to remind them of why they chose to commit their lives to one another." BLOWOUT: "Photo booths have become extremely popular at weddings as an interactive activity. It allows guests to be silly and have some fun with their date or other friends at the wedding while the bride and groom are busy doing the normal wedding duties. This also becomes a nice keepsake that guests can take home and relive the fun they had at your wedding. There are many versions of this out in the marketplace but earlier this year, I discovered <a href=" http://www.hdphotobooth.com/explore/booth.html" target="_hplink">HD Photo Booth</a> and they have beat all of the competition. The founder of this company created a software that automatically re-touches every photo when it is taken so you end up with an image featuring a flawless face. I love it and guests are constantly raving about it." -- Diann Valentine, <a href="http://diannvalentine.com/" target="_hplink">event designer</a>. Valentine's <a href="http://www.wetv.com/shows/i-do-over/cast/diann-valentine" target="_hplink">clientele</a> includes celebrities such as Usher, Martin Lawrence, Toni Braxton and Kelis, among others.

Michael Gaffney

BUDGET: "For brides on a budget, I recommend using white Casablanca Lilies. It's a flower that has a beautiful fragrance, style and beauty. My other trip is to use underwater lighting in a gloss tower. Gives a regal look to the wedding at night and looks like you spent a million dollars for a whole lot less." BLOWOUT: "For brides looking to splurge, I love using antique silver plated urns, chaliced pitchers and vases for table decor. Fill them with white roses for an understated but stately look. These designs will make your table have a royal look and the urns and chalices are great floral keepsakes. Uber class, mega style!" -- MIchael Gaffney, celebrity florist and founder of the <a href="http://www.newyorkflowerdesign.com/" target="_hplink">New York School of Flower Design</a>.
Keep in touch! Check out HuffPost Weddings on Facebook, Twitter and Pinterest.
Related on HuffPost: