How Does A Feminist Validate Plastic Surgery? From Gloria Steinem (VIDEO)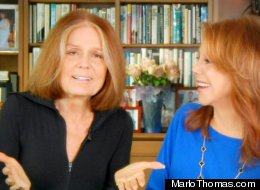 Do you consider yourself a feminist but are considering plastic surgery? Feminist Gloria Steinem dropped by Mondays With Marlo to share her opinion on the subject. It's important to evaluate why you're getting surgery done, Gloria explained. If you're in the public eye, for instance, a few nips and tucks might add another decade to your career. If not, embrace aging as your body's way of adapting to a different life stage.
See more on Gloria Steinem's career in the modern feminist movement:
Gloria Steinem Through The Years
In 1962, Gloria came to New York City from Toledo, Ohio to work as a freelance writer and was soon commissioned to write about the birth control pill for "Esquire." In what she has called her "first serious assignment," Gloria discussed the sexual politics of the pill and how the new science affected women and society as a whole.

Gloria went undercover as a Playboy Bunny in the New York Playboy Club for a 1963 article that appeared in "Show" magazine. In her tell-all piece, Gloria revealed the unfair, demeaning conditions that the Bunnies were required to work under.

Gloria began writing for "New York" magazine in 1968, and through covering an abortion speak-out for the magazine in 1969, she experienced an intense connection to the feminist movement that would propel her into activism.

When the United States Senate first began discussing the passage of the Equal Rights Amendment, Gloria rose to the occasion. In 1970, she stood before a predominantly male audience and spoke passionately in support of the ERA. This further established her as a leader in the fight for equality of the sexes.

In 1971, Steinem collaborated with other feminist leaders to found the National Women's Political Caucus, which aimed to support women seeking political office and work for the passage of the Equal Rights Amendment.

Gloria teamed up with five other female editors (here photographed with coeditor Pat Carbine) to found feminist publication "Ms." magazine in 1972. "Ms." began as a "New York" magazine insert and evolved into a freestanding publication due to its popularity. Gloria has said that she created the magazine when she realized that there weren't any publications for women that were controlled by women. She continues to serve on the advisory board for the magazine to this day.

Following the successful launch of "Ms." magazine, Gloria co-founded the Ms. Foundation for Women with Marlo Thomas, Pat Carbine and Letty Cottin Pogrebin in 1973. The initial funding came from Marlo's "Free to Be... You and Me" projects. The nonprofit organization gave grants to organizations promoting women's rights around the country and sought to promote social change in an inclusive environment.

Feminism isn't the only cause that Gloria advocates. She was a member of the Beyond Racism Initiative and has also been an outspoken supporter of gay rights.

Gloria and other feminist leaders worked to get young people involved in advocating for reproductive rights by founding Choice USA in 1992.

"Take Our Daughters To Work Day" was founded by the Ms. Foundation in 1993 so girls could be exposed to their parent's workplaces at a young age and start thinking about the careers they'd like to pursue one day.

An active participant in presidential elections from 1968 to present, Gloria fought for reproductive healthcare as the president of the Voter's Choice Fund for 25 years. The organization merged with the Planned Parenthood Action Fund for the 2004 election.

In 2004, Gloria co-founded the Women's Media Center with Jane Fonda and Robin Morgan. The organization aims to combat sexism in the media and ensure that women are represented accurately.

Today, Gloria is working with her alma mater, Smith College, to document the U.S. grassroots origins of the Women's Movement. She was also recently featured, alongside other influential women, in the PBS documentary "Makers: Women Who Make America," which is scheduled to air on February 26th.
Add Marlo On Facebook:
Follow Marlo on Twitter:

Weekly Newsletter

Sign up to receive my email newsletter each week - It will keep you up-to-date on upcoming articles, Mondays with Marlo guests, videos, and more!

Sign up here