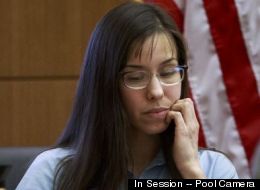 An Arizona prosecutor will continue his cross-examination today of Jodi Arias, a 32-year-old photographer accused of first-degree murder in the brutal 2008 slaying of her ex-boyfriend, Travis Alexander.
In cross-examination Thursday Arias, on the witness stand for a ninth day, faced her prosecutor's questions for the first time, with Maricopa County prosecutor Juan Martinez attacking her credibility over the course of six hours.
Arias, during eight days of questioning by her own lawyers, told jurors intimate details of her sex life with ex-lover Travis Alexander, including some allegations: like catching him masturbating to pictures of boys. But Martinez, finally beginning his cross-examination, often drew blanks from her.
"You had a lot of memory for a lot of events involving sexual instances with Mr. Alexander, but you seem to be having problems with your memory here today," Martinez said, trying to cast Arias as a liar.
"What factors influence you having a memory problem?" Martinez asked.
"Usually, when men like you are screaming at me or grilling me, it makes my brain scramble," Arias replied.
Arias, 32, is in the 24th day of her trial for the June 4, 2008, slaying of Alexander inside his Mesa, Ariz., apartment. She faces the death penalty if convicted. She testified last week that she shot and stabbed Alexander in self-defense after he attacked her for dropping his camera.
If convicted, Arias faces the death penalty.
Read below for minute-by-minute updates from court Monday:
Martinez asked Arias about an alleged incident that she claims occurred in April 2008, during which Alexander allegedly choked her until she passed out. Arias said she did not call the cops or seek medical attention, but did tell Matt McCartney about the incident a few days later.
Arias said she told McCartney about the alleged incident during a phone call. Martinez then pointing out that McCartney could not be considered a witness to the alleged abuse because he would not have been able to see her bruises over the phone.
The Huffington Post is live blogging Monday's testimony. Check back here for updates.