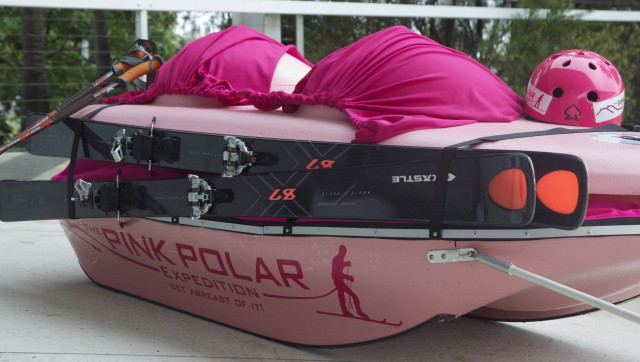 One man is training to trek across Antarctica in record time -- with only skis, kite power, and a 400 lb boob sled.
That second "o" in "Boob" is no typo. Just check out the sled.
Boob Sled For Breast Cancer
But Antarctica will be more difficult -- USA Today reports that the continent's average temperature in November (when Wilson will be there), is -40 degrees Fahrenheit.
"I'm going to be the laughing stock of the penguins down there," Wilson told Gold Coast News.
Still, the booby traveler remains optimistic. The planners of his Pink Polar Expedition hope to raise $1 million for the McGrath Foundation, an organization that works to place breast cancer nurses across Australia.
Inspiring the cause is Wilson's longtime friend, Kate Carlyle -- a journalist and two-time breast cancer survivor. Carlyle assists the Pink Polar Expedition through promoting breast cancer awareness and encouraging women to get themselves checked, according to Gold Coast News.
"She is halfway through her expedition and I'm just about to start," Wilson told the Courier-Mail. "Her bravery will carry me through."
SUBSCRIBE AND FOLLOW
Get top stories and blog posts emailed to me each day. Newsletters may offer personalized content or advertisements.
Learn more