I've been selected as an early adapter for Google's upcoming release. You are buying a brand new unopened pair of Google's Project Glass glasses. I will be personally attending and picking up my pair in either Los Angeles, or New York at Google's Project Glass launch event, which will take place some time after Feburary 27th. As for what colors will actually be available, will vary, if I am offered a choice, I will choose the color of your choice…
A representative from eBay confirmed to HuffPost that the auction "was removed as it was in violation of our presale listings policy."
See a picture below of the auction before it was taken down: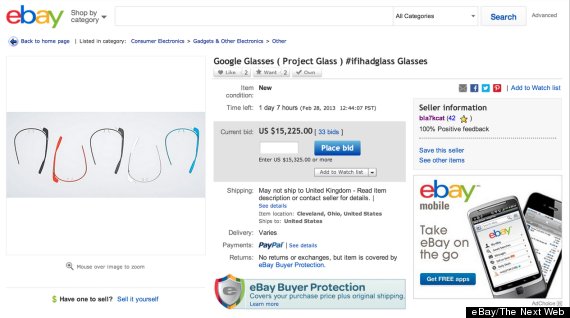 Every Picture Of Google Glasses So Far
SUBSCRIBE AND FOLLOW
Get top stories and blog posts emailed to me each day. Newsletters may offer personalized content or advertisements.
Learn more