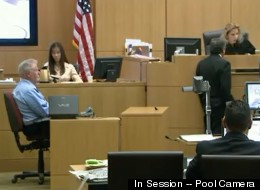 The cat-and-mouse game between Jodi Arias and Arizona prosecutor Juan Martinez heats up again Wednesday, as the prosecution again puts her every move under a microscope.
Tuesday was Arias' 11th day on the witness stand and her third day of cross examination. The Maricopa County prosecutor again called out Arias for failing to remember details of the case on Tuesday. "Do you have a problem with your memory?" Martinez asked.
Trial-watchers have heard the veteran prosecutor ask Arias that same question multiple times since cross-examination began last week.
"I don't think I have a problem," Arias replied.
Arias, 32, is on trial in the June 2008 slaying of her ex-lover Travis Alexander inside his Mesa, Ariz., apartment. She faces the death penalty if convicted.
Arias testified last week that she shot and stabbed Alexander in self-defense. She claims Alexander had become increasingly violent and sexually demanding. She also claimed to have caught him masturbating to a picture of a young boy. The prosecution contends she murdered Alexander in a jealous rage.
The back and forth between Arias and Martinez continued throughout the day, with Martinez ruffling Arias' composure on more than one occasion.
"Are you having problems understanding," Martinez asked when Arias appeared confused by some of his questions.
Arias replied: "Sometimes, because you go in circles … You're making my brain scramble."
Martinez' aggressive questioning and posture was a distraction, Arias said, adding, "I'm not having a problem telling the truth."
Court recessed early on Tuesday. Arias, according to her attorney, was not feeling well. Court is scheduled to resume at 12:15 p.m. Eastern time on Wednesday, when the cross-
examination of Arias will resume.
Read below for minute-by-minute updates from court Wednesday:
In the clip Martinez played from the recorded phone sex conversation Arias talks about wanting to masturbate Alexander and have a "f--k fest."
The clip also included a comment from Alexander that he had never masturbated before he met Arias.
"Before I met you I never [masturbated]," Alexander said in the recording.
The Huffington Post is live blogging Wednesday's testimony. Check back here for updates.