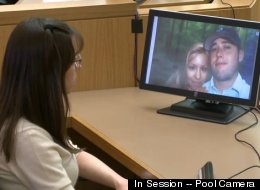 Arizona prosecutor Juan Martinez is expected to question Jodi Arias today about her version of events on the day her ex-boyfriend Travis Alexander was killed.
Martinez aims to prove that Arias' brutal attack on Alexander inside his Mesa home on June 4, 2008 was first-degree murder and not self-defense.
The 32-year-old photographer testified last week that she shot and stabbed Alexander in fear for her own safety. She claims Alexander had become increasingly violent and sexually demanding. She also claimed to have caught him masturbating to a picture of a young boy. The prosecution contends she murdered Alexander in a jealous rage.
Whether Arias meant to kill Alexander is crucial at the trial, because the prosecution is seeking the death penalty.
Wednesday was Arias' 12th day on the witness stand and her fourth day of cross examination. The Maricopa County prosecutor fought back against claims by Arias' defense team that she was a sexually exploited woman, intimidated by her abusive boyfriend.
Martinez confronted Arias with her own texts to prove to the jury that this was just part of the couple's foreplay.
In an effort to prove his point, Martinez entered into evidence a raunchy text message Arias sent to Alexander on Feb. 25, 2008.
"Maybe u could give my ass a much-needed pounding," the text message read.
Another, sent from Arias to Alexander, read in part: "I want to f--k you like a dirty, horny little school girl."
The text messages were intended to show the jury that Arias was an enthusiastic and willing participant in the sexual activities she engaged in with Alexander.
Later, Martinez finally got to the activities that occurred at Alexander's Mesa, Ariz., home on June 4, 2008, the day he was killed. Specifically, Martinez began by questioning Arias about a bondage session she alleges she participated in that day with Alexander.
The line of questioning ended shortly thereafter, with court recessing. The prosecutor is expected to continue questioning Arias about her activities on June 4, 2008, including details about Alexander's homicide, when court resumes at 12:15 p.m. Eastern time.
Read below for minute-by-minute updates from court Thursday:
"You say you went into a fog [after the killing] ... This gun, you tell us you took it out to the desert ... If you were in a fog ... would you agree there would be no need to take the gun," Martinez asked.
"I would not agree with that," Arias replied.
"Why would you even think of taking the gun unless you really knew what was going on," Martinez asked.
"I can only speculate ... I don't remember taking the gun," Arias said.
The Huffington Post is live blogging Thursday's testimony. Check back here for updates.