Gwyneth Paltrow has one of those closets we'd like to steal, full of understated yet stylish basics and some of the best red carpet dresses ever (yes, ever).
But even Gwynnie can admit when she's made a fashion mistake. In the latest installment of Goop, the 40-year-old actress highlights her best Oscar red carpet moments... and her worst (emphasis ours):
Two that come to mind are looks I wore to the Oscars in 2000 and 2002. The first is the Calvin Klein. It's an okay dress but not Oscars material. I chose it because I wanted to disappear that year. Also, the goth Alexander McQueen I wore a few years later. There were a few issues; I still love the dress itself but I should have worn a bra and I should have just had simple beachy hair and less makeup. Then, it would have worked as I wanted it to - a little bit of punk at the Oscars.
Well, hindsight is 20-20, right? (Unfortunately, so are those super-bright flashbulbs on the red carpet...)
Not to get too down on herself, Gwyneth also cites her white Tom Ford ensemble (the one with the cape!) at the 2012 Oscars and her pink Prada dress from the 2011 Venice Film Festival as two of her best fashion statements.
We totally agree... but what about the famous pink Ralph Lauren gown from the 1999 Oscars??
Check out Gwyneth's personal best and worst below -- do you agree with the star's self-assessment?
2002 Oscars: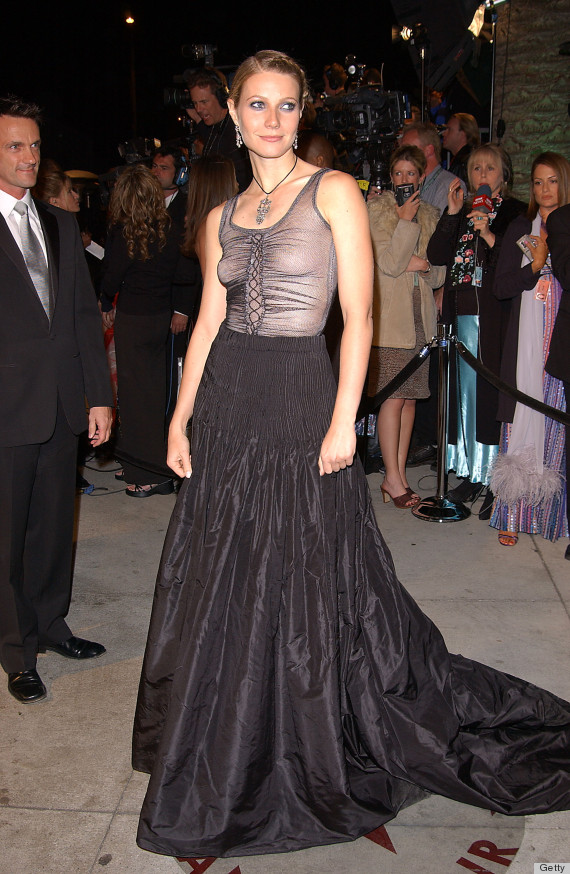 2000 Oscars: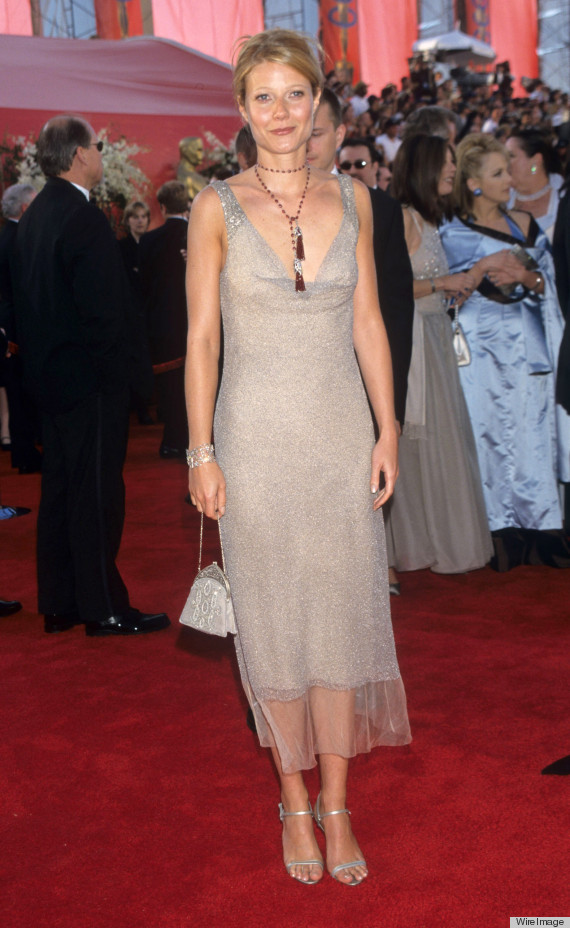 2012 Oscars: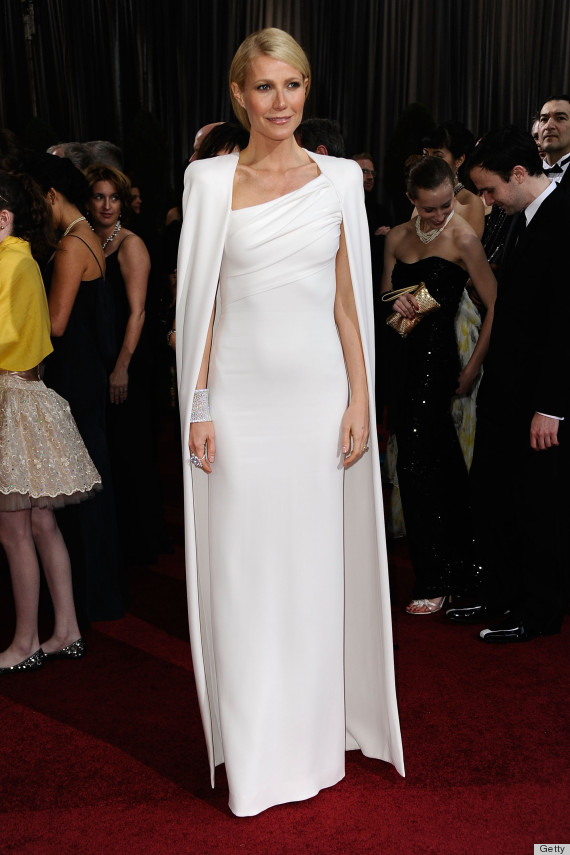 2011 Venice Film Festival: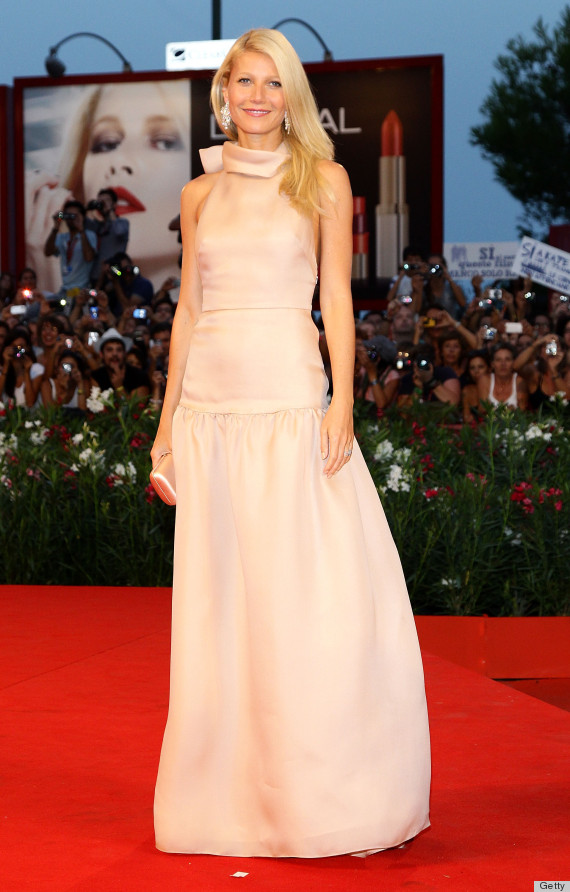 Was Gwyneth's "goth" number one of the worst of all time?
Oscars Worst Dressed From The Past
Whoopi Goldberg dressed in full 24th century regalia at 1993's Academy Awards. (Barry King, Liaison / Getty Images)

Donning a headdress that would put Cleopatra to shame, Cher made her mark on 1986's Academy Awards. Two years later, this fashion pariah would go on to win Best Actress Oscar for her role in "Moonstruck." (Julian Wasser, Liaison / Getty Images)

While her sheep skin coat and crop top-wearing character in Cameron Crowe's "Almost Famous" won her the nomination, Kate Hudson would not have such fashion luck during the 2001 Oscars. (Getty Images)

Rainbow, no matter who -- even a sunny country star like Faith Hill-- or when (2002) is a mistake. It doesn't matter if the pink, yellow, green and blue brings out your eyes. No.

The 1992 Oscars were full of life lessons: Sometimes you can't have your cake and eat it, too.

Just remember, 1989 was way before "True Blood."

Still basking in the glow of her "Titanic" ballad, Celine Dion was thought to be unstoppable. I guess that made the 1999 Oscars her Waterloo.

Hilary Swank decided to go with pink tulle for the 2003 Academy Awards. The issue here: pink tulle.

This 2004 Christian Lacroix getup was confusing to all -- especially to Uma Thurman who later confessed, "It was a beautiful dress, turns out I wore it wrong."

Jennifer Connelly took home the gold for her "Beautiful Mind" performance in 2002, but unfortunately, her "meditation on beige" ensemble was far from a winner.

In 2002, even fashion fave Gwyneth Paltrow couldn't make this sheer number sing.

Sarah Jessica Parker broke a lot of SATC hearts back in 2010 with this meringue-colored mess. It's OK! You can still want to be Carrie!

In the years since 2001, when Bjork hit the red carpet wearing a swan costume, this outfit has made the remarkable switch from unbelievably bad to just unbelievable. Well done, Bjork!

1990 was a strange time. Don't remember? Perhaps Kim Basinger dressing as the woman from Candyland during the 62nd Academy Awards will jog your memory.
Want more? Be sure to check out HuffPost Style on Twitter, Facebook, Tumblr, Pinterest and Instagram at @HuffPostStyle.
--
Do you have a style story idea or tips? Email us at stylesubmissions@huffingtonpost.com. (PR pitches sent to this address will be ignored.)