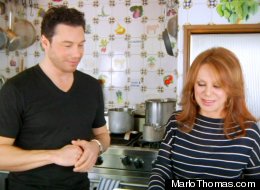 Do you enjoy cooking your own meals but never have enough time? Celebrity chef and author Rocco DiSpirito dropped by Mondays With Marlo to share his favorite tips for cooking up healthy weeknight meals. A little bit of planning goes a long way -- do your grocery shopping on the weekends and make extra servings of meals so you can alternate leftovers. A great go-to meal is soup and salad -- it's fast and healthy.
Check out the slideshow for more of Rocco's healthy recipes and cooking tips:
Rocco DiSpirito's Tips For Better Eating
Salmon is delicious, healthy and broils in eight minutes. Make a quick glaze with agave nectar, mustard, miso and orange marmalade. Mix the ingredients together to your taste, slather the top of the salmon and cook. Let it broil and burn on top. It will be nice and juicy on the inside.

A little bit of planning goes a long way. Do your food shopping on the weekends and make two of everything, so you have leftovers to eat later. Soup is my favorite go-to meal – stock from a box, a can of beans, some seasoning and shittake noodles.

There are normally three parts oil to one part vinegar in bottled vinaigrette. There's a better way to make salad dressing that's thick and creamy with much less fat: 1. Chop shallots (milder onions). Put half to the side and cook the other half in the microwave for one minute. 2. Add the cooked shallots, sherry vinegar, lemon juice, dijon mustard and 2 tbsp olive oil to a blender. 3. Blend, starting on low and gradually putting on high speed. 4. Add raw shallots, parsley, salt and pepper. 5. Mix and serve.

When you use a real gas oven, you have more control. You can transfer your energy through the gas and the response time is immediate. An electric stove can take 40 minutes to catch up! If you have a choice, you should always choose to use a gas stove.

Anything you put into a crockpot is going to taste good later in the day. Crockpots are a great way to cook healthy food, because they don't require any fat. Put in canned beans, a pound of 98% lean beef chopped up, some curry powder and big chunks of veggies. Any kind of stew will work.

When you deep-fry potatoes in oil, you're using a dehydrating technique to make them crispy. You can do the same thing in the microwave without adding any fat. Start using sweet potatoes -- the most nutritious vegetable. Slice them up thin and season with salt, old bay, chili powder or any other seasoning you like. Microwave for 30 seconds and you've got a tasty, nutritious alternative.

Create your own "super oil," which is olive oil made with green olive brine and only ¼ of the amount of olive oil. It tastes just like olive oil, but has ¼ of the fat. Super oil is essentially the liquid that comes out of a jar of green olives.

A good all-purpose pan is a straight-sided chicken fryer. Get a non-stick surface if you're looking to save calories because you won't have to cook with as much fat.

When kids leave home, they usually start eating a lot of processed foods. Encourage your child to cook healthy foods by helping them stock the kitchen in their first apartment. They will need a big knife, a small knife, a blender, a microwave oven, a non-stick pan and some cookbooks.

When you're searching for veggie-friendly entrée options, you'll have plenty to choose from. The world of vegetables is so huge! Look to Indian cuisine for guidance. They use a lot of cauliflower, curries, yogurt and eggplant, which is a substantial vegetable for a main course.
Add Marlo On Facebook:
Follow Marlo on Twitter:

Weekly Newsletter

Sign up to receive my email newsletter each week - It will keep you up-to-date on upcoming articles, Mondays with Marlo guests, videos, and more!

Sign up here