Here's one wedding dress that's actually good enough to eat.
Cake decorator Donna Millington-Day unveiled a life-size wedding dress made out of cake at England's National Wedding Show on Thursday. The six-foot-tall cake consists of 17 tiers of sponge cake, 49 pounds of sugar paste icing and two pounds of royal icing and could feed 2,000 people, according to the Daily Mail. Check out the stylish confection below: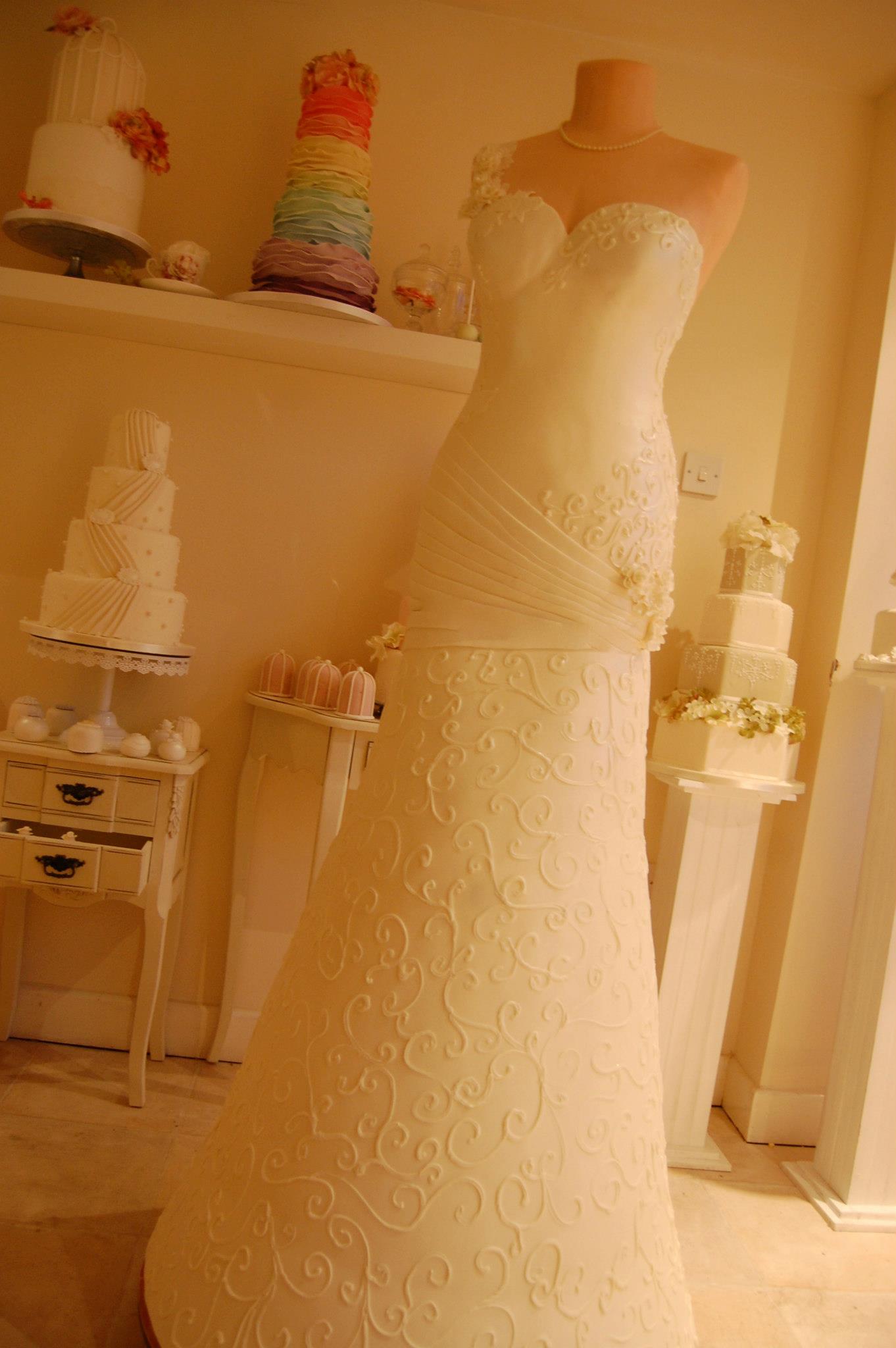 Millington-Day, who owns Fairytale Cake Company, told the Daily Mail that the cake was her six-year-old daughter Hannah's idea. While looking through her parents' old wedding photos, Hannah suggested recreating Millington-Day's dress out of cake.
Although she estimates the cake is worth £6,000, Millington-Day plans on keeping it in her store's window.
Another wedding cake made headlines earlier this month when it was valued at $52 million, making it the most expensive wedding cake in the world.
Click through the slideshow below to learn the most fascinating wedding statistics.
Herbert Fisher and Zelmyra Fisher were married from May 13, 1924 until Herbert's death on February 27, 2011 -- 86 years, 9 months, and 16 days.

Mark Zuckerberg's announcement of his marriage to longtime girlfriend Priscilla Chan garnered 1,045,272 likes.

The "wedding" between Chilly Pasternak, a poodle from Richmond, Virginia, left, and Baby Hope Diamond, a Coton de Tulear from New York, right, cost $270,000.

In this photo from March 2012, model Emma Dumitrescu poses in Bucharest, Romania to show off the world's longest wedding dress train, at 1.86 miles long.

On Leap Day 2012, 95-year-old Lillian Hartley married 98-year-old Allan Marks for a combined age of 193 years, eight months, and three days old.

The underwater wedding between Polish couple Ewa Staronska and Pawel Burkoski was attended by 303 divers. (See photos here).

Rev. Darrell Best converted his 1940s fire truck into a mobile wedding chapel, which can reach speeds of 62 miles per hour. (See a photo here).

Anna Hanen Swan, 7' 5.5'' tall, married Martin van Buren Bates, 7' 2.5'' tall in 1871, for a total height of 14 ft. 8 in. tall. (See a photo of the couple here).

Jill Stapleton's 110 dance students served as bridesmaids at her wedding in 2010. (See a video of the wedding here).

The largest wedding photo album features photos of more than 250 Indian couples and is 13 feet wide and 17 feet long. (See a photo here).

The world's largest wedding cake weighs in at 15,032 lbs and was made by chefs at the Mohegan Sun Hotel and Casino in Connecticut. (See a photo here).

Lauren Lubeck Blair and David E. Hough Blair have married each other 101 times. (See a photo of the couple here).

Made of 1,500 flowers, the largest wedding bouquet weighed more than 200 lbs. (See the bouquet here).
Keep in touch! Check out HuffPost Weddings on Facebook, Twitter and Pinterest.