A recent survey lays the Tooth Fairy's financial habits bare -- according to Delta Dental's annual poll, she offered kids over 15 percent more money per tooth last year than she did in 2011. (HuffPost Business explains what this may mean for our economy.)
But can a nation's relationship with one of its most prominent magical celebrities be measured by sterile statistics alone? We think not. When it comes to evaluating the Tooth Fairy's role in modern life, it clearly makes more sense to look for insight in the words and pictures of our youngest citizens. (We feel the same way about a wide variety of other topics, too.)
The following sample, collected from the HuffPost Parents community, is far from scientific, but we suspect it accurately reflects a prominent trend in Tooth Fairy correspondence: everyone just wants to make a deal.
The Negotiator
Author: Gabby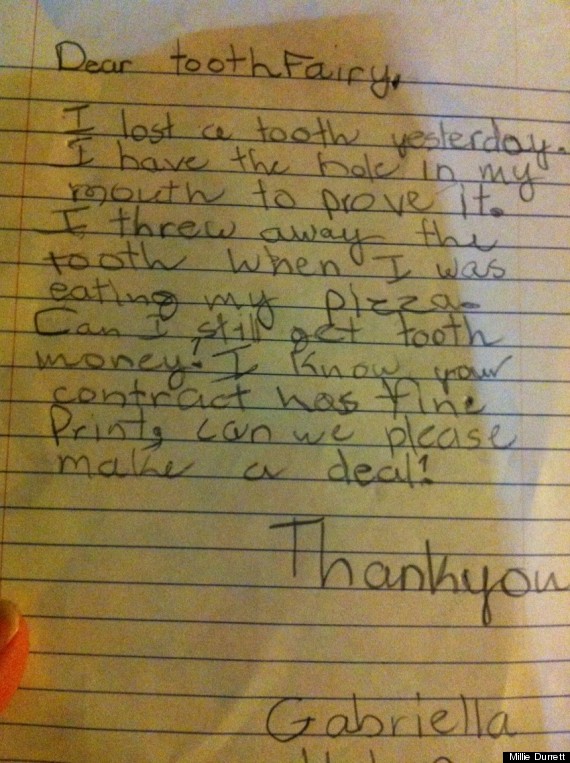 The Response Requested
Author: Rylie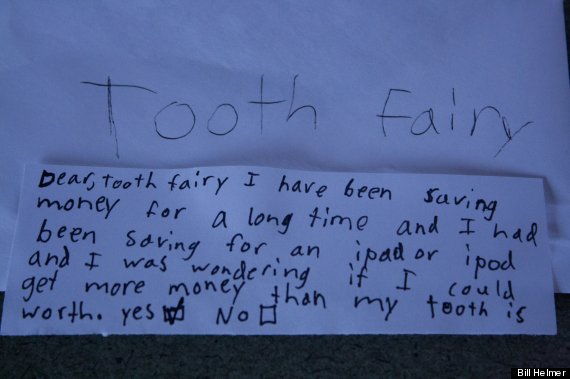 The Boss
Author: Emma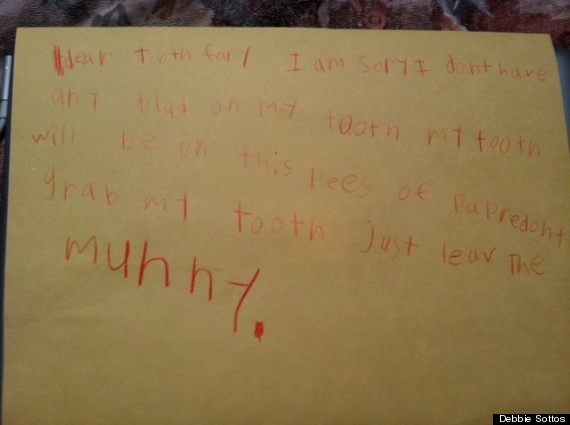 The Kid Who Thinks It's Christmas
Author: Dante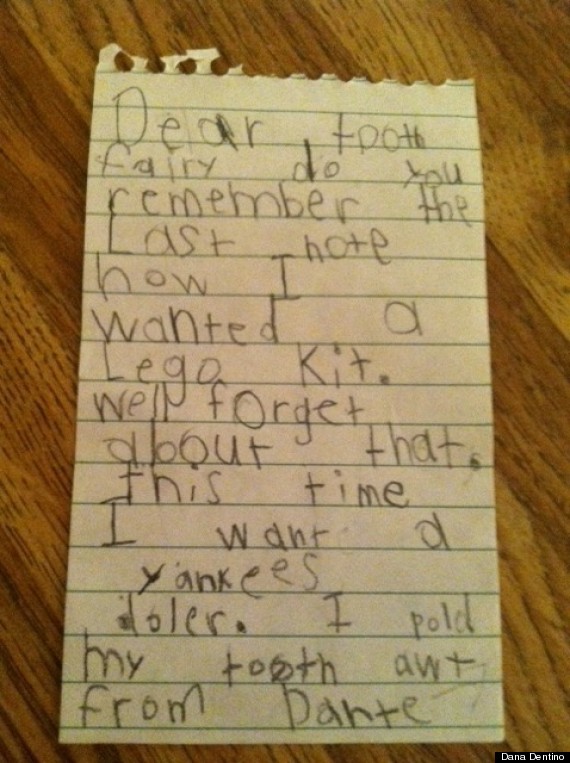 The Instruction Manual
Author: Charlotte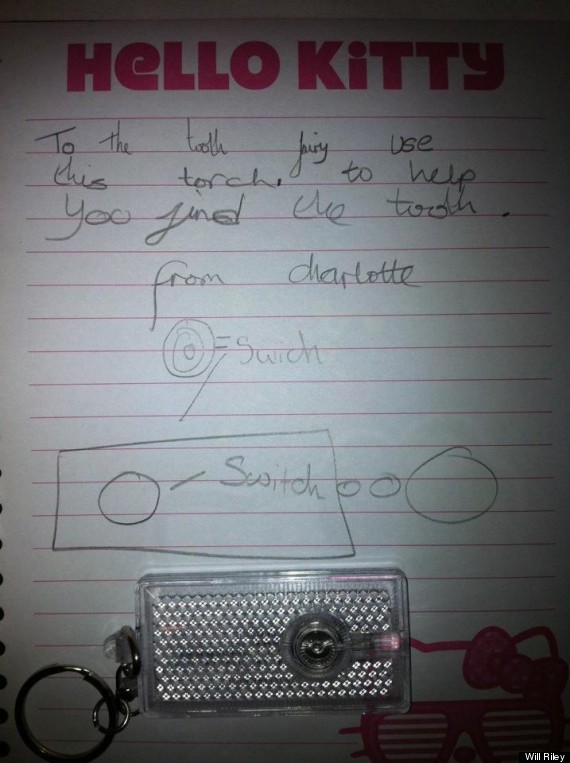 The Switcheroo
Author: Emerson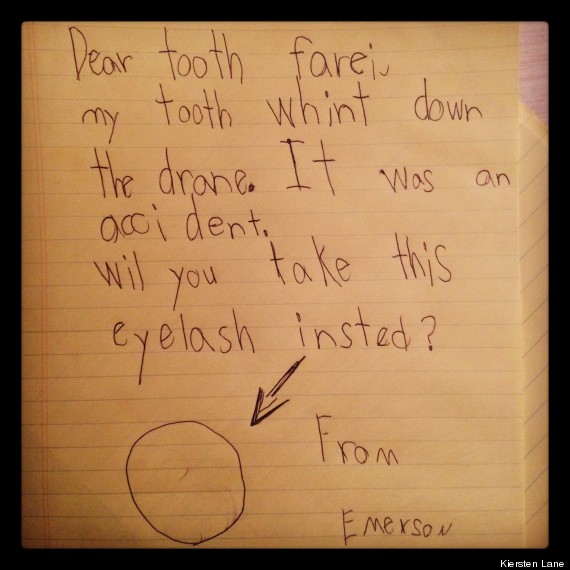 The "Twilight" Special
Author: Harlan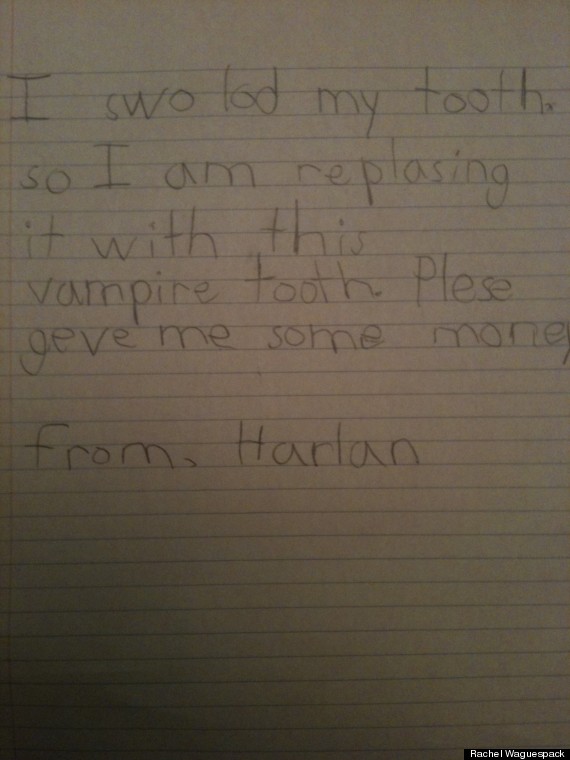 The Importance Of Being Earnest
Author: Michael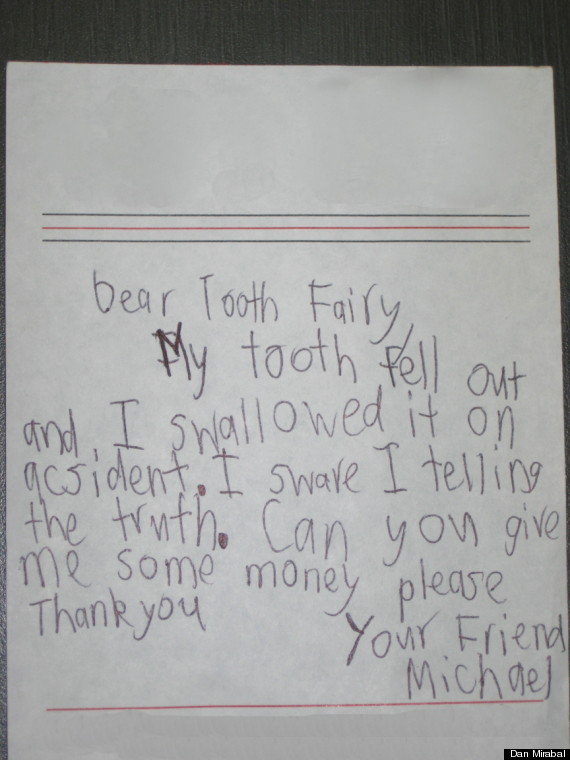 The Haggling Win
Author: Anonymous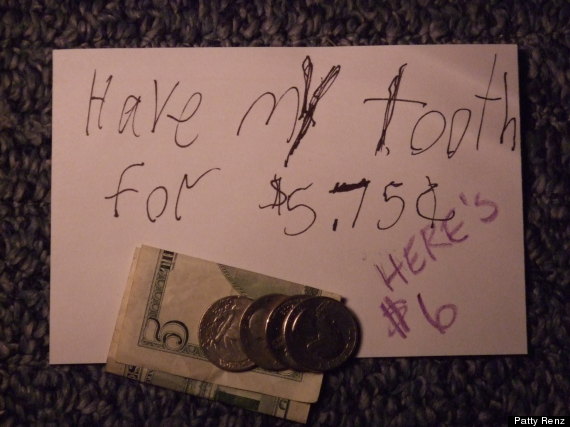 The Ghostwriter
Author: Cassidy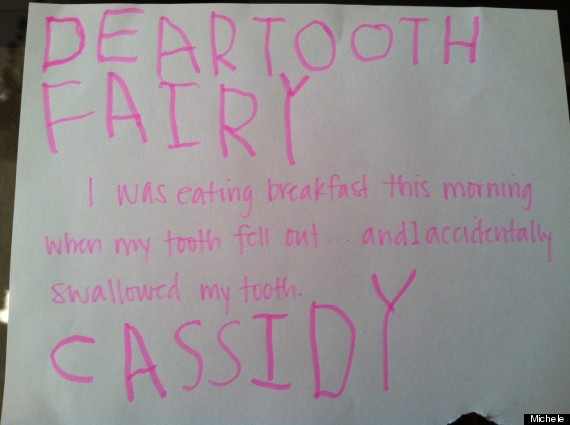 The Illustrated Edition
Author: Victor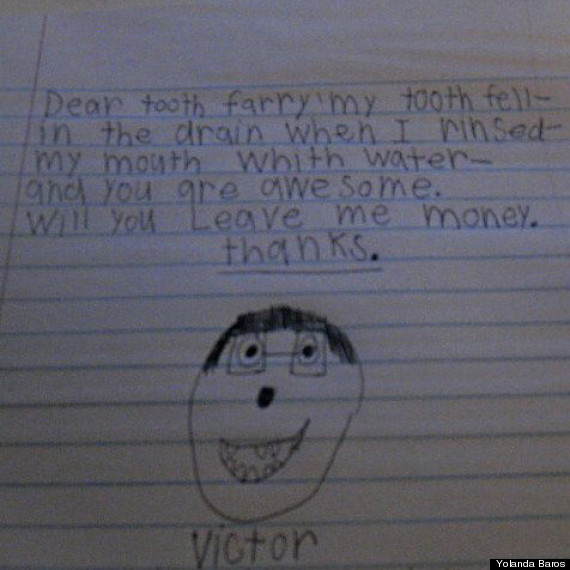 The Deluxe Illustrated Edition
Author: Megan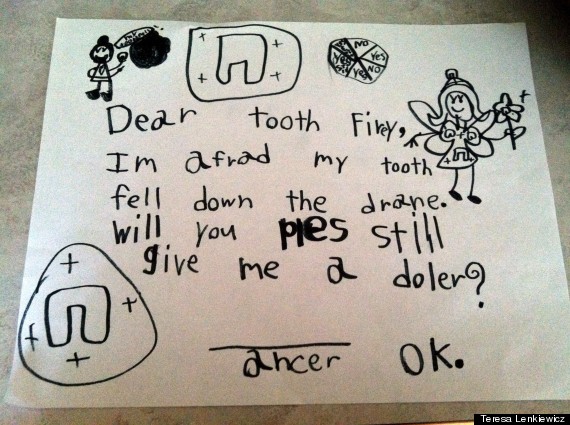 The J'Accuse!
Author: Jessica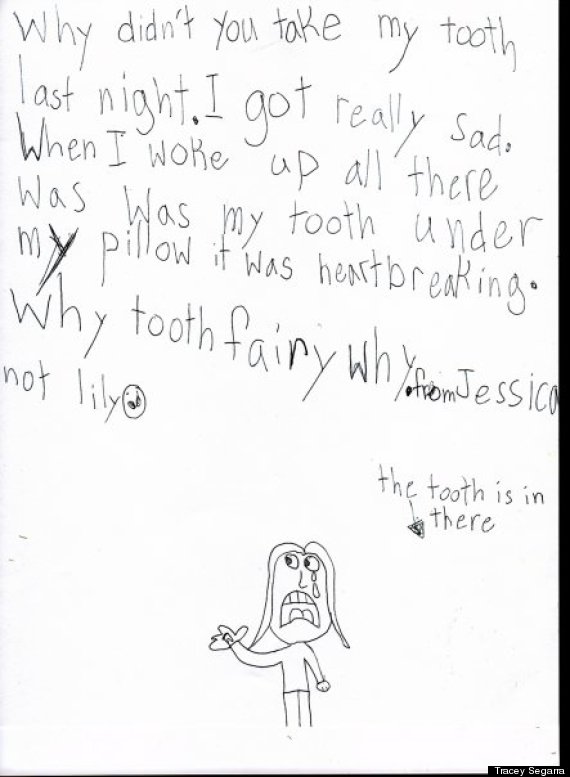 The All-Purpose Excuse
Author: Brenna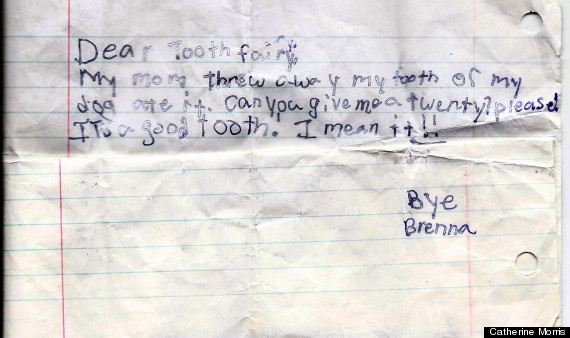 The Open Letter To Fairies Of All Varieties
Author: Rhett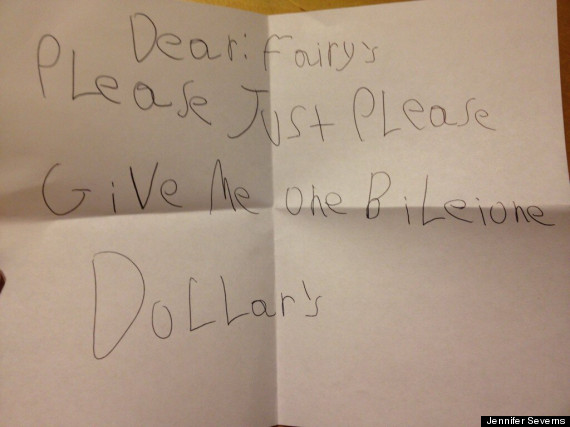 Has your child drawn or written something adorable? Send a photo, along with your child's name and age, to parents@huffingtonpost.com and it may be featured as our Cute Kid Note of the Day!
For more from HuffPost Parents, follow us on Facebook, Twitter and Pinterest!
Also on HuffPost:
Loading Slideshow
Forced Baby Bomb

Ok, so sometimes it's hard for babies to bomb photos by themselves.

Full Moon Baby Bomb

That baby is just begging for attention.

Crying Baby Stroller Bomb

"I had to watch this whole boring marathon."

Creepy Toddler Bomb

The eyes say it all.

Rolling Toy Bomb

If you are going to photobomb, you should cheese adorably.

Car And Bikini Bomb

The baby is her stand-in model.

Scary Baby Bomb

That's a pretty big (fake) gun for a baby.

Swimsuit Bomb

"Let's go swimming! Stop taking pictures!"

Old-Fashioned Baby Bomb

This has to be one of the first.

Baby From Below Bomb

Ruining perfectly good cleavage pics is just one of the many services he offers.

Perfect Baby Bomb

The best way to improve boring, old lectures, hands down.

Meta Baby Bomb

Can you photobomb yourself? Contemplate this and get back to us.

Sexting Bomb

"Mom, are you taking pictures of your butt again?"

Sneak Attack Bomb

Making birthday dinners at the Cheesecake Factory weird since 2009.

Myspace Bomb

"Mom, that site doesn't even exist anymore."

Baby And Hammer Bomb

We're just going to assume this turned out fine.

Exhausted Toddler Bomb

He just wanted that shoe.

Sneaky Carseat Bomb

That face!

Perfect Mirror Bomb

Look behind her shoulder.

Serious Baby Bomb

They're trying to be cute, but he's cuter.

Kissing Baby Bomb

You might be focused on the TV bomb, but the little baby in the back takes the cake.

Kiss Baby Bomb

"Hey, no fair!"

Running Baby Bomb

This baby is living life to the fullest.

Book Bomb

Without the baby, this is a pretty boring picture.