American actor Nicolas Cage is known for being prolific; with more than 70 movies to his name, he has starred in everything from Oscar-winning metafilms to little-known ahistorical mysteries. But now Cage fans have a new way to amuse themselves: Digital strategist Scott Luptowski has created "Nicolas Cage Roulette," a website that lets a viewer "stream a random Nicolas Cage movie on Netflix."
Luptowski's website, which launched on Sunday, is simple. Users click one of two buttons ("All Movies" or "Action Movies") and are prompted to log onto Netflix. Once there, a Cage movie starts streaming -- but you don't know whether it's the critically-acclaimed drama "Leaving Las Vegas" or the forgotten thriller "Next" until the opening sequence.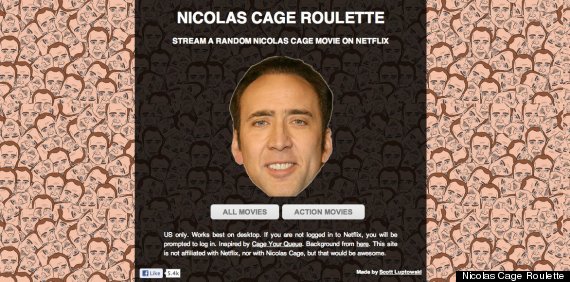 "Nicolas Cage Roulette" webpage
As of 6:30 p.m. EST on Monday, the page had "124K page views, 99K uniques, and 3.7K likes," according to Luptowski's Twitter feed.
Luptowski tweeted that his website was inspired by "Cage Your Queue," a now-defunct site that allowed visitors to add up to 49 Cage movies to their Netflix queue by clicking a single button.
The new website's popularity is likely partially attributable to the actor's long history as a meme. Over the past decade, he has starred in a number of viral Internet sensations, including a "Vampire's Kiss"-inspired comic panel "You Don't Say?" and "Your Argument Is Invalid," in which the phrase "My hair is a bird. Your argument is invalid" was macroed over a digitally altered photograph depicting Cage's hair as a bird.
11 Terrible Ideas For Social Network Mashups
Prove to your crush that you love them more than anyone else by checking into his or her Facebook profile over and over and over...

Filtered photos of your curriculum vitae.

Alternate every other bird you fling with a friend in the slowest iPhone game of all time.

For just $7.99 per month, you can read all the CNET reviews you want. For an additional $7.99, CNET will print them out and mail them to your house.

Paid access to Google's struggling social network, except you still have to watch commercials every 15 minutes, even though you're paying.

(Note: There will be no joke here as The Huffington Post is a subsidiary of AOL, who we love very much).

This mashup of Pandora and Instagram lets you know that if you like this heavily-filtered photo of a puppy wearing sunglasses, you will also probably like this other heavily-filtered photo of a puppy wearing sunglasses.

A message is sent to your iPhone any time you are near a delicious restaurant, until you are too fat to actually move anymore, at which point the app uninstalls itself.

Check into your own bank account whenever you're making a deposit or withdrawal. Hopefully you're the mayor!

Just like Spotify, except all the music is recorded in a garage by a bunch of 16-year-olds from Idaho and never stops playing even if you eventually find the pause button.

Using a proprietary algorithm, Huffington Post commenters are matched up for dates with one another based on political views, love for Michelle Obama, and percentage of sentences written in all capital letters.