Sofia Vergara's turn in Robert Rodriguez' upcoming pulp film "Machete Kills" looks to be quite sexy, if women with firecrackers for breasts are your type of thing.
The "Modern Family" star's poster is available below. Rodriguez' film is set for a Sept. 13 release, and Vergara is hardly the only sultry actress appearing in the flick.
Lady Gaga made waves when she announced her role in the film on Twitter. Gaga appears as La Chameleon. Her character poster reveals the singer with a smoking, silencer-clad handgun, thigh-high stockings and a scarf made out of an entire wolf (legs and all).
"Machete Kills" also stars Danny Trejo, Michelle Rodriguez, Amber Heard, Charlie Sheen, Antonio Banderas, Jessica Alba, Demián Bichir, Vanessa Hudgens, Cuba Gooding, Jr., William Sadler, Marko Zaror and Mel Gibson.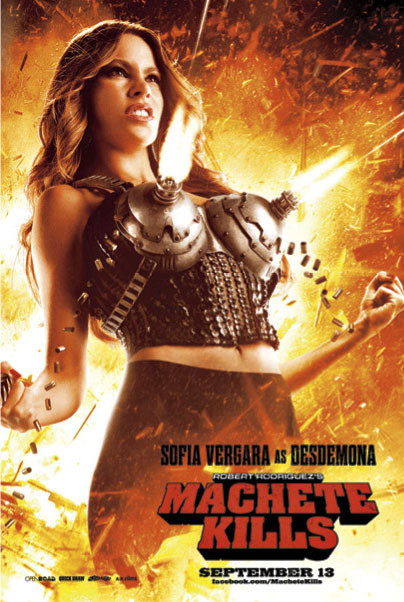 SUBSCRIBE AND FOLLOW
Get top stories and blog posts emailed to me each day. Newsletters may offer personalized content or advertisements.
Learn more