Lots has been written about Jardenea's farm-to-table menu and the restaurant's friendly chef, Nate Lindsay.
Not enough attention has been paid, in HuffPost DC's estimation, to the restaurant's cheese cocktail.
The cocktail is called Il Pero. It's made with pear-infused vodka, St. Germain Elderflower liqueur, fresh-squeezed lemon juice, a chilled hunk of pear and two ounces of shaved parmesan.
This photo doesn't do it justice: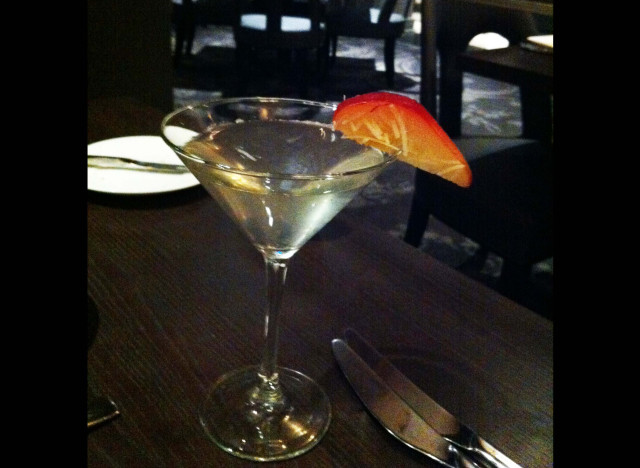 To do the drink justice, head over to Jardenea, which is inside the Melrose Hotel (2430 Pennsylvania Ave. NW). Do it soon -- restaurant manager William Rabil says he's about to pull most of the current cocktail list in favor of spring drinks.
And while you're in a liquory state of mind, here's five more places around the area where we think you'll enjoy a drink:
Loading Slideshow
Hogo

We are especially fond of <a href="http://www.facebook.com/hogodc?ref=nf">Hogo</a>'s cinnamony Blackheart's Punch -- the rotating chefs keep things interesting in the kitchen.

PX

<a href="http://www.eamonnsdublinchipper.com/PX/index.html">PX</a>, the speakeasy in Old Town Alexandria, is helmed by <a href="http://dc.eater.com/archives/2012/11/30/pxs-todd-thrasher-on-antique-barware-and-stolen-goods.php">D.C. Eater's 2012 bartender of the year</a>, Todd Thrasher. Thrasher's cocktails are fresh, homemade and delicious -- they're also delightfully named. (See, e.g., <a href="http://eatgoodfoodgroup.blogspot.com/2012/08/the-arsonist-has-oddly-shaped-feet.html">"The Arsonist Has Oddly Shaped Feet."</a>)

Jack Rose Dining Saloon

Washingtonian is impressed that <a href="http://www.facebook.com/JackRoseDiningSaloon">Jack Rose Dining Saloon</a> makes <a href="http://www.washingtonian.com/blogs/bestbites/recipe-sleuth/recipe-sleuth-a-blue-long-island-iced-tea-that-actually-tastes-good-from-jack-roses-rachel-sergi.php">a Long Island Iced Tea that is both blue and tasty</a>. Jack Rose also has a drink named for Betty White and <a href="http://jackrosediningsaloon.com/cocktails/cocktails-tiki-bar/">a tiki bar</a>. <a href="http://www.flickr.com/photos/notbrucelee/5917547674/">Flickr photo by justgrimes</a>, used under a Creative Commons license.

Ted's Bulletin

<a href="http://tedsbulletin.com/index.php/menu/shakes/">Adult milkshakes</a>, including the Dirty Girl Scout made with pepperment schnapps.

Clare and Don's

We love the food at this Falls Church tiki bar, and we love their tropical drinks. And with the weather getting warmer, we think having one of those drinks and some of that food on <a href="http://clareanddons.com/">Clare and Don's</a> outdoor patio sounds about ideal.
Also on HuffPost: