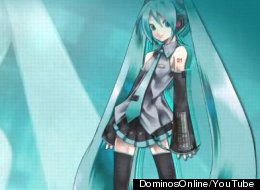 The most awkward ad in the universe has just hit YouTube. Posted on Wednesday, it's already going viral with 242,800 views.
The ad is a TV spot featuring Scott Oelkers, the president of Domino's in Japan. Oelkers is selling an iPhone app that lets Japanese teens use a smartphone to order Domino's pizza. If you've ever seen a very un-hip man try to market to teenagers, you might have some idea what's coming.
The video apparently makes itself appealing to Japanese teenagers by featuring popular Japanese "Vocaloid" Hatsune Miku. For those not familiar with Japanese pop culture idiosyncrasies, "Vocaloids" are computer generated singers originally created as marketing tools for the "Vocaloid" series of music synthesizer apps. The virtual singers eventually became so popular that they started doing their own "live" concerts, spawned a comic book series based on their adventures, and now are being used to advertise a company completely unrelated to Vocaloid, Domino's Pizza. It's as if the Geico Gecko got a talk show, a sitcom and a series of self-help books to his name before being asked to advertise for Starbucks.
The usual ads with Hatsune Miku typically feature anime-esque scenarios, like Miku trying to deliver pizza on an improbably slow moped. But this latest ad's laughability is all unintentional. Oelkers explains what a Vocaloid is in totally self-assured tones (if you want to know what "mansplaining" is, look here), while raising his eyebrows knowingly and making sudden, inexplicable hand gestures. The camera every so often zooms in on his eyes, upping the general impression that Oelkers is, in fact, a creepy mannequin. Meanwhile, Miku sings robotically in the background, sounding perky and synthesized all at once.
The ad can be seen in all its super-awkward glory on YouTube here. And for more Domino's ads featuring the irresistible Hatsune Miku, check out the Domino's online video channel here.
Despite its name, the controversial Girls Around Me iPhone app let the user find girls or guys near his or her location. The app used publicly available photos from Facebook and location check-ins from Foursquare, letting the app-user check out the faces of nearby strangers, who didn't now their data was being used in this way. According to the Wall Street Journal, after stalking concerns were raised by sites like Cult of Mac, Foursquare cut off access to the app so locations would no longer be available to be paired with Facebook photos. The app's creators then pulled Girls Around Me from the App Store.

Available for both the iPhone and Android phones for just $1.99, Bustedbooks.com's Spy Guide app gives users step-by-step directions on how to spy on text messages, email accounts, computers, cell phone records and more. It's more of an instruction manual than anything, but it's the perfect app to use if you suspect your lover is cheating. Way easier than talking it out, eh? (Yikes.)

Sure, there are parents out there who are genuinely concerned about their child's well-being, but those who invest $4.02 in this app might possibly be crossing a line. According to the Google Play description of Stealth SMS Parental Control, developed by Mobile Monkeys, this app will send all of a child's incoming and outgoing text messages directly to his or her parent's phone. All a parent has to do is sneakily install the app on the phone of his or her child. To be fair, the developers advise parents thus: "Before you take any drastic measures and have your children grounded, spend a little time investigating in what is really going on."

At first glance, this Security Cam app, developed by Crowded Road and available for $9.99 through the App Store, seems like it could be a useful tool for security-conscious iPhone users. However, if you read what the app allows an iPhone to do, you'll realize the creepy implications. First off, the app enables your iPhone to take pictures at a specific frequency and have it start snapping when motion or a certain audio level is detected; the pictures can be exported later. Furthermore, the iPhone can be put in "Stealth Mode" so its display turns off even when the app is active. If you ever see a random iPhone lying around, be wary: It could be spying on you.

Available for both iPhone and Android for free, Background Check was developed by public record search service BeenVerified. The app lets users perform one free background check every month (if you want to run more than one in a month, you'll have to pay) and allows them to access criminal records, social networking information, property records, and more of whomever they want. [via PCMag]

Yes, you read that right. The Butt Analyzer app is available for free on Google Play, and, let's you calculate the attractiveness of whichever derriere you choose -- including your own! -- on a scale of 1 to 10. All you have to do is snap a picture of said derriere. The developer, YauSoft, adds in: "It supports both men's and women's butts." Good to know. [via Reddit]

While this isn't a mobile phone app, the desktop app Creepy just couldn't be skipped. Developed by Ioannis Kakavas, Creepy is a chilling take on location-based social discovery apps like Highlight. But while those who sign up for Highlight select certain information to broadcast, Creepy pulls together all public information about one person that is available online and plots it on a map when possible. According to Kakavas, one of his goals in creating the app was to raise awareness about one's privacy. "References in mainstream media (TV, newspapers, radio) and of course blogs/twitter gave the project enough exposure to send the message across," Kakavas wrote in a March 29 blog post. "I have no metrics, but I think it was a good scare for social network fanatics and a wake up call for people to take their locational privacy a little more seriously. Or at least just a good step towards it. Or at least that's what I want to believe."