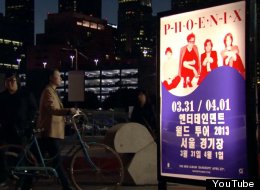 Phoenix is back with a new music video for "Entertainment," the first single off of the band's upcoming "Bankrupt!" album.
The video (shown above) is set in Asia, and features multiple story lines and traditional Asian imagery, but no sight of the band members themselves. Instead of a performance by Thomas Mars, Deck d'Arcy, Laurent Brancowitz, and Christian Mazzala, an Asian pop star is shown singing Phoenix's "Entertainment" to a packed crowd.
Phoenix will likely be performing "Entertainment" later this month when the band begins an international tour. Kicking off March 28 in Vancouver, B.C., Phoenix will hit U.S. cities such as Seattle and Las Vegas before heading abroad for an abbreviated summer tour. The band is also set to play this year's Coachella music festival.
Late last year, Glassnote Records head Daniel Glass spoke to HuffPost Entertainment about Phoenix's upcoming album, saying that it was a "treat" to hear the band's new music. "Bankrupt!" is due out April 23.
This one already leaked, but solid reviews point to A$AP's studio debut as one of rap's most important releases. He'll be opening for Rihanna on her global tour, but come January, this is the album to buy if you want to Support Real Hip-Hop.

Mumford & Sons blew the door wide open on sensitive rock, so expect outfits like the Local Natives to reach new heights of popularity. Cue the grumbling about selling out in 3… 2… 1…

Once called "Wild At Heart," Sky Ferreira's debut studio LP is another project that's driving bloggers wild. The oft-delayed record now comes on the heels of the singer's sensitive and spare EP, "Ghost." If "I'm Not Alright" gives us more from where "Everything Is Embarrassing" came from, we'll gladly give it a few spins.

The Clipse coke-rapper has been given new life by Kanye West and the rest of the G.O.O.D. Music family, but it remains to be seen if he can make good on the opportunity. Early buzz is favorable: "Blocka," a recent release, pits Pusha against some production that would fell many a lighter rapper. Not him.

With a title that fits her generation like a silken, thrift-store glove, Banks looks to turn mixtape hype into studio album sales. She made her name by blending rap and hip-hop sensibilities and swagger with an electro house sound, but come February, she won't be alone. We'll be looking to see if she stays dominant in a field that's already starting to be a bit more crowded (we see you, Angel Haze).

Diplo's dancehall project got bumped from November to early in the New Year and includes collaborations with the likes of dubstepper Flux Pavillion, Wyclef Jean, Vampire Wekend's Ezra Koenig, Shaggy (yes, that Shaggy), Bruno Mars, Amber Coffman, Dev, Wynter Gordon and -- wait for it -- Tyga. Look for this release to quickly make its way toward the top of your tuned-in friend's dance party playlist. To Jamaica, and beyond!

When Radiohead's Thom Yorke and the Red Hot Chili Pepper's Flea announced their side project, the collaboration seemed like something out of a music video game (Kobe and Jordan on the same team? Why not!). Early single "Default" has us thinking this will be much more Radiohead than RHCP.

50's big return to music comes via an impressive roster of producers (Dre, Hit-Boy, Just Blaze, etc.), and who can deny that rap could use a dose of 50 Cent's witty, radio- and street-friendly hits? Early tracks have been of mixed quality, but rap fans will wait to hear the full package before judging.

The year 2012 was a rough one for the "All I Want For Christmas" singer. She signed on to judge "American Idol" (consider where Paula Abdul was at with her singing career when she did the same thing), was subsequently out-diva'd by Nicki Minaj and released a single that no one remembers ("Triumphant (Get 'Em)"). Her upcoming studio album will be the fourteenth of her career. Whether it's a big comeback or a swan song remains to be seen.

Ozzy's returning to vocal duty, so this will either be amazing or horrifying. Except that Rick Rubin's producing, so maybe more amazing?

Kevin's back and they're all living in a house together to make the album. What else needs to be said?

If "Woman's World," the lead single off Cher's first studio album since 2001's "Living Proof," is any indication, the legendary diva is setting out to make pop music that sounds like 2013. She has promised to range beyond dance tracks, so we're excited to see how her 100-ton voice sounds over stripped-down arrangements. Until then, there's always her Twitter.

Queen B's post-Blue Ivy return to music is shaping up to be quite a project: Jay-Z, The-Dream, Pharrell Williams and a host of other hitmakers have all been spotted in the studio with her. She's also turning the Super Bowl into a Beyonce concert with a side of football, so the stakes are pretty high. But if anyone who can pull it off …

The band that said what everyone was thinking about Nickelback dialed up plenty of Grammy nominations this year. We like a band that puts out quality music quickly.

It's nice that Eminem and 50 are supposedly dropping records in the same year. Eminem's shouldn't feel like that much of a comeback, but the once-fiery rapper seemed to have devolved into an inspirational life coach on his last few albums. Look for Shady to step back into the game with a vengeance (or maybe he'll just make more pseudo-sexual jingles with Skylar Grey).

Gaga sat back as everyone from Adele to Taylor Swift all but snuffed her out of the popular consciousness. Who knows if Twitter counts, but in case it does, here's what we know: The singer has said she'll keep collaborations off the studio release and that she has written "like 50 songs" so far. There's also a movie on deck, directed by soft-art-porn maestro Terry Richardson. Here's hoping the sifting process results in a nice collection.

Katy Perry's albums are always stacked with hits. Rumors place her next disc as dropping over summer. Let's see what Dr. Luke cooks up this time.

A couple things: Nicki Minaj should not be parroting Jay-Z album titles. That's pretty much the definition of the phrase "not a good look." Also, drop the "Pink Friday" branding already. Trust your fans: They'll buy an album with an all-new name.

Pearl Jam has been fueling new-album speculation since March 2011, when members said they had some new songs ready to record. And though they may not release an album in 2013, they apparently have "seven or eight" songs already on tape. If a new disc does materialize, it will be the band's first since 2009's "Backspacer."

Karen O takes a break from penning "psycho operas" and finds some time to hang out in the studio. James Murphy either is or isn't helping out, but in either case, we're ready for this wait to be over.

Sources have already whispered to HuffPost that an album is in the works, and Big Sean keeps telling anyone who will listen, but when said record will appear is anyone's guess. Some hints: "Cruel Summer" landed in mid-September, so perhaps "Winter" will drop just around the end of its corresponding season. That would place the record -- which will hopefully include Mr. Hudson this time -- around the latter third of March. So it goes.