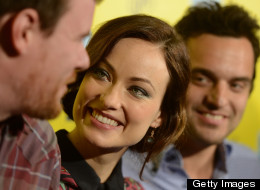 Can men and women be friends? That eternal question, perhaps best asked by Nora Ephron in "When Harry Met Sally," takes center stage in Joe Swanberg's new film "Drinking Buddies," which premiered at the SXSW Film Festival on Saturday night.
Swanberg's latest focuses on two couples, Luke and Jill (Jake Johnson and Anna Kendrick) and Kate and Chris (Olivia Wilde and Ron Livingston), and the too-close-for-comfort relationship between drinking buddies Luke and Kate, who are co-workers at a Chicago brewery. As the title and that description indicate, "Drinking Buddies" features beer drinking, more beer drinking, even more beer drinking and lots of intriguing drama about what is worse for a relationship: physical affairs or emotional ones. As is Swanberg's style, "Drinking Buddies" is unscripted; instead of writing a screenplay, Swanberg discussed the characters and story with his talented cast and filled in the blanks during the editing process.
"Typically, if you're working from a script you've written a joke or moment on the page, and it's really hard to tell if it's landed." Swanberg, best known for making films that fit into the indie sub-genre of mumblecore, said during a post-screening press conference. "You have to rely on the fact that you knew it was a funny joke when you wrote it and then, in the context of the movie, that it will land. This way, I'm watching it as a viewer; I'm watching it unfold. Then I know what's working and not working."
Which isn't to say Swanberg made "Drinking Buddies" by the seat of his pants.
"The point I want to make clear is that this movie is called an improvised movie a lot, but our director was the captain of the ship," Johnson, who gives an exceptional performance as Luke in the film, said at the press conference. "It was a really nice thing. We would all talk things out, but it wasn't a situation where we'd show up on set and we'd say, 'Luke's going to do this today!' There was a clear vision from start to finish."
That clear vision -- plus the film's cast -- make "Drinking Buddies," by far, the most ambitious feature Swanberg has directed to date. (Also, the best looking: Ben Richardson, who shot recent Best Picture nominee "Beasts of the Southern Wild," was cinematographer on "Drinking Buddies.")

"I certainly didn't think, 'Here I come, I'm going to add legitimacy,'" Wilde said about her involvement in the film. "I thought, 'Will he take me? I want to be part of your cool crew of actors and artists you've worked with before.'"
The danger of acting without a script, however, was that the actors took some of the film's more difficult scenes home.
"The process was so weird in such a good way. I'm not a 40-year veteran, but nothing feels like a Joe Swanberg movie," Johnson said, before relaying a story about shooting a particularly emotional fight scene with Wilde. "I'm hanging out with my brother and my nephew in real life and I'm like, 'I have to go in the other room [to text Olivia and see if she's okay].' 'Why?' 'Because this movie is weird. It's fucking with my head!'"
Not that Johnson wouldn't work with Swanberg again: "I really hope someone has the courage to give Swanberg $20 million," Johnson said. "Whatever that movie is, I want to be in it and I want to see it."
Steve Carell and Jim Carrey star as dueling magicians in this new comedy from Warner Bros. "Burt Wonderstone" premieres at SXSW one week before its nationwide bow on March 15.

Nothing says SXSW like gruesome horror and future cult classics, which is why the remake of "Evil Dead," set for nationwide release on April 12, is perfect for Austin.

Richard Linklater's third film in the "Before Sunrise" franchise is one of the year's best thus far, an honest relationship comedy with genuine laughs and heartbreaking honesty. "Before Midnight" debuted at the Sundance Film Festival to rave reviews and will reach theaters on May 24. Ethan Hawke and Julie Delpy reprise their roles as Jesse and Celine.

Joseph Gordon-Levitt's directorial debut focuses on the title Jon, a New Jersey ladies' man who is also addicted to internet porn. "Don Jon's Addiction" debuted at the Sundance Film Festival in January and was picked up for release by Relativity Media. Look for the sex comedy in theaters nationwide this summer.

Matthew McConaughey, indie king. The 2012 breakout star continues his run in 2013 with "Mud," a new drama from Jeff Nichols ("Take Shelter") about a drifter and the kids he encounters.

"Your Highness" director David Gordon Green went back to his indie roots with "Prince Avalanche," a two-hander starring Paul Rudd and Emile Hirsch. The film, which premiered at Sundance, is set for release this summer.

Spring break, forever.

The environmental thriller "The East" is the closing night film at SXSW, but you won't have to wait long to see this one: Fox Searchlight is set to release "The East" in May.

If Matthew McConaughey is indie king does that make Zac Efron indie prince?

Miles Teller ("21 and Over") is going to be everywhere this year -- including SXSW with "The Spectacular Now." The film enjoyed one of the stronger debuts at Sundance and is set for release this summer.

Jake Johnson, Anna Kendrick and Olivia Wilde star in Joe Swanberg's "Drinking Buddies," a SXSW premiere.

Brie Larson could be the Miles Teller of SXSW '13. She's the rising star of the indie drama "Short Term 12" and has a small appearance in "Don Jon's Addiction."

The UK romcom makes landfall in the States at SXSW. Rose Byrne ("Bridesmaids") leads the way.

Because Joss Whedon is Joss Whedon, he made a black-and-white adaptation of Shakespeare's "Much Ado About Nothing" while finishing "Marvel's The Avengers." The film debuted at the Toronto International Film Festival in 2012 and screens in limited release this summer.

Adam Brody plays a man looking back on his past relationships in "Some Girl(s)," a new film written by Neil LaBute.