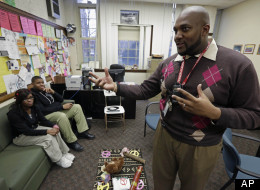 CHICAGO — Long before Chicago's latest spasm of gun violence, the fatal beating of an honors student came to symbolize the dangers facing young people in the nation's third-largest city.
But Darrion Albert's 2009 death also tells a different story – how one of America's most notorious schools restored calm and worked to defuse many of the confrontations that led to bloodshed. Now those precious gains could be lost because many of the new initiatives were paid for using federal stimulus money that will run out at the end of the school year.
After Albert's death, Fenger High School became a national example by getting students to resolve their disputes peacefully and finding different ways to mete out discipline.
Principal Elizabeth Dozier has no idea where she will turn for more funding.