Awesome Sandwich Cutters Make Lunch Adorable (PHOTOS)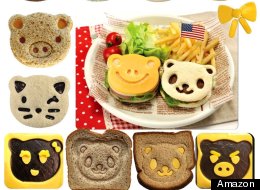 Normally when we pull together product round-ups for you guys, it's to make fun of them. We've talked about the stupidest grilling tools on earth, the worst innovations in chip clip technology, we've even delved into the clandestine world of idiotic fruit slicers. And now, for something completely different.
If anything was going to melt our hearts, it was always going to be sandwiches. Do you have any idea how many cute sandwich cutters exist on the internet? You can cut your kids' sandwiches (or your own, no judgement) into dolphins, hearts, pigs, even a game of Tetris. In all those other stupid kitchen tool round-ups, we swore that we are not immune to whimsy and do not have hearts made of stone -- here's our proof. Without further ado, the cutest crust cutters we've ever seen.
Want to read more from HuffPost Taste? Follow us on Twitter, Facebook, Pinterest and Tumblr.
FunBites Shaped Food Cutter, $22.20 on Amazon

Star Wars Tin Lunch Box with Sandwich Cutters, $25.00 on Amazon

Bites and Pieces Crust Cutter, $9.99 on Perpetual Kid (pre-order for April) We are suckers for anything Tetris related.

Kotobuki Panda Sandwich Mold, $15.24 on Amazon

Crustache, $6.99 on Perpetual Kid We are relaxing our "stop making everything mustache shaped" policy for these adorable sandwiches.

Cutezcute Animal Friends Food Deco Cutter and Stamp Kit, $9.99 on Amazon Kind of terrifying? Yep. Do we still love them? Totally.

Flipper Bytes, $11.99 for a set of three on Amazon Guys, bread-waste-free, dolphin-sandwich love-fest. Sign us up.

Sweets Lunch Punch Sandwich Cutters, $15.00 on Pottery Barn Kids

Sesame Street Crust Cutters and Stamps, $7.30 on Amazon We'll admit to squeaking a little when we saw these.

Hello Kitty Sandwich Cutter, $7.20 on Amazon Because, of course.

Toast Strips Stamper, $4.49 on Perpetual Kid Perforated toast soldiers? We're in!