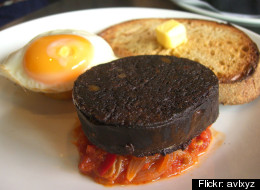 If you're a regular celebrator of Saint Paddy's Day, you should be very familiar with traditional Irish fare -- not just the booze. We're not talking shamrock-shaped cookies and green cupcakes, but real Irish cuisine. If you don't know your colcannon from your champs, well then you owe it to Saint Patrick to study up.
This year, even if you have to start the day with green eggs and ham, we hope you'll have one real Irish dish. With a look at the most traditional foods of Ireland, potatoes definitely play a big theme. It's just one more reason we want to celebrate this Saint Patrick's Day -- besides the Guinness, of course.
Want to read more from HuffPost Taste? Follow us on Twitter, Facebook, Pinterest and Tumblr.
Mashed potatoes with kale or cabbage.

A kind of potato pancake.

A traditional dish made from pigs blood, barley and seasoning.

A yeasted bread with added sultanas and raisins.

An Irish food made of boiled pigs' feet. They are traditionally eaten by hand.

Mashed potatoes with spring scallions.

A meat pie made with a crust of mashed potatoes.

A dessert made by boiling bread in milk and spices, very similar to bread pudding.

A dish consisting of layers of roughly sliced pork sausages and rashers (thinly sliced, somewhat fatty back bacon) with sliced potatoes and onions.

An Irish stew made with pork and pork kidneys.