This just about breaks our hearts, it's so adorable. Meet Detroit's newest, cutest resident, Josiah. The baby boy was born to parents LaBarrian White and Shatina Davis at DMC Sinai-Grace on Wednesday, also known as 313 Day to the city that reps the area code.
Look how well Josiah represents the 313: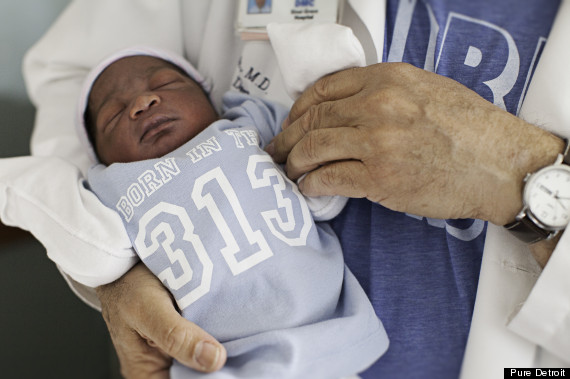 Photo by Joshua Hanford for Pure Detroit.
Pure Detroit, an apparel and gifts shop that hosts cultural events in the city, gave the 313 baby the adorable onesie pictured above and his mother a gift bag. All the little ones born today at the hospital -- two and counting -- will receive the same warm welcome to the Motor City.
"Pure Detroit has been waiting all year to launch 313 Day today and it's amazing the support we are getting," said Ryan Patrick Hooper, the store's director of communications and culture. "What better way to celebrate than new life in city of Detroit?"
We can't think of a better thing to celebrate, either. Tell us your stories of love and celebration in Detroit on 313 Day in the comments, or tweet it to @HuffPostDetroit with hashtag #313DLove.
Also on HuffPost:
Loading Slideshow
Remember to be as grateful as this girl ... When 6-year-old Lily was told she was headed to Disneyland for her birthday, her reaction was both heartwarming and priceless. We'll never forget to say thanks again.

Give your friends a hug ... Especially if your friends are as cute as these baby sloths.

... and don't forget to give your mama a kiss. Moms can always use some love and appreciation.

Remember to be a little bit kinder and more generous than you were last year ... Who knows what kind of pay-it-forward chain we might set off.

Work as hard to be healthy as this dog ... Obie, a Dachshund, is on a mission to lose a whopping 40 pounds, relinquishing his title as <a href="http://www.huffingtonpost.com/2012/09/10/obie-the-obese-dachshund_n_1871369.html#slide=1497313">world's fattest wiener dog</a>. We believe in you, Obie!

Balance work and play like this cat ... Sometimes you just need to give yourself a break.

Remember to be nice to those littler than you ... Take a leaf out of this cat's book and find friends in unexpected places.