If there's ever a time you need a little distraction in your life, it's during the divorce process. That's why we're launching our Divorce Care Package series. With each post, we'll show you what things -- books, movies, recipes -- helped others' relieve stress in the midst of divorce, in the hopes that a few of their picks will serve you well, too. Want to share what got you through your divorce? Email us at divorce@huffingtonpost.com or tweet @HuffPost Divorce
What helped HuffPost Divorce blogger Penney Berryman move past her divorce? Her neighbor's mushroom and sausage pizza, tough love self-help books, and avoiding romantic comedies at all costs. Below, Berryman shares all of her divorce life savers, but first, she has a word of advice: Never stop believing in love.
"I still believe in love and marriage, in romance and better things ahead," Berryman told us. "Exhibit A: A photo of my boyfriend and I in the Bahamas, February 2013:"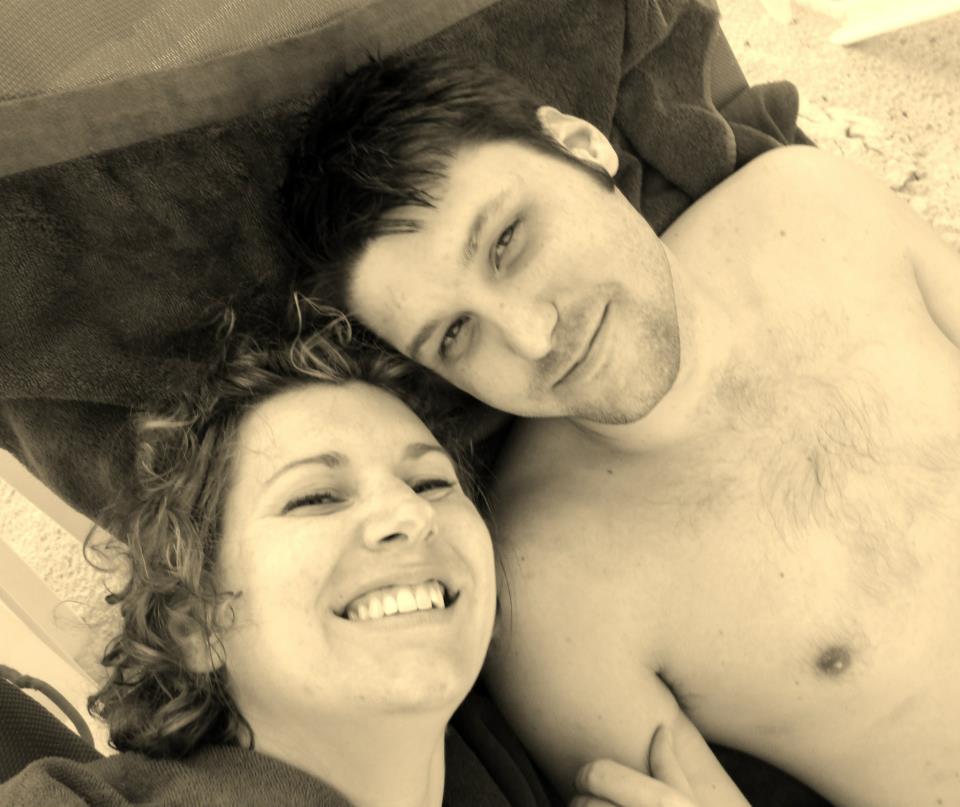 Aw!
Blogger Penney Berryman's Divorce Care Package:
What Got Penney Berryman Through Divorce
"I posted quite a few in my office and in my mind, carrying them in my pocket and wallet. My mom's voice echoed with: 'This too shall pass.' Also, the poem "Evolution" by John Banister Tabb"

"There are 4 bazillion books on how to handle divorce –- and most are crap. In the end, the only two self-help books that resonated were 'When Your Lover is a Liar' by Susan Forward, PhD and 'Love Must be Tough' by Dr. James Dobson. They both focused on self-respect and setting boundaries, a far cry from other authors' absurd suggestions to 'tolerate everything, compliment him constantly, never give up and he'll come around. You can save your marriage singlehandedly!'"

"One particularly low night I texted a girlfriend and asked if maybe the problem with dating was that all the good men were taken and there weren't any of value left in the world. In response she sent me 'Superwoman' by Alicia Keyes via iTunes. I kept it on repeat and in my workout mix for months. Whenever I hear it, I feel a wave of warmth and calm."

"The last meal my ex and I ate before The Big Talk was frozen ravioli, which I haven't touched since. For about three months after, everything tasted like sawdust and lodged in my gut. Divorce is a great way to lose weight -- but a shitty way to feel. I distinctively remember the first real meal I was able to consume: sausage and mushroom pizza in my neighbor's kitchen. I ate two whole pieces and was super proud --no stomach ache, no panic attack! Pizza has a soft spot in my heart for healing."

"My mother taught art for 20 years. During my divorce she took an oil painting class, during which one of the requirements was to produce an emotional piece. Thirty minutes later, using a palette of whites and baby blues to smoky navy and jet black, she captured a tide of emotions. With textured acrylic, the canvas moves from darkness to light (pre-dating the ombre rage). I hung it next to my bed and would stare at it, placing my emotions of the day into the shades of gray. Today I am that wee squiggle of white among the night, small but moving forward. The painting hangs in my hallway and I expect it to remain."

"When the divorce was nearly final and I'd legally changed my name, I threw myself a new beginnings party. I hired an event planner, catered Indian food, snagged a delectable baker, ordered themed party favors from Etsy, flew in my big sis and my oldest friend, bought a smokin' hot red dress and heels, rented the party room at my condo building and created a signature cocktail to serve. It was more expensive than my divorce. Totally worth it."

"Writing. On tablets, binders, napkins, my arm. Who cared if any of it ever saw the light of day, I got to slow down my mind and process my world turning upside down. I drew tattoo ideas, scribbled furious notes and recalled painful conversations."

"Divorce forces a recreation of self -- let it. I joined a flag football team and won MVP, hosted an octogenarian dinner club which included canes and a wheelchair, attended Unitarian church services for the first time, threw an ugly Christmas sweater party, attempted online dating, took an international trip alone, went to a divorce support group only to be hit on by the self-proclaimed (3x divorcee) narcissist, and I napped in the middle of my living room floor during a two-week snowstorm. Do what you enjoy. Grapple with what you hate. Find a good therapist. And above all, give yourself a f*cking break.
Keep in touch! Check out HuffPost Divorce on Facebook and Twitter.